Travel Across Austria and Through Hungary on a Harley-Davidson
By Peter & Kay Forwood
Hungary on a Harley (20/6/11 - 26/6/11)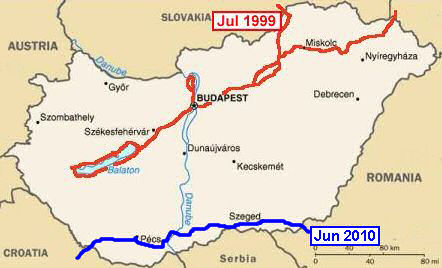 Distance 1119 km (587998 km to 589117 km)
This is part of the seventeenth section of our around the world trip.
Complete Trip Overview & Map
Coming from the Czech Republic or read about our previous visit to Hungary

20/6/11 This area of Europe has taken on the Austrian way of charging for road tolls. The Czech Republic, Slovakia, Romania, Hungary, Austria and Bulgaria, countries we will be travelling in, all charge a vignette. A ticket collected near the border or at petrol stations to allow a vehicle to travel on certain, or all roads within the country, on a temporary or annual basis. Luckily they are available for a week or ten days in most countries and are as little as 3 Euro for a week in Romania or up to 10 Euro for Hungary for a week of travel. Some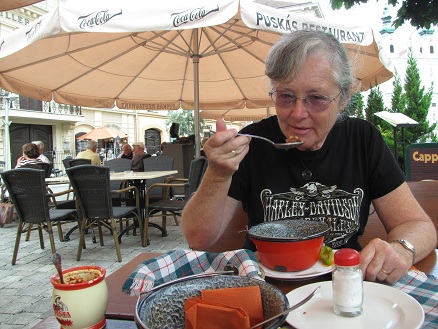 are just for main arterial roads, freeways, but in Bulgaria it is for all out of town roads and includes animal powered vehicles. Rode across Austria. Had thought of staying there for a couple of nights but with Western Europe prices we just skipped through to more economical Hungary where our one bedroom apartment was just 29 Euro a night. Staying in the small town of Hegyko, near Sopron and the Ferto Hansag National Park and thermal baths.

21/6/11 These are small countries. Just a few hundred km's by a few hundred km's and as they now run together, with virtually no borders, it is easy to cross through a couple in a day. We are purposefully trying to visit each one individually for a week or at least a few days otherwise they will later run together in our minds. Our town is full of German tourists. The older variety, coming for the spa baths, the cheaper price and relaxed atmosphere of the place. We visited Sopron for a few hours, lunch, strolled the old city which looks, again like many old European city centres, restored and is a bit clinical with only a few tourists and almost deserted streets. Presumably it gets atmosphere on weekends or festivals but now Sopron is famous for its dentists, where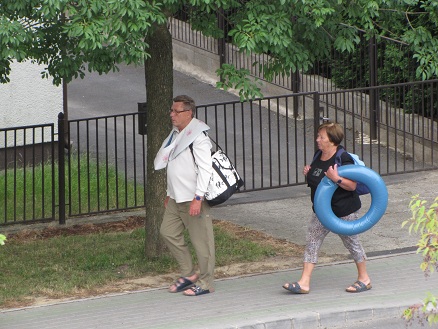 Austrians come for cheaper dental work.

22/6/11 With our destination at Heviz, just down the road, we took the more scenic route via Szombathely, Kormend and Zalaegerszeg but still arrived just after lunch. Heviz, situated on Lake Gyogyto, 5 hectares of thermal waters, one of Europe's largest and again busied by German tourists of the older, more infirm variety who can be seen walking the streets with their rubber float rings heading to or from the baths. With temperatures in the lake's waters at about 30 degrees it is as much a winter activity as spring and autumn while now, with similar air temperatures there seems little to be gained from dipping other than the reputed medicinal benefits which run mostly to rheumatic conditions.

23/6/11 Lake Balaton is Eastern Europe's largest lake spreading across central Hungary. We took a ride on its southern shores past Fonyod where dozens of families were taking to the waters on this 30 degree day. On the southern side the waters are shallow running out far into the lake before swimming depth. Partially surrounded by reeds that provide a wetlands for water birds with many swans taking free handouts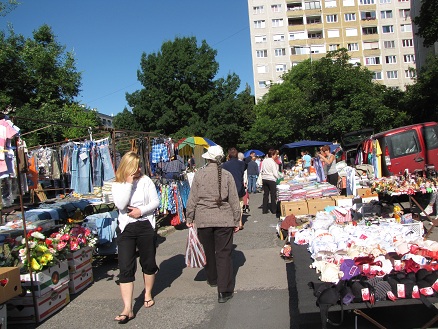 from tourists. We lunched lakeside before riding back to Heviz and a local bar for an evening wine.

24/6/11 Took a ride along the north side of Lake Balaton. A less touristed area as the freeway runs on the southern side. It was slow riding through smaller towns as most Hungarian drivers are very particular about obeying road signs and the police are abundant. Without a vignette we stayed off the freeways and entered Budapest, riding alongside the Danube River through the city, admiring its magnificent buildings and setting before settling into our Ex-Soviet style concrete tower block hotel north of the city. Set amongst other concrete residential towers in a poorer neighbourhood the hotel provides cheaper accommodation for mostly Eastern European tourists visiting Budapest. Our spartan room of vinyl flooring, clinical grey walls, curtainless shower cubicles down the hall all added to the Ex-Soviet feel.

25/6/11 Saturday suburban markets were underway across the road. Locally grown fruit and vegetables alongside Chinese made goods and Western discarded/recycled clothes were on sale. A couple of dollars bought a kg of end of season cherries and much less for early season cobs of corn. Replaced my shower sandals, the old ones had mistakenly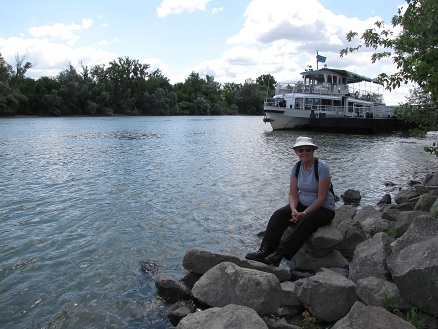 been left at a friends place in Germany. We walked to the Danube River, a little less blue than the reputed, actually quite a brown colour but it didn't stop people enjoying its waters kayaking, rowing, canoeing or simply sitting on its shores, as we did. The magnificent Danube flows from Germany, for 2800km's through 10 countries, 2400km's is navigable, and enters the sea in Romania, a truly enormous river.

26/6/11 Left Budapest behind and headed eastwards across the flatlands of Hungary where it has recently rained and where flooding often occurs. We have noticed the people of Eastern Europe are as well rounded, well fed, as those in the west, making me look quite slim to skinny. At least this over abundance of food eaten could give spare capacity for any increasing population or buffer against a natural or man made disaster in the future. We have also observed that the cars in Europe, but more particularly in the East, are very small. Little wasting of petrol here at 1.5 Euro a litre, the same price as Western Europe, but with much lower salaries earned car owners are generally more careful. We passed out of Hungary midday without border controls.

Move with us to Romania or go to our next visit to Hungary