Travel Through Greece on a Harley-Davidson
By Peter & Kay Forwood
Greece on a Harley (6/4/10 - 5/5/10)
Distance 3052 km (560764 km to 563816 km)
This is the beginning of the sixteenth section of our around the world trip.
Complete Trip Overview & Map
Coming from Italy or go to our previous visit to Greece
6/4/10 It was an overnight ferry, with a decent number of backpacker tourists, the first we have really seen this year. In looking for floor space to doss down for the night, usually choosing the top of a remote stairwell, we noticed it was already occupied, by four young German backpackers, so we selected the stairwell landing below. This was not only a tourist boat and about a dozen large vans from Bulgaria, carrying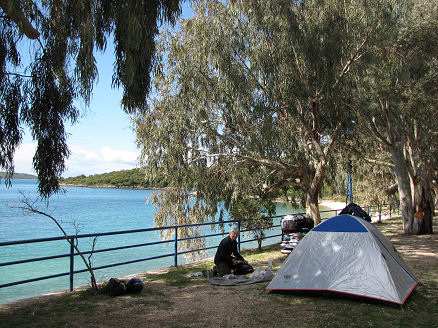 workers and gear home, operating as buses, were on the ferry, and they also didn't purchase cabins or pullman chairs, so our stairwell location gradually filled up on each level as the evening passed. A smooth crossing we landed in Igoumenitsa early morning and chose to hang out in the ferry terminal coffee shop till the day dawned further. With our ferry booked to Corfu tomorrow we wandered about town most of the day, taking in the change in culture. Motorcyclists wear helmets optionally. People sit in cafe shops over one coffee for hours during lunch time. Shops are small, many selling just a few items, with more than half a dozen bakeries, butchers, fruit and vegetable shops, pharmacies and supermarkets in the small town centre, and toilet paper doesn't go into the toilet it goes into the bucket beside the toilet, I am not sure why? Greece is certainly different from the rest of where we have been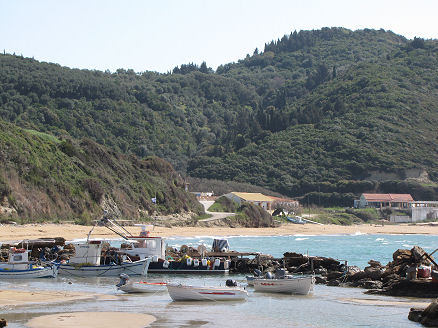 travelling in Europe this trip. Perhaps it's its isolation, being only in ocean, not land, contact with Europe proper. Perhaps it is the Greek, not Roman script in its writing making translations and internet more difficult. And perhaps it is just Greece.

7/4/10 We camped last night, just to the south of town, right on the waterfront with just a few other early season travellers, ours the only tent, the others in motorhomes or caravans, all from Germany. It was our first camp this trip and really enjoyable in spring sunshine and a warm day but cold night and a great location looking out across nearby islands. Our 2.15pm ferry left, arriving in Corfu at 3.30 and we rode to our prebooked apartment in the south of the island, 19 Euro a night, we were the first of the seasons occupants in the eight apartment block overlooking the ocean and beach at Gardenos Beach on the East coast.

8/4/10 A quiet place at this time of year, the beach town, at the end of a small road, has about 25 buildings, almost all traditional style Mediterranean apartments, with the locals in a bit of a fervour getting ready for the summer, both for the tourists and for the planting of the small vegetable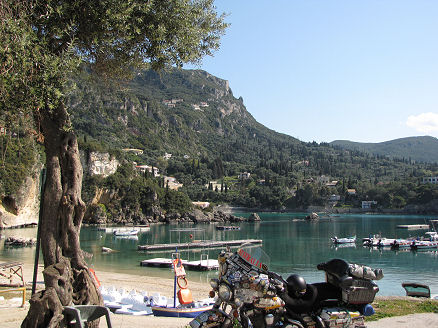 plots that spread out between the buildings. It is quiet here, the silence broken about every hour by a vehicle arriving or leaving. We walked to the tiny harbour, just a rocky bay with half a dozen small fishing boats, then along the beach for about a kilometre, seeing just three other people enjoying the sunshine, like ourselves. We are booked here for five days and it seems like a lovely choice.

9/4/10 It has been as if the tourist season is opening up behind us as we've moved along since Portugal, never really meeting up with any other travellers, other than perhaps at Easter time in Rome, yet feeling the preparations for their arrival in the places we have been visiting. On another lovely sunny spring day we decided to loop the island and headed clockwise to the north, stopping in at Paleokastritsa for the harbour, its cliffs, and the headland monastery, where some celebrations were underway, then further north to Agios Georgios, and returning via the old and new parts of Corfu Town where there was a cruise ship in port.

10/4/10 There are some lovely beaches on Corfu. Yellow sand wedged between headlands of
limestone or packed clay running down to that lovely blue of the Mediterranean, but there is also a lot of rubbish washed down from creeks lining the high water mark. Mostly plastic water bottles, polystyrene and old fishing nets. It is an offense to the eye and more so to the environment. Agios Georgios is such a beach, its creek carrying flotsam to the ocean. We spent most of the day near the apartment apart from a short ride to the nearby ferry port to check on boats leaving the island.

11/4/10 Greece has the highest motor vehicle accident rate in the EU. Perhaps it is the lack of policing, or erratic driving, but my money is on the roads. The road gravel is generally limestone, and after a few years it becomes worn smooth, polished like marble, and when wet it is as slippery as glass. Last time we were in Greece we lost the back end a couple of times accelerating uphill, unusual on a Harley, and I have noticed this time that if the motorcycle becomes a little off balance when stationary, it is easy to lose grip with my boots trying to keep it upright. A Sunday, locals arrived for a coffee in one of the local, now open, outdoor, beachside coffee places. It seems Greece may have invented, or at least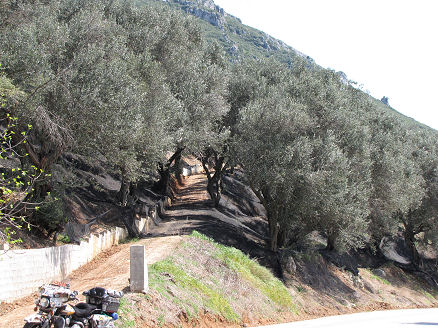 heavily adopted most of the varieties of different coffee's available, as we sat looking at the array of coffee based drinks coming across the bar. We had a frappe, with milk, medium sugar, one of the dozens of options available, and sat like a local slowly sipping the iced coffee as the day progressed into evening.

12/4/10 Our five nights here have passed too quickly and although we could stay for more we can't find a reason, other than laziness, to remain, and so headed for the local ferry from Lefkimmi to Igoumenitsa arriving back on Greece's mainland about 11am for the ride southwards. This is a relatively empty area of Greece, high mountains to the east and ocean to the west we followed the coast for much of the day, picnicking roadside to look out over a few Greek islands, headlands and pebble sand beaches on yet another perfect riding day of 20 degrees and sunshine. Our views on Greece's high road accident rate did however change a bit, as even though the traffic was light, it was erratic and totally ignored any speed limits. In a 60 km/hr zone we might be travelling at 80 km/hr, as to travel at 60 would be dangerous, and we were constantly overtaken by cars travelling in excess of 100 km/hr, ignoring the painted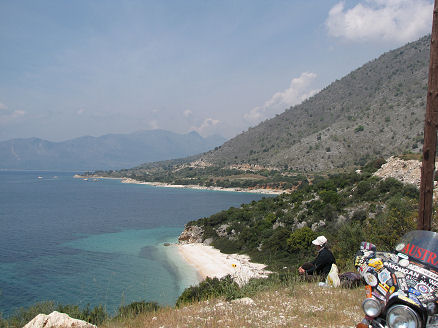 lines and signs not to overtake, with us and slower cars squeezed towards the side of the road, but it was still a great ride down to Patra, across the new bridge, and again westwards to an oceanside campground for the night.

13/4/10 Most campgrounds now seem to be opening up, but there were only three other vehicles at ours last night. It was a short ride down to Olympia, the place where the original Olympic games were held, and continued to be held for a thousand years. There is not much left of the ruins so we opted to leave history to the cruise ship boatload of tourists who descended on the small new town of Olympia, here almost only for the visitors to the ruins, with its rows of souvenir shops, restaurants and coffee shops, hotels and caravan parks, where we are staying with a few other customers tonight.

14/4/10 We chose the coastal route down through Marathopoli, where we joined the locals at the local bar coffee shop, men only, they were having their morning work break with a couple of glasses of ouzo, aniseed alcohol, while we indulged in deep fried sardines and Greek coffee. A beautiful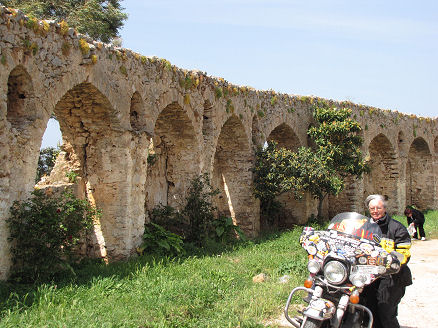 coastline, fairly typical of what we have been seeing, more spectacular in places like Pilos, where a lovely bay is surrounded by nearby islands calming the waters. We had booked a waterfront apartment near Petalidi and after getting lost finding the place, no Tom Tom maps of Greece, with great help from the locals in town we finally arrived.

15/4/10 Alexandros Apartments, a block of half a dozen, a few km's from town, are perched on a hill running down to their private beach, and have only been here for three years. We were welcomed last night with a litre of home made, home grown wine, the vines again in leaf getting ready for next years visitors. Without neighbours we sat on our large balcony overlooking the bay, more sunshine, more perfect weather, not seeing any reason to venture away from a stroll along the beach and another ouzo in town later in the evening.

16/4/10 English is spoken in Greece more than most other countries we have visited in Europe. Perhaps it is the close association with English speaking Australia,
where the third largest Greek city, by population, Melbourne, is situated, or perhaps it is the subtitles on TV programs rather than dubbing, but it makes travelling here easier. Extended our apartment for another night, planned and booked our boat and accommodation to Crete, now opening up for the summer season, and with stiff competition, each night is costing less than 25 Euro a double, some including breakfast and one, amazingly, with half board, so we just couldn't justify camping.

17/4/10 Kalamata was only known to me for the great olives we get with that name in Australia, and yes as we ate Kalamata olives near Kalamata, part of our picnic lunch, and we noticed they taste almost exactly the same as the Australian ones, such is the shrinking travel world. Most of today was riding through the Mani Region of the Peloponnese, in springtime, where wildflowers are everywhere in this rugged and barren part of the country. The stone built houses, many new ones, mostly now for tourist apartments, dot the countryside and overlook the sparkling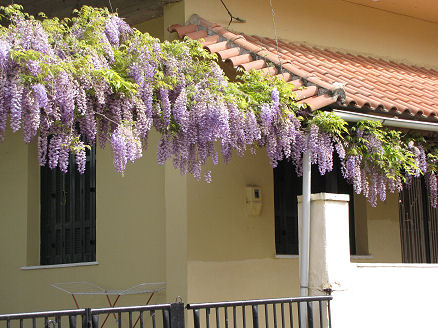 blue waters of the Mediterranean. Olive groves, the most prolific agriculture that we have seen in Greece, run up terraced hillsides, and with all these features combined, made todays riding stunning. We ended the day in Gythion, a medium sized waterside town that fills up with busloads of day tourists on weekends, as today, and where we had made an unfortunate hotel booking mistake. We thought we had booked for two nights, were surprised at the economical price, but on arrival realised the price was for just one night, and whilst the hotel and its oceanside view were lovely, and our booking was non refundable, we didn't enjoy it as much as we would otherwise have done.

18/4/10 A shorter ride to Monemvassia, a rock island that rises steeply from the ocean, and is attached to the mainland by a narrow causeway, and has been inhabited as a fortified settlement from before the 12th century. It is again going through a massive growth phase, at least in its lower, more accessible areas, where more busloads of tourists have brought new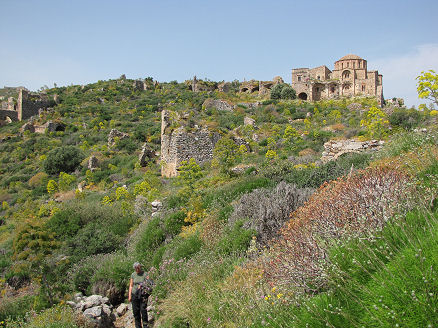 life with daytime visits and new hotels, built in the original stone style, offering an unusual nights accommodation. The upper area, where we also wandered this morning was covered with wildflowers, growing between stone building ruins, giving a contrast of birth and decay. Walked about the lower town after the tour groups had departed and took an economical nights hardtop accommodation on the mainland side of the causeway, the campground not opening till the first of May.

19/4/10 Due to the current economic crisis in Greece, with the IMF having been called in and large loans from other EU nations, the government recently increased fuel taxes to help revenues, so petrol is 40% more than it was a couple of months ago making our motorcycle's tankful about the same price as a nights accommodation, and this has led to fewer cars on the roads. Our ride from Monemvassia to Nafplio took us up and over a magnificent mountain range of limestone cliffs, with almost not another car to be seen. Traffic increased as we then travelled the coast into town mid afternoon. Haris, from Nafplio, has been following our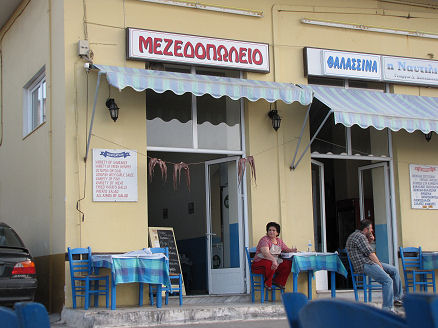 travels via the internet for a few years and invited us to stay at his apartment, one in the family's block. He is a Goldwing rider and has taken it over much of Europe as well as to Jordan, via Syria, Turkey and Lebanon. He is currently planning a trip around Africa, hopefully leaving later this year, on a different motorcycle, but hasn't yet decided which one. After taking us on a tour of the lovely, now tourist oriented, old city, we enjoyed a restaurant dinner with his brother-in-law and a friend, on his Harley, at a more locally oriented place in Tolo, a village just out of town. Seafood was the speciality and Haris ordered an array of traditional "tasters", fried baby squid, calamari rings, vegetable patties, and of course a Greek mixed salad. Sticking with the theme I ordered cuttlefish, something I don't recall having eaten before. Topping off the meal was tsipuro, a raki type alcoholic drink, locally brewed from the waste products of wine making, and spiced with a local recipe, and a warm, effective alcohol with a pleasant taste. Haris's mother, two sisters, their husbands and children, all live in the same apartment block, each family with their own individual units, built by Haris's father
and it brings together a great family atmosphere, a closeness that many western nations have lost.

20/4/10 Our visit was all too short and after some Greek coffee and breakfast Haris joined us for the ride to the Corinthian Canal where after looking into this 80 metre deep, century old shipping passage, that separated the Peloponnese from Europe, we said goodbye and rode on to Piraeus for our ferry for Crete, which left at 3.00pm. It was another smooth ferry crossing, arriving in Iraklion at 10pm, and we rode east towards Malia and our booked hotel right on the coast. Our ferry was one of the Superfast Ferry's fleet, and like the other ferries we have recently travelled on, we were impressed with the quality of the vessel. Almost all have been newish, well fitted out, run pretty much on time, full facilities and choices for food and accommodation on board, they are almost cruise ships.

21/4/10 Airlines across
most of northern Europe have been grounded for six days because of a volcanic eruption in Iceland as its dust cloud covered the continent, cancelling 100,000 flights in the region, stranding thousands of tourists, and perhaps worse, stopping or deterring tourists from starting their holidays. Our hotel has just opened for the season, its facilities not fully operational, just a few rooms occupied, and it will be staying open while seasonal maintenance and readying for the tourist influx progress, but a couple of hotels in the same area opened, and have now closed, as tourists deferred or cancelled their holidays because of the uncertainty of flights. Having missed the scenery from Iraklion to Malia last night in the dark we retraced our track for the coastal ride today, past a frenzy of busying businesses getting into tourist arrival readiness.

22/4/10 We learnt today that strike action at the Piraeus port stopped the movement of all ferries yesterday, the day after we sailed. There is a lot of strike action at the moment all over Greece, protests against the government's austerity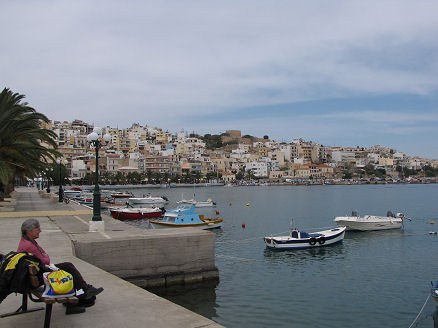 measures which are affecting everyone but government workers more than most. Into Malia this morning, which looks like a ghost town awaiting imminent rebirth, and the afternoon sunbaking at the hotel beach.


23/4/10 Rode further east, Ag Nikolaos, then Sitia, as dominating tourist infrastructure slowly disappeared to a comfortable level of the occasional resort and a few rooms to let. In the afternoon we crossed to the south of the island passing many Minoan ruins and old windmills staggering between newer ruins and dozens of modern windmills. Koutsounari, on the southern shore, is an area late to enter the tourist frenzy and has many stalled or barely finished projects. Our well appointed one bedroomed apartment with magnificent views overlooking the bay, one of about 30, is barely finished, the complex already suffering from the downturn, and at 24 Euro a night still only had two rooms occupied.


24/4/10 Just a short ride up into the surrounding mountains away from tourism. The small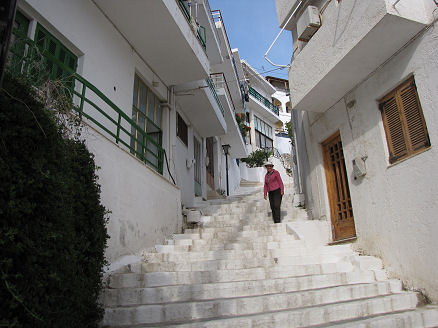 nearby towns with aging populations are emptying, some buildings are being restored by city locals as weekenders, some by foreigners, but many are left empty and are falling to ruin. Another night at the same apartment.

25/4/10 Headed westward to Agia Galini, a pleasant enough ride, initially a bit twisty but flattening out along the coast as we neared town. Agia Galini is a lovely, once fishing village, with a harbour and small stony beach wedged beneath steep hills and just off the main road making it a popular quiet destination for a variety of nationalities, mostly German but we heard French, Italian and English speakers in our short visit.


26/4/10 We could have stayed another night in Agia Galini, not that there was anything particular to do, it was just a nice place and had a few more early tourists than elsewhere so things were open and a bit more lively. Over the cool mountains and back to the northern shores with a ride to Hania, the island's original capital with its lovely harbour and mix of Turkish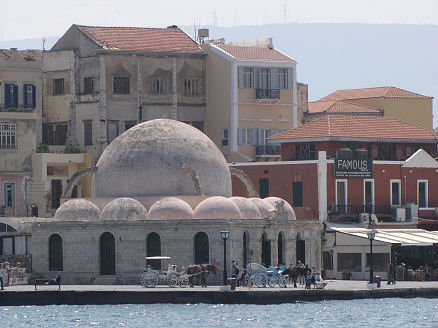 and Greek architectural history, its narrow streets, stone buildings, many restored for tourism, a popular theme on the island of Crete, and indeed all over Europe. An afternoon coffee at Rethymno, the third largest city in Crete, and another tourist destination place with streetside cafe's and restaurants overlooking the ocean or squares.

27/4/10 We booked an apartment, half board, 24 Euro a night, a double, at the beachside town of Mythos, near Bali. It is a one bedroomed apartment, balcony overlooking their private beach in a small cove. Dinner last night, included in the price, was simple but with about 20 dishes, mostly an enormous variety of salads, and eaten around the swimming pool overlooking the bay. Breakfast at the same location was again simple but adequate, so we have to value this accommodation as the best value we have encountered this trip, and indeed anywhere.

28/4/10 It was time to end our hedonistic ride around Crete, and move back to reality in prices on mainland Europe, but we couldn't leave. Our unchangeable ferry
booking was miraculously changed by the helpful staff at Superfast Ferries, changed to four days hence, and we headed to Malia for the night, same accommodation as our first nights on the island.

29/4/10 Lassithi Plateau, at almost 1000m above sea level, looks like an ancient lake surrounded by mountains, now flat grazing land, cross-hatched with different crops and watered by hundreds of cloth bladed metal windmills, it is a part of Crete that has changed little in lifestyle. Tour buses spend a couple of hours here but few people stay the night, preferring beachside hotels. We walked to Dikteon Cave where, according to Greek Mythology, Zeus was hidden, avoiding his father's habit of devouring his offspring.

30/4/10 We moved back to Bali, and the still available accommodation and half board of 24 Euro a double, although the price changes after next weekend, the supposed beginning of the summer season. In just the few days we have been away from both Malia and Bali the tourist numbers have doubled, shops have opened, restaurants no longer look forlorn but await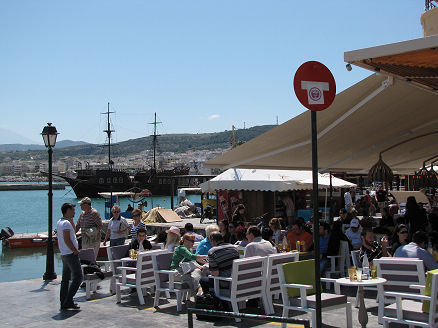 customers with an enthusiastic vigour.

1/5/10 The last few days had been cool, but today the sun was shining to the extent shade was sought, and being a festive holiday, although there are some current political implications in Greece with the labour union movement opposing new austerity measures, strikes in Athens, the Crete locals were out enjoying a Saturday lunch with friends. We day rode to Rethymno, revisiting the port town with its narrow pedestrian streets, also more active, both with locals and the recent influx of package tourists.

2/5/10 It is finally time to leave Crete, our last breakfast on the terrace overlooking the quiet Bali sandy bay, leaving behind friendly locals now more concerned with the imminent influx of tourists than quietly enjoying their own relaxed lifestyle. As our boat wasn't due to leave till 11.00pm we checked out of the apartment as late as possible before riding back to Iraklion, looked around the old port, watched Sunday luncheoners seemingly unconcerned with the current economic crisis, while we waited over
a coffee, boarded the vessel, and left on time and slept in a couple of easy chairs for the night.

3/5/10 The ferry arrived in Piraeus at 6am to a cold crisp morning and we immediately headed out of town avoiding peak hour traffic. Freeways in Greece are economical for motorcycles so, heading north west, we took the toll road to Lamia, riding alongside the coast for a while, then inland on a smaller road to Karditsa and Kalambaka, better known for the cliff hugging monasteries of Meteora. It was a long day after sleeping in a chair on the ferry and we were pleased to take an economical hotel room.

4/5/10 About the 9th century a number of monks started living in caves in the sandstone pinnacles in the Meteora area. A few centuries later monasteries were built on top of some of the more inaccessible pinnacles to avoid persecution from a rolling variety of controlling governments. At their peak there were 20 such monasteries but now only 6 remain, and although still partially occupied, they have primarily been turned over to tourism, which was obvious by the busloads that were arriving as we toured the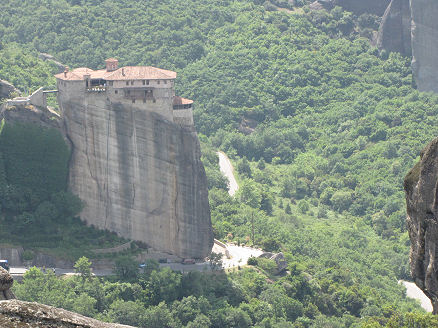 area.

5/5/10 We have enjoyed our month in Greece. The early season a definite advantage, cheaper accommodation, fewer tourists, friendly rather than tourist weary locals, but it is time to move on and we rode through Ioannina towards the Albanian border. Although we had overstayed our 90 day Schengen visa for Western Europe by almost 25 days the Greek immigration at the border didn't notice in our stamp filled passport and as we recently learnt in Norway there is currently no electronic linking between Schengen countries to alert border officials of visa overstays. Perhaps the government officials had more important things to worry about as today there was a violent general strike by government workers in Athens in protest over austerity measures imposed by the IMF and Greek Government with three people killed and many injured. Strikes have been rolling through the country during our visit but we have been unaffected by them.

Move with us to Albania