Travel Out of Greece on a Harley-Davidson
By Peter & Kay Forwood
Greece on a Harley (19/11/97 - 28/11/97)
Distance 701 km (75809 km to 76510 km)
This is the beginning of the third section of our around the world trip.
Complete Trip Overview & Map
Coming from the Second Section, Greece
19/11/97 The third leg finally starts. Kay met me at the Greece airport before we headed over to the Harley dealer to see the motorcycle, pay the bill and get the new Staintune mufflers fitted. The motorcycle had been lovingly cared for in my absence, battery trickle charged and ready go.
20/11/97 Having decided to leave Athens on the 21st we left the motorcycle at the dealer's rather than being hassled with parking in the city. So today we just recovered from jet lag, changed money and repacked all the gear into the motorcycle ready to leave. The mechanics helped me (or vice versa) repair the catches on the top box. And with a phone call to the Albanian embassy (all OK) we are ready.
21/11/97 Another phone call this morning to the Australian Embassy about Albania and their warnings suggest no travel to Albania. It seems the armouries were broken into some months earlier and pistols and Kalashnikovs were stolen and whilst they are being recovered there are many on the streets and some violence. The embassy representative suggests don't even think of going as a tourist and only go if you have a very good reason. Quite a dilemma. We decided to head towards the border region anyway and decide then. Athens to Kalabaka via Lamia and Trikala. Across Athens, 25 km and one and a half hours. The motorcycle is overheating and backfiring. On investigation we discover the mixture is too rich and I adjust it. Also there is a very small oil leak in the gasket of the oil pump that was repaired. Both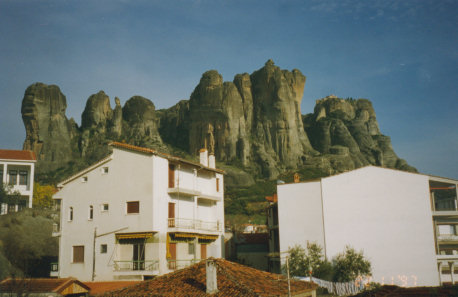 these will need to be looked at in Kalabaka. Out of the city and the traffic is easy going. 350 km of easy riding. Though cold and slightly misty it is great to be back on the motorcycle.
22/11/97 Awoke from our $25 a night, ensuite, heated hotel room with a balcony looking up at the cliffs of Meteora, to a magnificently sunny day. The morning stroll downtown through the back street houses with everyone busy attending to Saturday morning chores. We tried our first real Greek coffee, strong and expensive, and a couple of giros before purchasing an immersion heater to make our own hot water for coffee soups etc. Relaxed now with the trip having started. We stuck stickers on the motorcycle, flags of all the countries visited so far and our sponsors, and painted some previous repairs to the panniers.
23/11/97 Today was a different day, cloudy and slightly drizzly, gradually increasing to thick fog and heavier rain all day. I presume this is more the norm of a European winter described in depth by European friends in Australia before our departure. To make the day even more cloudy, while adjusting the mixture and timing to get the bike running how
I like it, on a test run the main drive belt snapped. Drive belts on Harleys are great, no maintenance, long lasting, 76000 km on this one in adverse conditions, however when they go it is a workshop job to replace them. Remove all the primary gear, rear wheel etc. I carry a home made spare belt fashioned from two previously broken belts which although untested, I hope will get us the 300 km to the Harley dealer in Thessaloniki. A slow start to the trip with unexpected motorcycle problems delaying us at this stage.
24/11/97 Well another rainy day in Greece. It seems we are lucky though with flooding in Athens and the Peloponnese. On trying to fit the spare home made belt it was discovered to be only 132 teeth and not the required 136 teeth. After spending all day trying to make yet another belt we had to finally settle for the 132 teeth belt with less overlapping and a severely weakened join. It was now 6 pm and I was beginning to wonder if belts were really better than chains.
25/11/97 An early start, rugged up, getting serious now with the cold and misty drizzle. It's 11 degrees for most of the morning and the temporary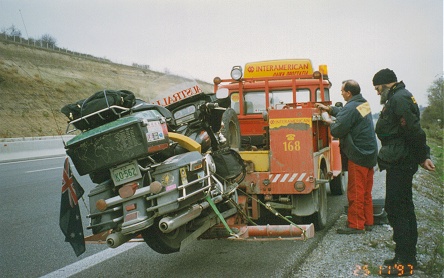 belt is holding well. However 60 km from Thessaloniki and it snaps. The leading edge of the join parted and caught ripping the rest apart and snapping the screws. In true Greek hospitality a motorist stopped and we organized to be towed to the Harley dealer. The first time in 76000 km that I have been left stranded on the roadside by my Harley. Quite a shock to find the towing cost $A220. I guess tow truck thieves exist all over the world.
26/11/97 Again helpful and friendly service at the Harley dealership. They can repair the motorcycle immediately. The cost, even after a generous 25% discount on the belt, is $A650. The same job in Australia would be $A400. Where Harleys in Australia are owned by a wide cross section of economic groups, here in Greece it is only the wealthy. I was told in Athens we were the first real bikers that had ever been in the shop and that over 90% of clothing sales are to non bikers. Its a shame that these costs filter down to people who like to ride Harleys, not just show them off. The rest of the day was spent touring Thessaloniki, a compact bustling city of 1 million people swelled to 1.2 million with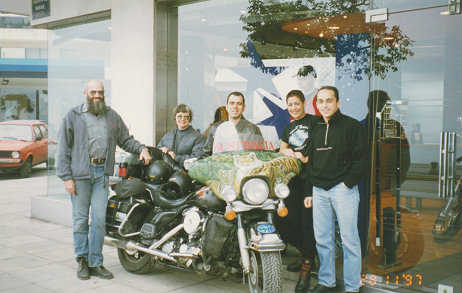 illegal immigrants from Albania.
27/11/97 It's good when something planned from home works when travelling. The idea of updating our trip from cyber cafe's along the way and keeping in touch via email came to fruition today. At Harry's coffee shop we received and sent email and updated this site. Ain't modern technology great. This country is full of coffee shops. It seems there is at least one for every person, yet they are always full. Harry's is the university hang out and one coffee frappe for $A3.50 gets you board games and conversation all day long. It's nothing to spend a couple of hours over a coffee while whiling away the siesta time or into the evening. Collected the motorcycle and running fine so it's off to Macedonia, Skopje tomorrow.
28/11/97 It's always a great buzz changing countries. The sadness of leaving one to the unknown of the new. The anticipation of cross border hassles, learning new currencies, new words in a different language, customs, foods, accommodation and more create the challenge of travel.
Move with us to Macedonia or go to our next visit to Greece

Home