Travel Through The United Kingdom on a Harley-Davidson
By Peter & Kay Forwood
The United Kingdom on a Harley (29/12/09 - 6/1/10)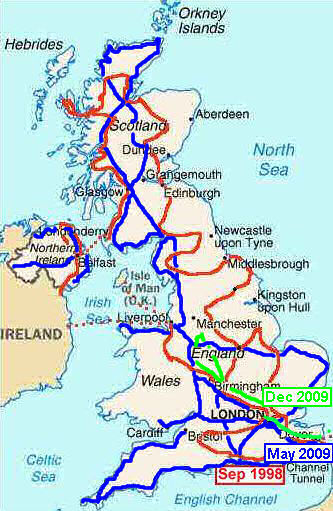 Distance 121 km (553029 km to 553150 km)
This is part of the sixteenth section of our around the world trip.
Complete Trip Overview & Map
Coming from the Fifteenth Section, United Kingdom
29/12/09 After 34 hours from leaving our children's home to arriving at the hotel in Slough we were tired and jetlagged, it also being a ten hour time differential. Hopefully the worst part of travelling now over.

30/12/09 In 2 degrees and drizzle we caught a taxi to Thames Valley H-D in Slough. Our motorcycle has been on display at their dealership for the last two months. After a warm welcome we started fitting, with the occasional assistance of their mechanic, Darren, new front and rear sprockets, new belt, swing arm and clutch, all well worn parts. It took the entire day working at a motorcycle hoist, quite a luxury compared to the roadside repairs we are used to. Collapsed back at the hotel early evening.

31/12/09 Back to Thames Valley H-D at 9am to finish off the motorcycles repairs and repacking our gear for the upcoming trip. Luckily it is the quiet riding season as we had gear spread out all over the workshop much of the morning. By midday we had finished and a test ride indicated the work was successful, well after I had readjusted the clutch cable, always something missed. Overloaded (as always), it was a short ride to a cheaper hotel at the Beaconsfield motorway service centre, to regroup for a couple of days, and get over jetlag, and where we saw in the Australian new years eve at 2pm UK time but slept through the UK celebrations ten hours later. Neil and Paul at the Thames
Valley H-D looked after us exceptionally well, storing the motorcycle, and the old engine, and allowing us to work on our motorcycle in their workshop, much appreciated, thanks.

1/1/10 Having left 30 degree days for 4 degree days is a bit of a temperature shock, particularly when on a motorcycle, and with most shops closed for new years, it was a quiet day at the motorway hotel. We oscillated between our small Etap hotel room and the roadside services coffee shops, internetting and just relaxing, still catching up on jetlag.

2/1/10 With H-D in the US showing little interest in renovating our old engine we packed all its pieces back into a wooden box with the idea of shipping it back to Australia, for us to renovate sometime in the future. Said goodbye to the staff at Thames Valley H-D, and after joining customers at their regular Saturday morning coffee at the store, left for another quiet evening at our Etap hotel.

3/1/10 With conditions unusually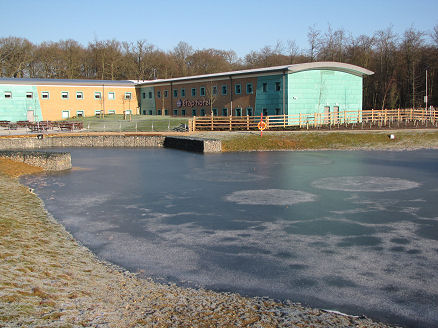 cold, even for the UK at this time of year we ventured outside sparingly, just a walk for some exercise, else it was another quiet day.

4/1/10 Grant and Susan, Horizonsunlimited fame, had invited us to stay with them, and store our motorcycle there for the week we would be in Norway, so it was a cold ride to their place in East London. Their new DVD, "On The Road", the third one to be produced in the series, had recently been released, and Kay and I featured fairly extensively, (guess we have been On The Road for a while), along with many other motorcycle travellers, most of whom we have met, also featured, so it was an evening watching the first in the two DVD set. Perhaps we are a little biased, but it was a most enjoyable watch. For us, more reminiscent, and it was interesting seeing the differing opinions of how to approach or do different things, and we still managed to see a couple of different ways to approach situations, ones we hadn't thought of.

5/1/10 We had missed seeing the Northern Lights when above the Arctic Circle in the summer of 1998, their normally being a winter phenomenon.
We also haven't had the opportunity for an extended stay in a winter environment, so with an incredibly economical air ticket we booked a weeks stay in Tromso, Norway. Kay is also keen to go dog sledding. Our flight was due to leave at 8.00pm. A storm was scheduled to arrive at 8.00pm. Our plane out of Gatwick Airport was delayed an hour, the storm wasn't. Snow started falling as we waited in the departure hall. By the time we boarded at 8.45pm there was a few centimetres of snow on the runway and aeroplane. A de-icer was called for but the runway closed at 9.02pm, and we were to be the next scheduled departure. It took the airport another three hours, not till 12.15am, did we depart the aircraft, and all the time we were advised hotels were being arranged for the passengers. A summary of what transpired next is recorded in the below email I subsequently sent to the relevant authorities for comment.

Dear Sir
I address this email to Norwegian Air, Servisair, Gatwick Airport Authority, Customs and Excise, Transport User Council and the Civil Aviation Authority as I believe all should be concerned with what happened regarding this flight.
My wife and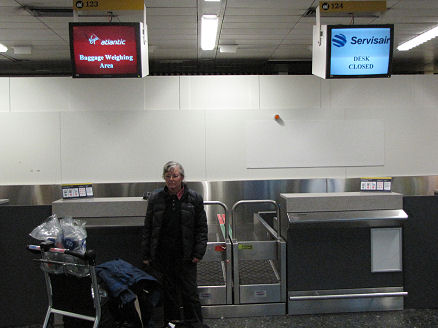 I were on flight DY 1321 out of Gatwick Airport on the 5th of January 2010 scheduled for Tromso, Norway
There was an initial delay in the scheduled departure from 2000 to 2100 and a later delay due to adverse weather.
Despite the runway closing at 2102 passengers were left on the aircraft till 0015, more than three hours after the runway closure?
Whilst passengers were given generous meal vouchers in the airbridge when departing the aircraft, (and we thank you for that generosity) that was the last time we saw any ground staff. There were no staff available to offer any advice on accommodation, possibility for onward travel or transport from the airport. The only information passengers had was just prior to leaving the aircraft, when staff advised we would be escorted and bused to accommodation.
No passengers were handed the leaflet "Passenger Notice - Delayed Flights" as required by European Law, Regulation (EC) 261/2004
Passengers disembarked through the inbound terminal, collected checked in luggage from the carousel, were checked by immigration and left the airport.
Duty free purchases, intended for departure from the EU, were not removed from passengers, or checked by customs staff, whom we did not see.
Passengers walked out of the airport, many headed home with these duty free purchases.
Passengers from our flight congregated at Zone E, the check in location for Norwegian Air, where the monitor boards showed "Delayed from 5 Jan 2010, Please return to check in at 0800, (see attached photo). There were no staff present. There were also no staff present at the Servisair desk nearby (see attached photo).
The airport information desk was closed and unmanned. (see attached photo).
It took over an hour, and only after phoning airport information, and having them pass messages on to Servisair staff before a representative appeared, Michelle, who only then told us that there was not sufficient staff at the airport, that nearby hotels were full and transport was unavailable. This was the first time we heard accommodation had not been arranged, There was still no assistance offered to anyone, despite many passengers being aged, with young children and babies, they would have to fend for themselves. No emergency blankets, no mats, passengers attempted to sleep on the granite floor.
Other than security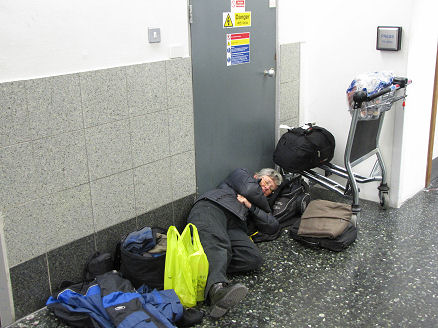 staff we saw no airport personnel. There was no airport staff to offer assistance to any passengers that we saw.
Our flight was never cancelled. It was consistantly on the flight information board as delayed. We finally left at about 1830 the following evening, delayed for 22.5 hours. I believe almost every other airline cancelled their flights, or arranged accommodation.
My intention in writing this email is to bring the above matters to your attention, hopefully to have the procedures corrected, and if necessary have any blatant breach of procedure and regulations accounted for.
I would be pleased to hear your comments on the above matters as we would like to ensure other passengers are not as poorly treated in the future, as we and others were on this occasion.
Thank you
Peter and Kay Forwood

6/1/10 So we slept at the airport, and waited, along with other passengers. Throught the day the runway was inspected periodically, but remained closed, until nearing 5.00pm we discovered it was likely the runway might open and our flight might be able to take off. Disappointed in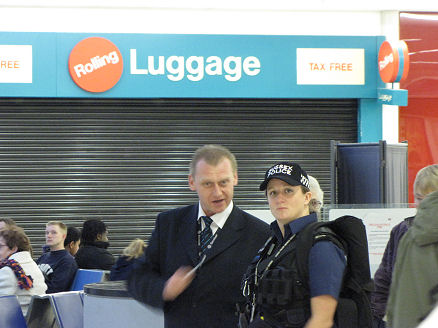 last nights debacle I tried to approach the Servisair staff at the information booth in the departure lounge, requesting a guarantee that what happened last evening would not be repeated, and if we were disembarked again, that they would provide passengers with accommodation. The male officer in charge at the information desk took offence at my attitude, having been similarly badgered by many disgruntled passengers throughout the day, for what we probably all considered were reasonable requests. Despite my leaving without an answer he had called airport security, and can be seen in the photo, pointing me out to airport police, as I attempted to take this photograph. I had been reported for (as per the "Stop Search" police report) of "taking photos in airport + sus abusive behaviour to airport staff". Without asking me for my side of the situation, I was requested to provide my boarding pass and identity documentation. I was informed by a senior uniformed officer that taking photos in that part of the airport was NOT an offence, his words "it is a public place". I provided the boarding pass and my passport, and advised the officers that I was video and audio recording the inquiry on a camera pen I had recently purchased for such occasions, (the interview taking place inside the Eating House Bar in the departure lounge, presumably a public place), prefering to have as accurate a record of any dealings with authorities or business, in an attempt to avoid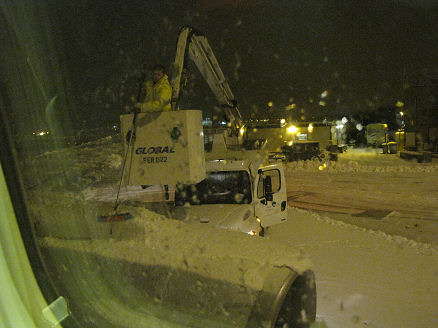 any misunderstanding of any situation. The terrorist act was quoted to me, and I thought that whilst it is an extremely powerful act, as I was informed by plain clothed police who materialised that I could be held for 9 hours without cause and that I had no choice but to answer their questions, but I thought that a video recording on U-Tube is probably still a more powerful authority. The amazing thing about the internet is it lasts not just for 9 hours, or nine years, but it can remain there indefinately, indefinately, that is a long time. It can circumvent the tight media ties that exist between the news media and advertisers that often cloud issues and leave the public without recorse. Being an international medium it is difficult for governments to have efective veto powers or aply secrecy laws. Stamps in my passport were inspected despite my refusing to give the police permission to view other than my personal details. This raised more suspicions as there were visits to countries like Saudi Arabia, Pakistan, Afganistan, Kazakhstan, Turkmenistan, Iran and Iraq, to name a few of the more "sinister" locations about the world. It was only when my details were radioed back to the station, and as reported later, they Googled me, yes Googled me, that they were satisfied that I was unlikely to be a terrorist threat. Thank goodness for Google. I was allowed to leave and catch the flight. Of course had the initial police officer approached me for my side of the complaint rather than automatically accepting the word of the exhausted Servisair employee, the matter would not likely have escalated and not have wasted valuable airport security time. The plane left about 6.30pm, 22.5 hours late. The staff at Norwegian Air were excellent, generous with their meal vouchers, unfortunately we can't say the same for their service provider in Gatwick, Servisair nor the Gatwick Airport procedures.

Move with us to Norway or go to our next visit to the United Kingdom