Travel Through The United Kingdom on a Harley-Davidson
By Peter & Kay Forwood
The United Kingdom on a Harley (12/7/09 - 17/7/09)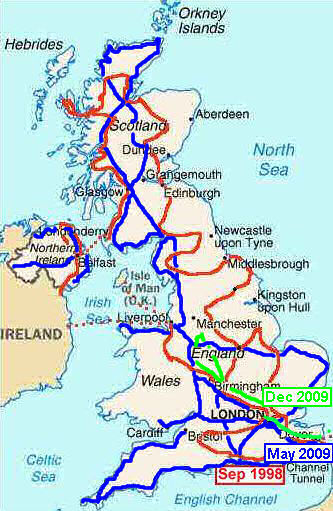 Distance 718 km (536784 km to 537502 km)
This is part of the fifteenth section of our around the world trip.
Complete Trip Overview & Map
Coming from Ireland or read our previous visit to The United Kingdom

12/7/09 We had been told that July was marching month, and that the 12th was the main day, and wanting to perhaps see a bit of those controversial marches for ourselves, that we had often seen on TV, we had moved across the border to Northern Ireland, the town of Enniskillen. Unfortunately we hadn't taken into account that the marches don't happen on Sundays, so this year's marching will be on the 13th, tomorrow, during our ride to visit a friend in Bangor, near Belfast, a main marching area this year. We had taken a room in a roadside house just short of Fivemiletown whose town was decorated with red, white and blue bunting, and flags were flying from most, but not all, houses, this being a stronghold of loyalists.

13/7/09 A public holiday the streets were empty, perhaps even more so, as many people choose to have a quiet day at home, away from any potential troubles. We rode through the empty streets of Belfast mid morning just as the marching was beginning. It was the first year in a long time that shops were open along the Belfast marching route, an indication that things had changed, most would consider for the better, and that trouble was not expected. Initially the crowds of onlookers were small, but gradually numbers increased, whole families, small children, out for their parade, vastly different from the media view we had seen, as is so often the case, as good news is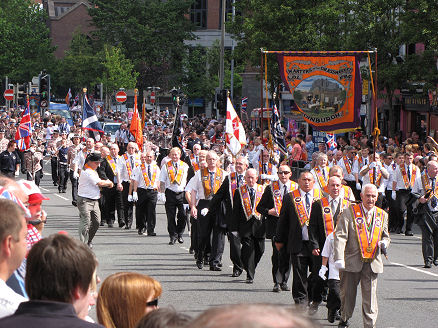 no news. With the sidewalks a few deep with onlookers, the incredible diversity of bands marched by, dozens of bands, bands from all over the north plus many from Scotland, and a couple from elsewhere, some obviously representing military backgrounds, others just local bands, all obviously enjoying the sunny morning. The parade stopped after about an hour, a rest for the marchers, hot in their uniforms, hot playing instruments, some then decided to entertain the crowds with a little music for dancing, and a casual onlooker could easily have been removed from the controversy these marches have and still do cause.

We had arranged to stay with Ciaran and Christel, a couple we first met at the Horizons Unlimited Rally in the UK a few weeks earlier, and who had invited us to their home in Bangor, on the coast just out of Belfast. They live in a terrace house, a couple of streets back from the ocean, Ciaran having lived there for most of his later life, Christel having joined him more recently, living an active retirement, home grown vegetables, slowly renovating the house, making things for his grandchildren, as well as riding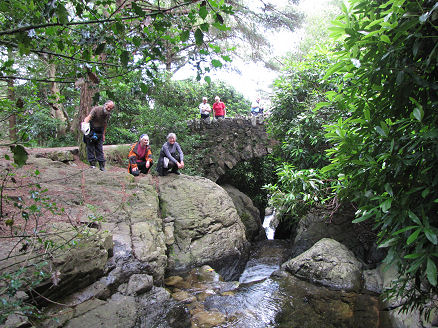 motorcycles, a long time interest. We enjoyed a vegetarian meal in the evening followed by a couple of games of cards, something we haven't done for years, and discussed many interesting topics from politics, plants, organic foods, and different lifestyles.

14/7/09 Ciaran rides a thirty year old BMW 1000cc motorcycle, and with Christel we joined them for a ride to the Mourne Mountain region south of Belfast stopping at Newcastle for a coffee along the way. We all took a walk into the mountains forest, rock hopping up a weathered track to a clearing above the tree line, coming out into the open with spring flowers dotting the grasslands. Many other walkers passed as we rested, stopping to chat in accents I could hardly understand, with almost every one of them having been to or having a relative in Australia. A ride around, and through the mountain region and back to Bangor pretty much finished the day, but after dinner Ciaran and Christel had a game of Boule, (Bocce or Petanque) organised for us. They play regularly with friends on Tuesday evenings. A game we had never participated in, but have often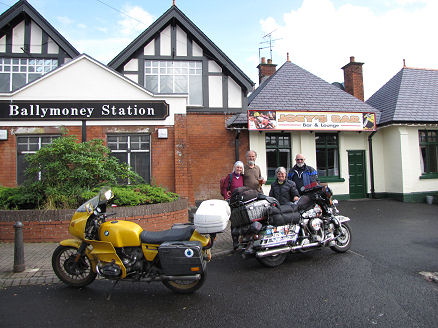 seen played, in many countries. Three metal balls, a game similar to lawn bowls and often played on hard dirt, but here on a covering of fine gravel. Kay seemed to master the skill particularly readily, at least people were polite in their encouragement, and her team did win, unlike mine, and again the evening ended late.

15/7/09 Another ride together, along the coastal route north, stopping for a thermos coffee north of Larne and a picnic lunch (home baked bread by Ciaran and prepared by Christel) in Ballycastle after a magnificently scenic ride out along Tor Head with views across to Scotland, only a few km's to the north, hence the close historical ties to that region. Our main aim for the day was to visit Ballymoney, the home of the famous motorcycle racer Joey Dunlop, who lived here and who we have heard so much of while we were on the Isle of Man, perhaps his most famous series of victories, (still holding the record for the most wins there). His family owned the local railway pub in Ballymoney and Joey used to serve behind the bar, when not racing. His son, Gary, was behind the bar serving drinks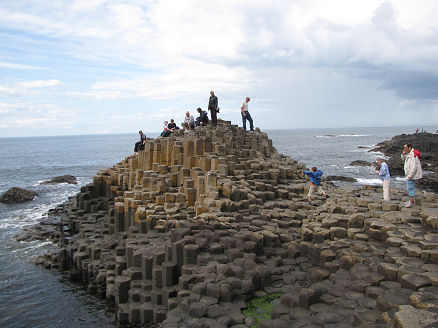 when we arrived. A small pub with some memorabilia, but not lavished with Joey's exploits, we were a bit surprised but perhaps that is how Joey might have liked it as he was reportedly a quiet man not looking for accolades. We bought a round of cider, a popular local drink, and later Gary gave us a 25th anniversary sticker for our motorcycle, a nice gesture, particularly as Ciaran had also given us a Joey sticker, much older, one that he had collected, giving us two memories of the day. The town has encompassed perhaps its most famous resident by building a memorial in the centre of town which details Joey's achievements and has a full scale bronze of Joey and one of his motorcycles. It was here we parted company with Ciaran and Christel, with us heading on to Bushmills for a camping evening, and another opportunity to watch, this time a more low key marching parade, about 30 local flute bands in later evening as they played through the town.

16/7/09 With more and more people travelling and the number of natural attractions static, site popularity is leading to crowding, and a less enjoyable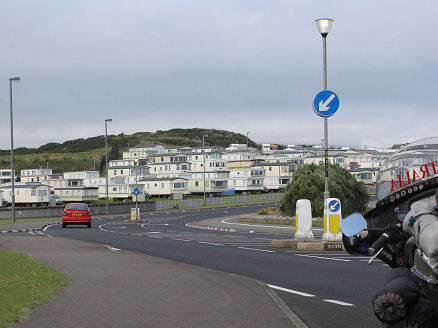 experience. This happened to us at the Rope Bridge. A bridge that spans between the mainland and a nearby island, it has been there in various forms for over 350 years as a means of getting to salmon when they are running. Now thousands of tourists daily, in peak season, walk the path and cross the bridge for the sight and experience. Giant's Causeway was little better although the magnitude of the basalt pillars allows the busloads to spread out more. There is little solution to the situation other than to relish memories of past visits, or visit lesser known attractions which potentially offer greater enjoyment. We stayed another night in the same van park, whiling away a few showers in the tent, listening to comments from people regarding wet weather holidays.

17/7/09 Continuing our coastal ride we arrived at the fastest motorcycle road race track in the world, a shortish loop, near Portrush, Portstewart and Coleraine. Then a ride through Londonderry and back into the Republic of Ireland.

Move with us to Ireland or go to our next visit to the United Kingdom