Travel Through Germany on a Harley-Davidson
By Peter & Kay Forwood
Germany on a Harley (15/9/09 - 21/9/09)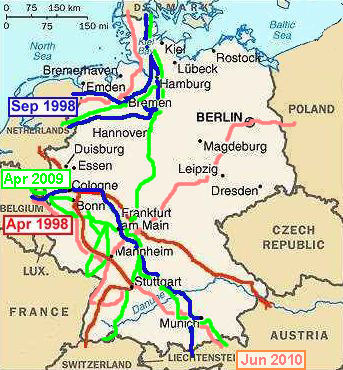 Distance 1654 km (546451 km to 548105 km)

This is part of the fifteenth section of our around the world trip.
Complete Trip Overview & Map


Coming from Austria or read our previous visit to Germany


15/9/09 A highway ride skirting Munich before taking the "Romantic Road" towards Hanau. This road links a number of picturesque towns as it passes through Bavaria. We missed the first couple coming in from Munich but on seeing a Zimmer in Wallerstein decided to stop. The day had remained overcast and after 400 km's, and we hadn't seen a campground, the 45 Euro a night, with breakfast, seemed unbeatable. The house was built in the 1700's, and our spacious room on the top floor was opulently, period furnished. We had to check twice that it wasn't 45 Euro each, it seemed such a lovely place. Run by an elderly lady, alone, her husband having died five months earlier, there were many rooms but only two were occupied, the season over in this region, with most other accommodation places already closed. The house has been in the family for over 150 years and the Zimmer is a hobby, a way to meet people of many nationalities. An evening stroll about the town revealed the local castle,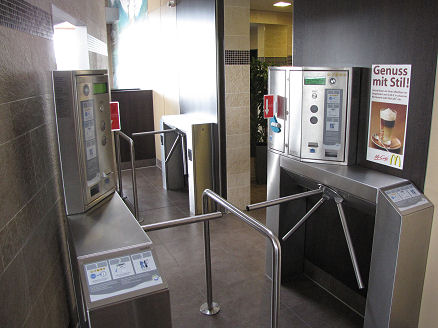 in magnificent condition, an old brewery on top of the hill, seems to have been there forever, plus many beautifully restored houses in town. A lovely corner of Germany, and at this time of year quiet of tourists.

16/9/09 Breakfast awaited us from a forgone era. Home made jams, rolls and bread, along with meats and cheeses laid out delicately. The zimmer exudes charm and history with its thousands of nick-nack decorations. We rode into a foggy morning with prospects of a better day ahead, along the Romantic Road to Dinkelsbühl, where we walked around the walled town, with most buildings preserved, kept in a time warp of hundreds of years previous. Rode past Rothenburg and onto Würzburg where a stroll in the gardens of the castle occupied lunch time, then rode to Werner and Erika's in Nackenheim. We had visited them in April and were returning. In the meantime Werner had retired from his job at IBM and was starting to look forward to his future, a busy retirement. This time they were also hosting a mutual friend, Larry, an American, who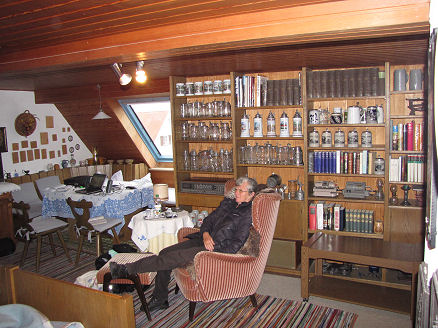 was in Europe again, having been here more than a dozen times riding motorcycles on holidays. We first met Larry at the H-D 100th anniversary in the US in 2003, had kept in email contact, but this was our first re-meeting. As Larry puts it, he has almost dedicated his long life to the Harley-Davidson motorcycle, having ridden them for over half a million miles, owned a number, and still works on repairing and inventing things to improve them. He has a number of inventions that are designed to remove some problems associated with the older models, like his oil flow diversion kit that prevents base gasket leaks, a common problem on our model, and Larry generously gave us a kit. He also invented and makes a kit that removes the relay starter problems on old EVO starting, also a problem we have had, and he promised to send us one, when he returns to the US. The five of us sat down to a BBQ dinner and beer over much conversation and discussed a ride for tomorrow.

17/9/09 For the last few years Larry has stored his own H-D motorcycle in Germany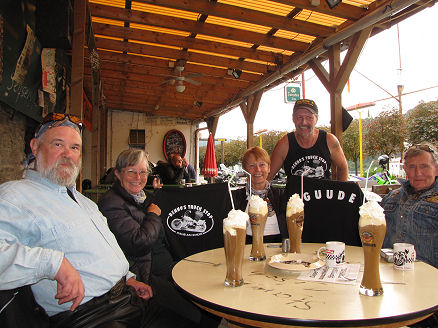 and visits a couple of times a year for a ride here and in Switzerland. As we had ridden with Werner and Erika along the Rhine River on our last trip, and liked it, it was decided to visit a friend of Larry's at his cafe on the other side of the Rhine. Benno owns Benno's Truck Stop, now a motorcycle stop as trucks were banned from this road a number of years ago. He rides a custom chopper, and after we had relaxed over a coffee, and small eats at his shop, he produced enormous iced coffee's for everyone and T-shirts for us then proceeded to leave the place to his staff while he joined everyone on a ride to the Lorelei lookout above the river and led us on a ride through some of his favourite territory, winding up in the hills, through forests, and back to the river before we parted company, getting back to Werner and Erika's late evening. It was a great day. What motorcycling is all about, catching up with old friends and meeting new ones. One of our best days in a long time.

18/9/09 Larry was heading off to Switzerland and we were off to Hanau as Dunlop had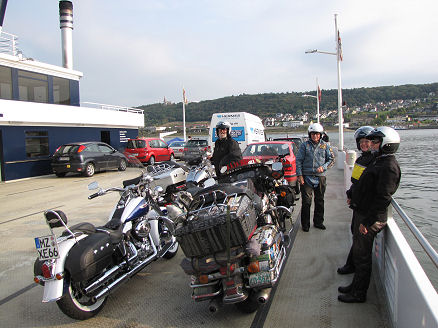 agreed to supply us with two more tyres, same arrangements as last time. Our rear tyre had now covered 17,500 km's and the front tyre 31,000 km's, quite amazing. The smooth European roads we assume were the reason for the extra mileage. We said goodbye to Werner and Erika with them offering to store our motorcycle if necessary at the end of our next trip, in about a year's time, when we will likely be passing through this region again. The two tyres were at Premio Tyres, next to the Dunlop complex, where we were welcomed as old friends by everyone, but particularly by the Polish workshop attendant who speaks good English, and again they let us remove the wheels in their workshop, providing the lift, shop cloths and grease to grease the wheel bearings. They fitted the tyres and balanced the wheels and this time there was no fitting charge, a nice and appreciated gesture, and they even brought us coffee. It took us over three hours, taking the opportunity to clean and inspect the brakes while the wheels were removed. Our evening destination was to a place near Limburg where we had arranged to meet Kai, a German man who with his wife, Ulrieke had travelled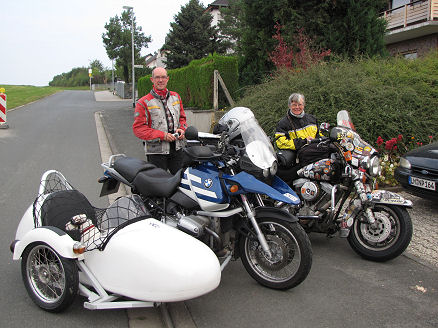 from Germany to New Zealand, the more traditional route via Iran and India, a few years ago. We hadn't met them before and unfortunately Ulrieke was away on business so wasn't at home. Kai is now a home person, looking after their two dogs, taking up hobbies, and hasn't been able to or really wanted to return to the workforce. He and Ulrieke are in the process of planning early retirement on the road with their dogs and have a BMW motorcycle attached to a side car, the swing variety that allows the motorcycle to lean in corners with the side car remaining horizontal. It was a relaxed evening outdoors on a lovely autumn evening around a wok log fire which doubled as a BBQ.

19/9/09 Kai was off to a tilting sidecar rally and we all departed at 9am after a few photos. Our temporary engine had been running smoothly till a few of days ago when a ticking noise started in the top end. A fairly familiar sound, although a bit different. No engine noise we have encountered sounds exactly the same. Larry had listened to the engine a couple of days ago at Werner and Erika's and diagnosed it as likely being a lazy lifter,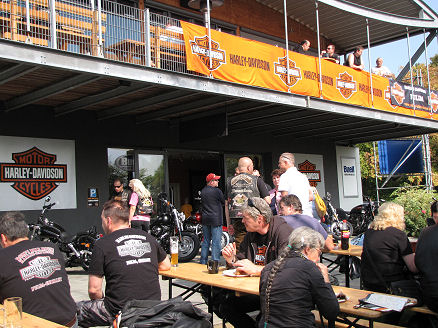 a cam follower, probably not holding oil or not rotating on its wheel. We have had problems with lifters (cam followers) before. They have lasted anything from 100,000km's to more than double this, but at just 6,500km's it seems a bit strange. The noise is worse at start up but after warming, five to ten minutes, the rattle subsides to a steady ticking. Larry had suggested fitting quick install adjustable push rods so it would be easy to remove the lifters without removing the rocker boxes. We had looked for a set at the H-D dealer in Hanau yesterday, no success, and again at the H-D shop in Wiesbaden. There is little demand for these parts now, this engine design having gone out of production in motorcycles ten years ago and even the H-D supply storehouse in Belgium didn't have a set, but after a few phone calls by the HOG club in Wiesbaden a set was located in Fulda, 140km's north east, so we headed there to collect them. Luckily it was Germany's H-D open day at all the dealers so the shop was still open when we arrived, and in full swing with demo rides on the 2010 models and eats. We picked up the part and stayed for a couple of hours mixing and mingling before heading south, back to Würzburg for the night, and camped alongside the Main River, right in town.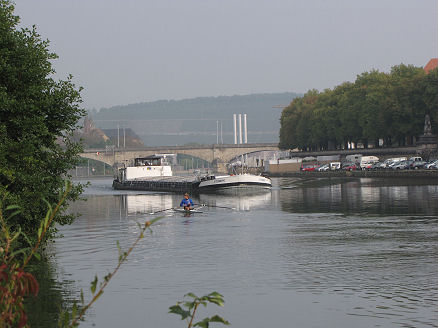 20/9/09 Boats, mostly cargo or tourist, plied up and down the river all afternoon. It is amazing the amount of cargo that is transported along the rivers of Europe, through its locks. Over a leisurely breakfast we watched the river unfold on a Sunday morning, canoeists, kayakers, speed boats, plus the usual barges with cargo. We planned to head south towards Switzerland and the German enclave of Büsingen, another of the Most Travelled Peoples places. When we started up the motorcycle the rattle had oddly disappeared, and stayed away all day. An interesting result. Having bought the parts we never needed to use them? It was 300 km's down the motorway, cooking lunch in one of the great German roadside stops, before we reached the enclave mid afternoon. Surrounded by Switzerland and with an area just under 3sq/km's and 1500 residents, it fronts the Rhine River and is a holiday destination for both the Germans and Swiss, and both currencies are readily accepted. We had planned to stay the night in the area but found the accommodation expensive, and after hunting around for a couple of hours ended up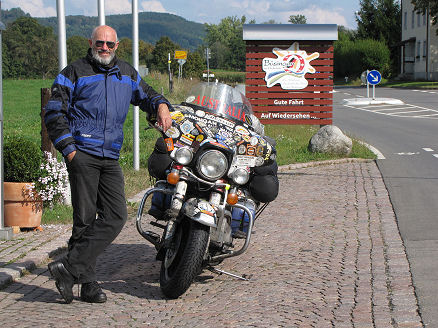 moving on to the town of Tengen, back in Germany, where on dusk we found a guest house for the night.

21/9/09 Shopping in Germany before we left, cheaper than in Switzerland, then crossed the border near Tiengen.





Move with us to Switzerland or go to our next visit to Germany