Travel Through Germany on a Harley-Davidson
By Peter & Kay Forwood
Germany on a Harley (19/4/09 - 27/4/09)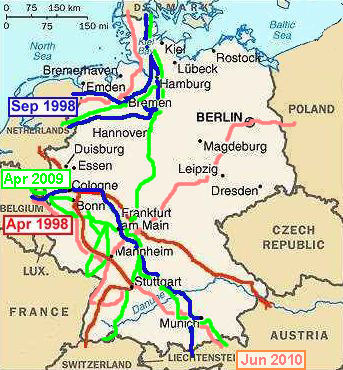 Distance 823 km (525811 km to 526634 km)
This is part of the fifteenth section of our around the world trip.
Complete Trip Overview & Map
Coming from Belgium or read our previous visit to Germany
19/4/09 Bernd and Patti had invited us to stay with them for a couple of days after the rally and we followed them to the small rural village of Hammer. They had moved since our last visit, had also married, and had now jointly built a lovely timber home nestled into a treed hillside overlooking a river and facing south, giving plenty of spring sunshine. Patti, an artist, currently working primarily on mosaics, has decorated the new home with her work, and added to that the rustic memorabilia of Bernd's the house has taken on a homely feeling that reflects both their personalities. Franz, from Austria, another round the world traveller, had also been invited to stay the night. Kay and I were accommodated in a neighbouring cottage, the summer house of an elderly gentleman who rarely visits, and after splitting some firewood we had the place warm and cosy. A late evening of good conversation and food closed the day.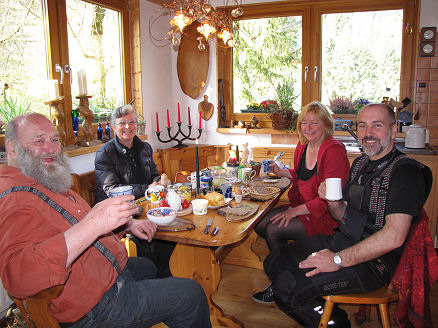 20/4/09 Bernd managed to mix some end of rally jobs in Aachen with a tour for us of that historical city. Just 40 km's away from his new home the city has some incredible history for Germany and also for Bernd. The conqueror, Charlemagne made the city his home in the 8th century building a magnificent cathedral, and Bernd, had run his overland tours, cars and motorcycles, from his shop in the city until numbers outgrew that venue. So over coffee, lunch and sitting in the sunshine he explained to us both histories. Around the dinner table, Bernd posed, as he frequently does, the question of the best and worst of the day for each person. Immediately each person necessarily pondered on the day, its highlights, its difficulties, explaining their feelings and thoughts, capturing the last before it slipped away to tomorrow.

21/4/09 A morning coffee was brought to our cosy summer cabin by Bernd, a ritual he carries out each morning for Patti, a coffee in bed, a relaxing start to each morning. The warm sunshine tempted breakfast to be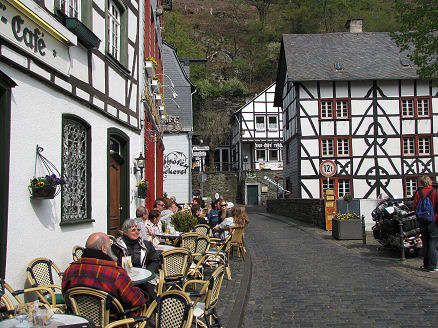 outside overlooking the forest with birds arriving with the springtime to the feeders, the cherry blossom forced by leaves to a snowy carpet, the grey sticks budding to emerald green. We all, plus two of the neighbours dogs, walked alongside the river, over green fields, through the forests, ending up at a lovely coffee house in Widdau, apple pie and coffee, another historical village of century old homes, well manicured gardens and quiet country lifestyle. It was a lunch at Einrur, alongside the lake and a drive through a new national park, previously a military site, sad and joyful history is everywhere in this region. By early evening Kay and I were comfortably exhausted, a restful time to ourselves before sleeping.

22/4/09 When staying with evening people, and we are morning people, it is easy to get a bit tired going to bed late and waking early, but after a good sleep we were refreshed to approach another day. Working to their own hours the day for Bernd and Patti starts quite late, a relaxed breakfast of bread, cheese and spreads, local honey and hand made jams
followed by a farewell ride to Monschau for a coffee in one of the many outdoor cafe's. This well preserved historical town, nestled in a lovely valley, with a small river flowing past an old waterwheel made for a lovely ending to the regions visit. 260km's later, crossing by small roads and freeways we were at Erika and Werner's place near Mainz. Both Harley riders, we had met them over five years ago at the 100th anniversary of Harley production in the USA, and had kept in touch by email since. Werner was also at the 105th event, one we missed while island hopping in the Pacific, and after a BBQ dinner and wine we watched a video he had made of the 100th, a great reminiscence, and also the 105th which many of our friends also attended.

23/4/09 Werner and Erika laid on a traditional breakfast, spiced raw pork mince, a range of salami meats, heavy German breads and rolls, some fruit and coffee. One of the advantages in visiting people in their native countries is the opportunity to look inside the homes we usually just ride past and to enjoy the foods people eat at home. We have already
stayed in three houses in the last ten days and each has been uniquely different, different upbringing, different country or region, different culture, different economic group, different ages, despite us only having travelled 500 km's between each, such is the diversity of Europe. We hope our planned visits ahead offer this continued diversity. Kay and my helmets are eight years old, 290,000 km's old, and it was time for a replacement along with a new rain jacket for myself. In the car for the day the four of us visited a couple of motorcycle shops, more extensive, more variety than we have seen elsewhere, and the items were purchased easily. The day also included a visit to Mainz, on the Rhine river. A city whose history goes back before the Romans, where each excavation unearths ruins. It was also heavily bombed during the second world war leaving an interesting mix of old and more modern architecture.

24/4/09 In beautiful spring weather the four of us took two Harley's south to the French border town of Wissembourg, winding our motorcycles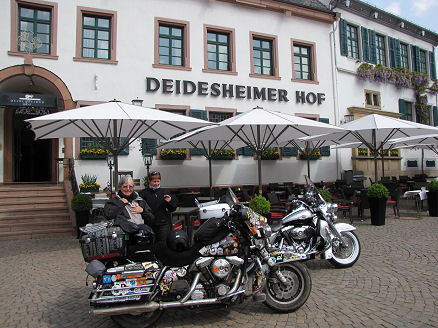 through many small villages along the way. Having been part of both France and Germany over the last centuries Wissembourg has taken on an unusual mix of architecture and culture. Werner and Erika took us to one of their favourite restaurants for a local dish, tart flambe. A very thin pastry, similar to pizza base, topped with sour cream, onions and ham, but with many other varieties of toppings like champignon, cheese or different meats, the semi spicy meal was delicious. It was followed by a chocolate dessert from a specialty shop, also a favourite of the region. The ride back through open pastures and wooded hills equally enjoyable, with a few modern windmills generating clean energy almost always in view. At first I didn't like these intrusions on the landscape but now I enjoy their majestic turnings.

25/4/09 Bernd and Patti had offered us their place to stay, while they were away in the UK for a couple of days, and Werner and Erika decided to ride with us for a while, alongside the Rhine River as we headed there. A sunny Saturday in early spring, there were motorcycles everywhere.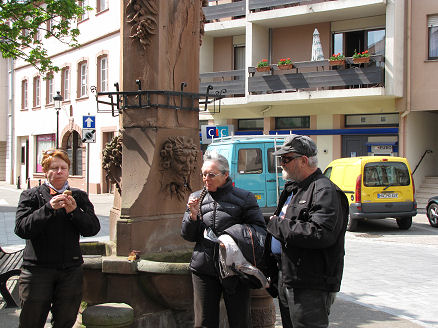 The increase in popularity of the sport during the ten years since we visited Europe is amazing, at times there were many more motorcycles on the roads than cars. Mostly sports motorcycles, the roads more favourable to twisting, they zoomed past the slower cruising Harley's to rest at coffee shops with mates, congregating in groups often more than fifty. The Rhine river was magestic. Boats, tourist and barges, fought the strong current upriver or coasted down. Castles were on every corner, positioned high above the beautifully restored riverside homes and shops, while camping grounds occupied the flood plains right alongside the river. We crossed over to the Mosel River, smaller, and watched as a barge negotiated one of the locks as it headed upstream, saying goodbye to Werner and Erika at historical Cochem after three lovely days together. In increasing cloud and wind we rode back to Bernd and Patti's, did an oil change on the motorcycle, bought groceries, and relaxed, just the two of us, for the first time in ten days.

26/4/09 We slept for ten hours awaking to undone jobs. My diary, normally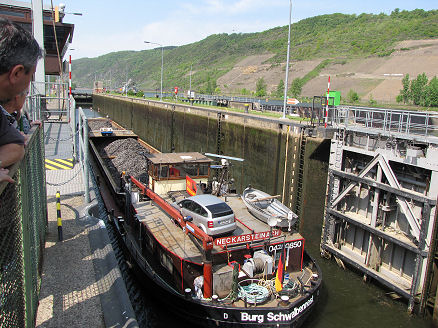 done daily, had been forgotten with good company. Our photos hadn't been processed, or looked at for two weeks, and the motorcycle needed a bit of work. One of the rear shock absorbers had been leaking a bit of oil, noticed just before we left New Zealand, so we had brought a spare one, given to us by Harley of Guam, an offcast when someone replaced it with a lowering kit, we had kept it with the crate as a spare. This morning it was fitted, taking a bit of time as we needed to transfer the oil from the old shock to the new one. The rest of the day we processed photos and prepared the web page for updating when we next have internet access. Not much of a rest day but quite relaxed.

27/4/09 Bernd and Patti had returned late yesterday evening from their short trip to England and after another relaxed breakfast we headed off towards Belgium in increasing sunshine. We have found that by asking the Tom Tom navigator to limit our speed to 70km/hr when planning a trip it takes us on a nice mix of motorways and small roads, and the way it took us today.


Move with us to Belgium or go to our next visit to Germany