Travel Through France on a Harley-Davidson
By Peter & Kay Forwood
France on a Harley (26/8/10 - 28/8/10)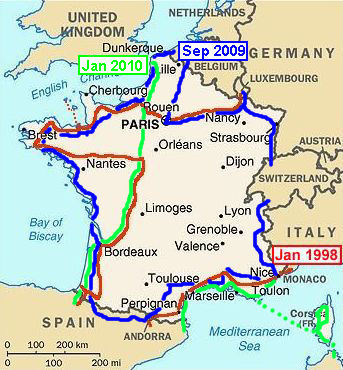 Distance 97 km (582827 km to 582924 km)
This is part of the sixteenth section of our around the world trip.
Complete Trip Overview & Map
Coming from the Netherlands (via Belgium) or read our previous visit to France
26/8/10 Two streets back from the beach the Le Deltaplane Hotel is old with character and our room, just out of the summer season is 28 Euro a night, not much more than some campgrounds in Norway. In fact we were upgraded from a shared hall bathroom to an ensuite as the place is empty. Still no sunshine and drizzle rain most of the day making the beachside look forlorn but there were still some hardy souls out in their beachside shanties on Bleriot-Plage. Hundreds of shacks, built with old railway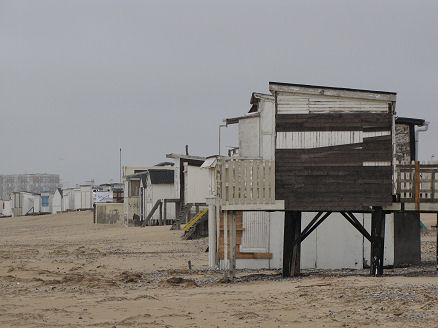 sleeper piers, secondhand boards, doors and mostly run down, stretch out along the beach front.

27/8/10 More rain overnight and in the morning as we are doing our diary, photos and maps for the web page in the hotel room.

28/8/10 The last of many ferries this trip, back to the UK from Calais.
Move with us to The United Kingdom