Travel Through France on a Harley-Davidson
By Peter & Kay Forwood
France on a Harley (13/3/10 - 25/3/10)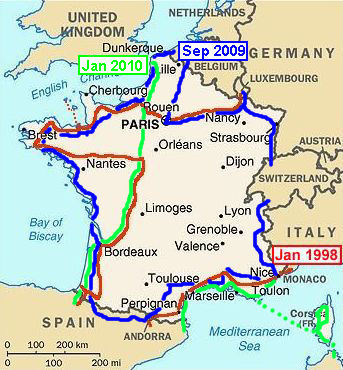 Distance 1400 km (557671 km to 559071 km)
This is part of the sixteenth section of our around the world trip.
Complete Trip Overview & Map
Coming from Spain or read our previous visit to France
13/3/10 Frontignan was our small roadside cabin-hotel destination. Famous for muscat grapes, this coastal region, although now showing signs of modern tourist development, still has predominantly French appeal.

14/3/10 A Sunday, it was market day in a small part of Frontignan. The street cafe's were open, baguettes carried, people chatting with neighbours and buying early spring produce.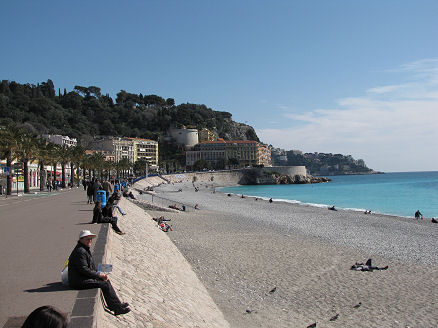 We joined in for a couple of hours but spent most of the day on the hotel internet planning a route to Corsica, Sardinia and Italy then across to Greece, trying to keep our path to the warmer Mediterranean. People often see our travelling as a form of freedom but true freedom is not owning anything, not having any debts, not being responsible to or for anyone. Each item we own owns a piece of us, either through debt, worry about it being stolen or broken, its need for maintenance or repair. To own nothing removes responsibility providing total freedom, yet for some reason we each seem to accumulate all our lives, things and friends, slowly removing the freedom we were born with.

15/3/10 We had been in this region of France only last autumn, the Camargue, but now in spring the farm machinery was out, slowing our progress, ploughing fields,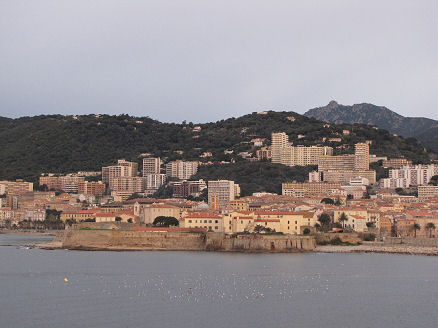 spreading fertiliser. Since entering France we've hardly been out of the sight of grape vines, sometimes just a small field, at others, covering the entire expanse of our view. Who drinks all this wine? Guess we help. Our non toll roads took us inland to Arles, back to the coast at the lovely Martigues, skirted around Marseilles, into the low mountains near Brignoles, the coast at Frejus St Raphael, cork trees growing inland around St Raphael and Cannes before hitting the heavy coastal traffic of Nice, 370 km's, quite a days ride.

16/3/10 We like Nice. Whether it is the narrow streets of the old city, the street restaurants of the new city, or the beachside promenade with its roller bladers, scorched sun worshippers or buskers, who cares, the city just seems to be busy and lively. There is money here. Private jets regularly fly low to land interspersed with Easy Jet packaged people. Expensive cars and motorcycles cruise the strip and off shore boats travel past heading for Cannes, Monaco or St Tropez. Nothing specific today, just a wandering of the streets. We haven't been into a museum for months, haven't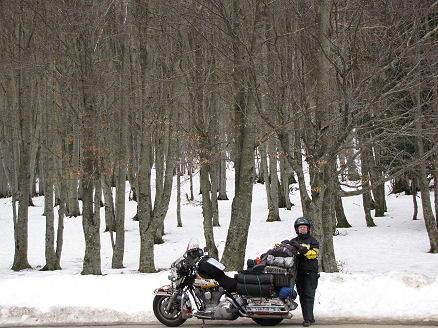 been into a cathedral, have become quite philistines in our recent absorption of historical culture, preferring todays antics of the world to keep us amused.

17/3/10 Another strolling of the city, shorter today, picnic lunch on the waterfront. The same locals are here. French Africans trying to sell their wares to tourists. An octogenarian lady again sitting in her bikini, straps removed, soaking up spring sunshine while she eats lunch and manicures. A couple, avoiding hotel prices, sleeping on the beach. Workers taking a break for an outside cigarette and lunch in the sunshine. They all make up what is Nice.

18/3/10 Birthday 57th. Kay tells me I am now in my late fifty's. Guess that is because it was what I told her last year when she reached the same age. She is taking me to the island of Corsica for my birthday, after visiting Cannes and St Tropez along the way. Sounds exciting but it was really what we would be doing today anyway. It was a lovely, although slow ride, right next to the coast for most of the way. Birthday lunch at a restaurant overlooking
the beach, then the red rocky cliffs kept us fighting between watching the road or the scenery. Our ferry left on time, 9pm, an uneventful departure with only a few passengers. An upmarket ferry, Corsica Lines, the boat was well equipped and comfortable and at first we were unsure we could camp anywhere. Selected a spot at the top of the aft stairwell, inside, and set up our airbeds and sleeping bags and got a good nights sleep on the smooth crossing.

19/3/10 Rode off, again on schedule, 7am, to a cool and partially sunny morning of crisp air. As check-in to our booked apartment was not till after 5pm, we chose a loop of the island's north not being quite aware of how mountainous Corsica really was. With 20 mountains over 2000m, and one at 2700m, and all of them currently covered in snow, it was a cold morning ride through the mountainous interior, but by the time we reached Calvi, on the north western coast, the day had warmed. A walk around the towns citadel before following the incredibly scenic coastal road south again. The pick of the day though was the unusual rock formations at Les
Calanques. Sculptured by wind and water the hard outer and softer inner rock has weathered to some magnificent shapes, whole etched mountains rising up from the blue ocean to the pine covered hills. It was a long day by the time we reached our accommodation an hour south of Ajaccio.

20/3/10 Set on 14 hectares on a hillside overlooking the distant ocean and beach our apartment is one of dozens in the complex, but, it seems we are the only paying guests, and the office is closed weekends, so we virtually had the place to ourselves, in peaceful solitude. A loop ride to take a better look at Ajaccio, missed yesterday in our busy schedule, and grocery shopping filled the middle of the day, otherwise we relaxed in the comfortable apartment.

21/3/10 Light rain kept us near the apartment. A bit of work on the motorcycle, watched a laptop movie and old TV shows (Cheers and Frasier), and other than an espresso coffee at the local bar a short walk up the road we had a stay at home day.

22/3/10 Another walk,
this time to the headland out from the apartments with views over two long beaches, through old olive groves, now disused, history of long past family's lives, hopes and dreams, stone house ruins remain, now roofless, along with stone fences dividing blocks of little consequence today.

23/3/10 A nice stay at the apartment, quiet, restful, at least until just before our departure when the hot water service in the ceiling decided to spring a leak hurrying our departure. More beautiful coast riding before arriving at the most magnificent harbour I think we have ever seen, at least on a sunny day, a day that enhanced the azure Mediterranean waters and white cliffs. Bonifacio's harbour, just a few kilometres from Sardinia, is a narrow meandering cut between two cliffs. Positioned on its outer headland is a large citadel, proudly standing, defending the island. Nestled at the headwaters of the harbour are a number of large boats, of the wealthy, a few ferries and some fishing craft, with shorelines of cafe's and restaurants starting preparations for the influx of Italians that come on day trips from Sardinia in the summer. We spent lunch time wandering the compact town and citadel and its cliffs before riding to Porto Vecchio
in the afternoon.

24/3/10 Porto Vecchio is currently undergoing a wealth transformation. The quiet town of stone buildings and narrow streets, nestled atop a hill overlooking the port has become a place for the well to do with shops of fashion and jewels. Few tourists are here now, just a handful, but judging by the places business of renovations, building and cleaning, it will soon be open for another summers trade of well-to-do's. Large yachts and power boats fill the marina and open air restaurants fill the towns square. For us it was another wandering day, past the anxious waiting businessmen, anticipating the influx of summer.

25/3/10 An early morning ferry. Leaving our hotel at 6.15am for the ride back to Bonifacio, and an onward boat to Sardinia. We really liked Corsica, in early spring. No doubt it would be a different place in August when the hotel prices quadruple and the population explodes with an influx of tourists that can only be imagined. There is a lot crammed into this smallish island, mountains, cliffs, beaches, ports, harbours, culture and history, and we only skimmed the surface, as is all we ever do in our onward journey.
Move with us to Italy or go to our next visit to France