Travel Through France on a Harley-Davidson
By Peter & Kay Forwood
France on a Harley (10/10/09 - 24/10/09)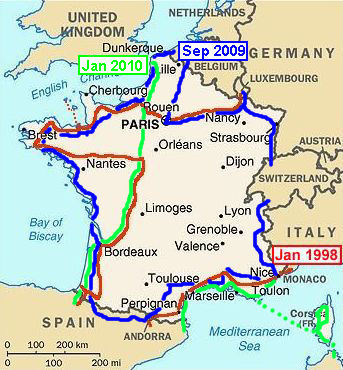 Distance 1810 km (551015 km to 552825 km)
This is part of the fifteenth section of our around the world trip.
Complete Trip Overview & Map
Coming from Spain or read our previous visit to France
10/10/09 No sooner had we crossed into France than light drizzle at the top of the mountain pass started and gradually became heavier as we descended to the plains. With most, if not all of the campgrounds in France now closed for the season, it looks like we will be living out of the cheap chain hotels as we head north and took another one in Pau as the rain continued. Situated just off the main roads, on the edge of cities, these 30-40 Euro a night rooms offer a comfortable, warm, convenient place to stay, with parking. All but Formula 1 have ensuite rooms, most have free wi/fi, and all have heating or aircon.

11/10/09 We can feel the days closing in, sunrise at 8.30am, sunset at 7.30pm, the days are becoming short. We thought the rain had cleared but within minutes of leaving our hotel light drizzle, or heavy fog, started falling and continued all the way to Bordeaux, through flatland pine forests and a few wine plantations, and, literally 200 metres from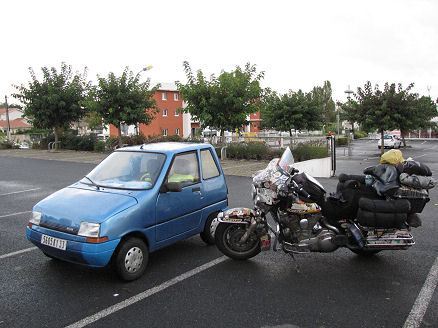 a cheap hotel, the motorcycle just died, stopped dead on a roundabout. A van stopped and the Frenchman, a traveller, been to Australia, had been assisted there when his car broke down, offered us assistance and towed the motorcycle to the hotel. After checking in, and a cup of tea, the drizzle had cleared and we started looking for the electrical fault, diagnosed by one of the relay's under the fairing clicking every few seconds when the ignition was on. With the fairing off, in the carpark, Kay noticed a slight wisp of smoke and on a closer look a wire connector was noticed touching the metal fairing frame. A resealing of the connector and the problem was solved, a couple of hours work.

12/10/09 As we sat in our Etap Hotel cooking a breakfast of rice, prunes and sultanas in front of an open window, watching the traffic crammed motorway and roundabout, commuters heading out in rain and darkness, we realised we had robbed the government and businesses yesterday, by solving the electrical problem ourselves. The commuters would need to earn 240 Euro, pay a wages tax of 80 Euro, then pay for the two hour service charge at 80 Euro an hour. It would also have required an extra night at the cheap hotel, as the breakdown occurred on Sunday. The motorcycle would have needed to be uplifted and carried to a workshop, extra costs. Society has become so complicated, so technical, and we all want more "things", that we no longer fix our own broken belongings. We work in specialised fields, pay our taxes, and employ another specialist to fix our things, and so our society functions, and so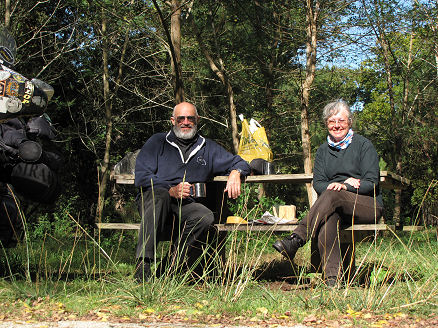 we commute to work in the dark, rain and traffic. In subsistence Africa, people look after themselves, their lives are not complicated by technical possessions, but there is no tax collected and no business generated, so little money filters through for government infrastructure, healthcare or education, yet the west's system seems to have gone wrong somehow. Perhaps a return to more middle ground is necessary, perhaps a severe recession will help, but perhaps I am just reminiscing, not wanting to move along with the changing western world, but just perhaps it might be that we are not heading in the right direction?

Early morning rain again, but it eased by the time we left the hotel. Heading for La Rochelle along the west coast route, with an unexpected expensive ferry to Royan along the way. The wine growing area was left behind with boggier, open, and a more remote landscape the further we headed towards Royan. Whilst waiting for the ferry in a nearby park over our picnic lunch we received a phone call from our son, John, to say that we were now grandparents, our first grandchild, a grandson, Sam. A big boy, he was more than two weeks early, arriving by caesarian, and both mother and child were doing well, but we won't see him till our return to Australia on the 28th of October. On our arrival at our hotel in La Rochelle, it was a visit to Carrefour, a bottle of French Champagne, (well in the mode of champagne wine), a roast chicken, pate, olives and biscuits, and apple tart for desert, and in the strange world of international time we toasted Sam's birth, at the time and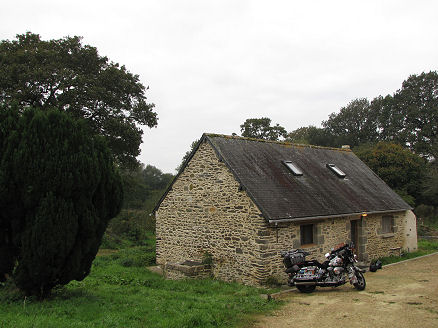 date of his birth, 5.58pm on the 12th, but nine hours after he was born, Australian time. A family celebration dinner will have to wait till our return to Australia.

13/10/09 Losing a few minutes a day of light as winter approaches, and more as we are heading north, so the day starts late in this part of Europe, made worse by daylight saving and a single time zone across many countries. We left our accommodation at 10am with temperatures still at 7 degrees but in lovely sunshine, and the day warmed with our riding. Following the coast as much as we could the route took us along holiday areas, now closed for winter, Saint-Gillies-Croix, and further north to St-Nazaire, in little traffic and excellent riding. Our small inner city hotel in St-Nazaire provided us with the opportunity to walk its streets, indulge in some pastries, and have a wine with locals on their way home from work. Actually, it surprises us that in the regions of France where we have been visiting, people tend to have a beer rather than wine for an end of work drink, and unlike the British, or Australians, a single small glass is sufficient, a brief stop on their way home, so we joined them, but had a wine, and were still smiling with yesterday's news.

14/10/09 More beautiful sunshine and a crisp morning, and after a patisserie breakfast of pain au chocolat, (like a chocolate croissant) we were on the road again, this time to a destination organised weeks previously. We had met Paul and Vanessa in Southampton, England, a few months ago.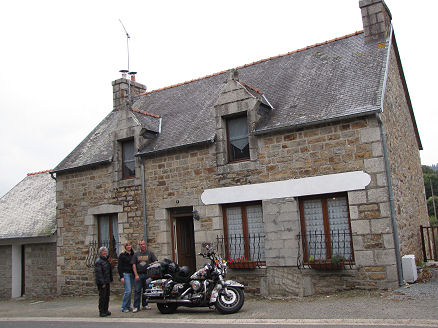 They had read of our travels on the internet and after only a short time together we exchanged email addresses, and soon after they offered for us a stay at their holiday farmhouse in Brittany, France, during our travels, and now seemed an opportune time, time to organise ourselves for our return to Australia in two weeks time. We arrived mid afternoon with a list of instructions for water, electricity, keys and heating, and found the almost 200 year old place in a lovely state of being modernised. The stone walled, slate roofed cow shed had been converted to a comfortable one bedroomed cottage with a mezzanine lounge, with work progressing on its final transformation. The other, larger stone building, once a home, still has its original oak beams and bare stone walls inside and out. We settled in for a few days and after grocery shopping sat outside in the last rays of afternoon sunshine before lighting a log fire in the cottage.

15/10/09 Baz and Tom, a couple of Paul and Vanessa's friends had popped over yesterday evening to make sure we had settled in OK and this morning Tom took us to Baz's home for morning tea. This area of Brittany has a large contingent of British people, retired, semi retired or planning retirement here. Old French farm houses had been seen of little value by the French and many Brits, when the pound was strong, had purchased them at reasonable prices, but like the couples we had met at the supermarket yesterday, things have recently changed. The pound is weaker by 30% so the British pension, British income, and with interest rates low, life for many of them in France has become financially difficult. Baz lives in a lovely spot and showed us around his four acres of history. A stream runs through his property with
a number of old stone buildings, including an old mill. He and his wife rent out their home during the season to holidaymakers, and move to an onsite caravan themselves. Morning tea moved onto lunch and a couple more British immigrant friends arrived later in the afternoon. The evening was quiet back at our cottage, cracking some walnuts gathered at Baz's place, and roasted fresh chestnuts collected from the roadside, adding a bit of interest as we watched TV.

16/10/09 Tom had offered us the use of his internet connection and after a foggy morning going through our belongings, deciding what to leave behind and what to take back to Australia, we visited his and his wife's place, about 20km's down the road, mid afternoon. Tom and Sandy had already prepared a dinner and invited us to stay. They live in the village of St Servais, in another old stone building they have converted from a bakery and shop to two units, their home, and one to rent. Fully, quality renovated, but keeping with the original appeal of the stone building, it is a lovely place, overlooking the village, church and a couple of small lakes. Now almost completed, the renovations having taken many years, so Tom and Sandy hope to be able to take their 2003 H-D Electraglide on longer trips in the summers, but the winters here are long.

17/10/09 The last two days of cloudy, foggy, overcast conditions have left us a bit housebound. While the old stone renovated homes are lovely, they are a little enclosing, with small windows, low lying and a bit cold inside. Always seeking the sun during our visit to Europe, by mid afternoon the fog cloud had partially cleared so it was a short ride, as much to warm up the motorcycle for an oil change, and just to get out and about, as anything. We also thought the motorcycle needed a wash, not having had one since we arrived in Europe six months earlier.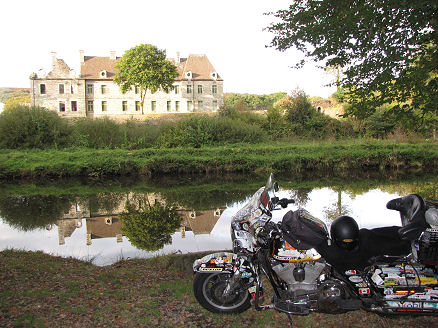 When we store it, or ship it, we usually spray it all over with a penetrating oil, like WD40, to give it a protective coating, but this gathers dirt.

18/10/09 A sunny start to the day so out for a ride. Free internet at the local McDonald's restaurant, and still no report from Thames Valley Harley-Davidson in Slough on the repair status of our old engine. They have now had the engine for two months, and it is four weeks since they opened it to determine damage. No report yet, so we still have no idea what is needed for the engine's repair or indeed if it can be repaired, luckily we haven't been waiting around in London. Needing to plan ahead we are on our way back to London, a change of plans to our preferred destination, the warmer Barcelona, still not knowing whether the old engine can or will ever go back into our motorcycle. More than a little disappointed we left McDonald's and went for a short ride in broken sunshine to Baz and Pat's place for an afternoon tea and later to the Bon Repos Abbey, a popular Sunday destination with locals for walking and sitting out over a beer.

19/10/09 Started tidying up, something we aren't used to doing, cleaning the farm cottage ready for our departure tomorrow. An afternoon walk, in sunshine and cold winds, in our immediate area, past farm houses, now bringing in their corn plants for silage or apples for juicing.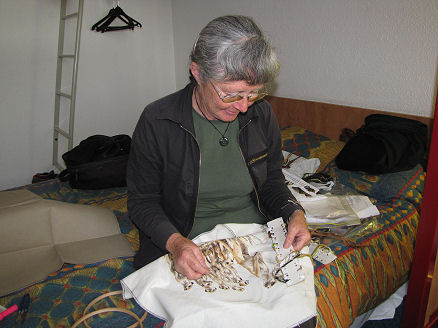 Enjoyed a few more walnuts and roasted chestnuts, collected locally in the evening but we are now ready to move along after six nights here.

20/10/09 Awoke in the night to rain, which continued throughout the morning, so we decided to stay another day, staying inside, watching movies and television, with still plenty of time to get to London.

21/10/09 The rain broke to showers yesterday afternoon and was clear this morning so we left our comfortable accommodation of the last week. It was still cold, overcast and threatening rain. A highway ride to Caen, our planned stop for the night, but it was too early, so we continued to Rouen, but the planned cheap hotel was full when we arrived at 5pm, so we kept riding north, and in increasing showers finally arrived in Abbeville at 6.30, wet and nearing darkness, a 570km day, inside to a warm Formula 1 hotel, whilst using the outside window ledge as a refrigerator. Despite the seeming wrong choices for the day it was pleasant enough. The summer driving season is finished and there was little traffic on the roads, and with our heated jackets we had been kept warm. We did get a chance to check emails along the way, again at a McDonald's restaurant, buying a coffee, warmth, toilet and internet for the price of the coffee. Thames Valley Harley had emailed us their report on our old engine. Because of its age, that it has been rebuilt twice already, the wear to many parts, and a crack in the casings, they suggested it was uneconomical to repair and in a cc'd email to Harley US they suggested a replacement engine be provided with the same engine numbers, and the old engine be put on display at the museum in Milwaukee. This is not along our lines of thinking for the old engine at this time, but we wait to see what thoughts Harley US come back with.

22/10/09 We had planned to look around this region of France as we made our way back to the UK but have little enthusiasm with the poorer weather and our thinking towards going home. A couple of hours riding along the smaller roads to Boulogne and another Formula 1 hotel on the outskirts of town. An afternoon walk about filled the day.

23/10/09 Another day room bound, with me reading the Encyclopedia Brittanica on the laptop and Kay doing her needlework, cross stitch, with little enthusiasm to explore.

24/10/09 At the ferry terminal for the 10.45am ferry to the UK in rain. French immigration were there this time, first time we have seen them, and stamped our passports out of the Schengen region even though they didn't know we had arrived? Guess it doesn't matter too much to them, and the British authorities also checking and stamped our passports.
Move with us to the United Kingdom or go to our next visit to France