Travel Through France on a Harley-Davidson
By Peter & Kay Forwood
France on a Harley (1/9/09 - 4/9/09)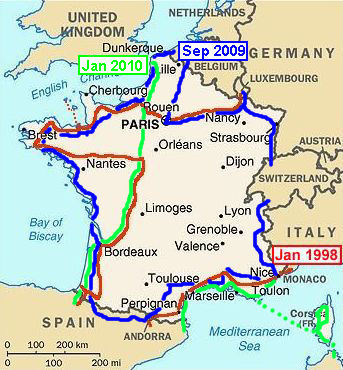 Distance 676 km (543955 km to 544631 km)
This is part of the fifteenth section of our around the world trip.
Complete Trip Overview & Map
Coming from Belgium or read our previous visit to France
1/9/09 We had hoped to take smaller roads to avoid the French toll roads but after riding in the rain for about an hour we relented and headed for the nearest toll road. Taking a long rest at a roadside stop, to mentally regroup as much as to try to avoid the rain, the skies started to clear and as we rode into Paris there was sunshine. Our Tom Tom took us past the Arc de Triomphe, and the friends we were visiting were staying at a hotel right near the Eiffel Tower. Whilst we try not to visit people after people, preferring to have a couple of night to ourselves in between that can't always be arranged. Greg, a friend from Townsville, our home town in Australia, had just finished a 30 day river boat cruise, starting in Romania, to cruise the Danube, the Rhine and the Mosel and finishing in Trier in Germany. We had not met Lyn, his wife of a couple of years, and had been surprised at the time as he seemed to be a confirmed bachelor, still there always seems someone to adjust that confirmation. Still on their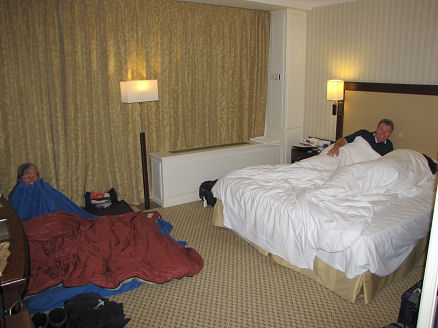 package holiday the tour bus was a couple of hours late arriving at the hotel, and as they had invited us to share their hotel room, we sat in the lobby trying to be as inconspicuous as possible. We don't recall having been smuggled in to share a hotel room before on our travels, so there are still a couple of new things left for us. A large four star place it was busy and with people coming and going all day we blended in. Our camping mattresses, sheets and sleeping bags were rolled out onto the floor of the large hotel room and over a supermarket picnic dinner and a bottle of wine we caught up with Greg's life of the last few years and started to unravel the mystery of who Lyn was. It was yet another late night and as I lay on the hotel floor I wondered if I wasn't getting too old to be doing these sorts of things.

2/9/09 Obviously not because after they had enjoyed the hotel breakfast and we had our muesli in the room we went down to explore Paris and within minutes of the hotel spotted an old fashioned "merry go round" (carousel), with the horses that go up and down, and not having been on one in years, well over 40 years, and arguably practicing for our first grandchild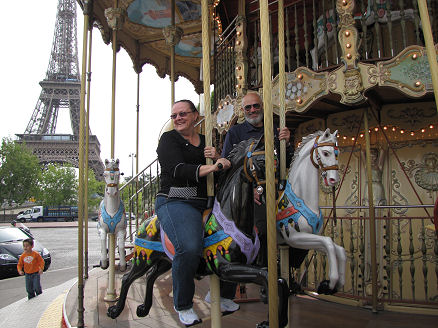 who should be born in about eight weeks time, Lyn and I decided to go for a ride, taking a horse each, going around to the strange looks from Parisian's. It seemed to set the day going and with a few laughs we strolled the streets, the Jardins du Trocadero, Arc de Triomphe, Champs Elysees, and back to the hotel for a deserved afternoons rest. We also passed by the tunnel where Princess Diana died in an automobile accident 12 years ago last 31st of August, and where flowers and photo's had recently been placed. Signatures and comments were still inked onto the stonework outside the tunnel but it was a very low key tribute. With the crowds diminished in late afternoon we all caught the lift to the top of the Eiffel Tower, two sections, over 300 metres above the pavement, and the views were magnificent. We were in Paris eleven years ago but with thick fog we had decided not to take the trip to the top, but today the skies were clear. On a day of unusuals I couldn't resist using the toilets at the top, pondering what a long pee it was, and how it was likely the most expensive toilet in the world, 13 Euro, as you had to buy the lift ticket to be able to use it.
3/9/09 It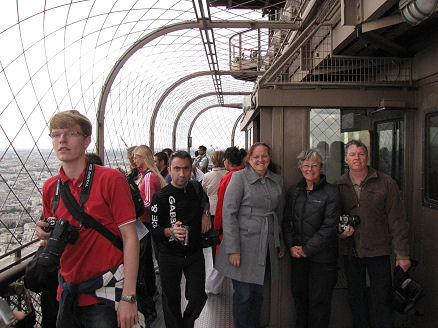 had been another night on Greg and Lyn's hotel room floor, so we had "slept" with them for the two nights, and whether the busy hotel hadn't noticed or hadn't cared, they didn't comment as we left, saying goodbye with a last photo of the motorcycle, friends and the Eiffel Tower in the background. We had booked a Formula 1 hotel outside the town of Reims, having taken the smaller (free of tolls), roads to get there. It had been a pleasant ride through farmland and forests with little traffic, at least compared to England, where we found the traffic heavy, almost everywhere. Formula 1 hotels are rock bottom, really rock bottom. This is our first and we didn't know what to expect. Fully automated we had booked by credit card and arrived to a locked, unstaffed, 79 roomed hotel. Check in is from 12 noon, and check out is also 12 noon meaning we can get a full 24 hours to catch up on our diary, sleep, rest and personal space. A machine allocated our room, gave a security code for the front door, the same one for our room. Modular rooms they are all the same. A double bed, single bunk, sink, heater, window and four walls, bit like a prison, or so they tell me. The toilet is self cleaning, auto flush, auto handbasin soap, auto water, auto drier, same in the shower, both of which are down the hall, no ensuite rooms. The price 35 Euro, reasonable for the money and for what we wanted. So we settled in to catch up on the web page, watched a lap top movie in the evening, as the TV was French only, and had some personal time.

4/9/09 It was raining at 7am and by the time we needed to depart at 11am it was raining heavily, so we chose to take the motorway (tollway in France), 260 km's to Luxembourg and it rained constantly most of the way. An unpleasant ride, cold and wet, heavy traffic and the surface on the French tollway did not disperse the water so trucks constantly sprayed us.
Move with us to Luxembourg
or go to our next visit to France