Travel Through France on a Harley-Davidson
By Peter & Kay Forwood
France on a Harley (8/3/98 - 18/3/98)
Distance 1899 km (91366 km to 93265 km)
This is part of the third section of our around the world trip.
Complete Trip Overview & Map
Coming from Spain or read our previous visit to France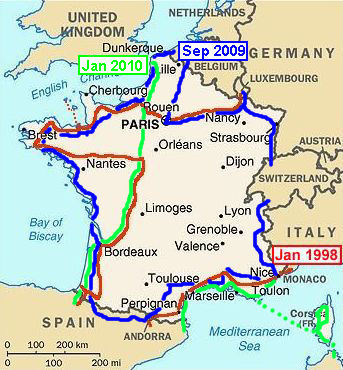 8/3/98 We left Spain for France via the road to St. Jean. Spain, one of the best countries we have visited, varied, lively, friendly, great scenery (especially in Galicia in spring) modern facilities but reasonably priced. We will miss it while adapting to Frances higher prices over the next few days. Finished the day in Bayonne France.
9/3/98 Day 466 of our travels if you have not been counting and wanted to know. There is nothing like having a couple of liqueur's at 9 am. Before heading off to Lourdes we visited the Izarra distillery. They make magnificent liquors flavoured with flowers from the Pyrenees. While these were nice my favourites were the fruit liqueurs (peach, blueberry and blackberry) which were smooth and tasted exactly like the fruits that made them. Leaving, of course, late for Lourdes it rained heavily all the way, getting colder, and we arrived still in heavy rain and only 5 degrees Celsius. I can't understand why prices in France are a good 25-30% dearer than Spain with free border trade. Particularly cafe coffee, the price is almost double.
10/3/98 Lourdes comes only after Jerusalem and Rome as a pilgrimage site for the devout catholic. Over 5 million people visit this town of 18,000 people each year. They come because in 1858 the peasant girl, 14 yr. old Bernadette, saw on numerous occasions over a couple of weeks the image of the Virgin Mary who spoke to her. After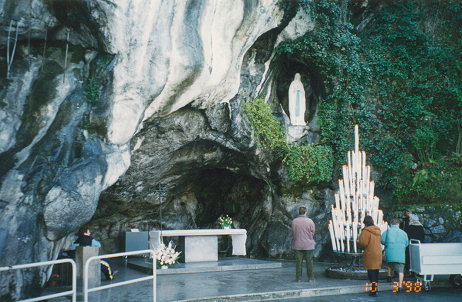 three years of deliberation and questioning by the authorities the apparition was declared authentic. Since then the site has grown to 3 basilica and a few churches and Bernadette has become St. Bernadette. Devout or not you can not help but be moved by the pilgrims who come here to be cured of illness, to worship or simply make the pilgrimage. Once away from the hundreds of souvenir shops outside, the complex has a peaceful tone despite the number of visitors. We spent a couple of hours walking the site trying to rationalize the minds of the pilgrims, trying to rationalize the churches expenditure, trying to rationalize the acceptance of the apparitions and miracles.
11/3/98 Still raining, not a good introduction to France, four days in a row, 250 km to Bordeaux. About half way the speedometer cable snapped. We tried telephoning the dealer for a new one but nobody there spoke English and my French is "bon jour and oui". So, as we have done before, we grabbed someone from the street, who spoke a bit of English and asked them to interpret over the phone for us. Despite how strange it may sound to be dragged off the street into a public phone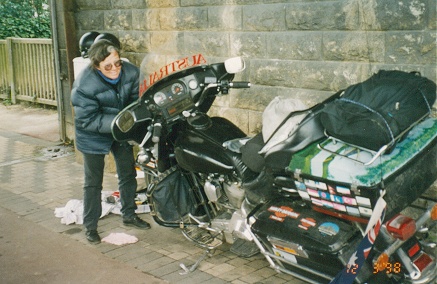 people don't seem to mind and some go overboard being helpful. Back into a french city and despite its beauty you can't look up because of the dog shit. (slight exaggeration). The number of dogs, small and big, in Europe's cities is amazing and the number of dog turds on the streets quadrupled by the skidmarks of shoes even worse. People are supposed to clean up after their dogs but if nobody is looking its left for the street washing machines. Bordeaux has the lovely grey limestone buildings with attics built into the slate roofs giving a small town rather than big city look. Having moved just over the Pyrenees the architecture is so different and after Spain the city so quiet at night.
12/3/98 Bordeaux area has been growing grapes for over 2000 years and is the oldest and largest wine growing region in the world. It seemed only fair to see if they had learned anything with so much wine and for so long, so we headed out to Saint Emilion to check on their progress. Most of the vineyards are very small by Australian standards and tastings midweek at this time of year not very common. We did however check out the historic
town of Saint Emilion, the vineyards and chateau but reserved our tasting till the evening at our hotel in Libourne. Very nice wine. (but not a patch on our Australian vintages !!!) We also managed to buy and replace the speedometer cable losing only 120 km, rear brake pads, spark plugs and air cleaner on the way to the wineries. Doing most of the labour ourselves for most minor repairs as above and the regular oil changes and service. We are finding the labour charges in Europe expensive and its a good way to keep in tune with the motorcycle. Today's repairs were done roadside under an overpass while it was drizzling.
13/3/98 Off early to Les Eyzies De Tayac a small town in the middle of Perigord (Dordogne) and famous as the cradle of human civilization. Man or a derivative thereof has lived here continuously for almost 40,000 years. Most off the remains are under rock overhangs like shallow caves. The one we visited had 14 distinct layers of different occupation times excavated from under the rock ledge. There are similar animal paintings, to the ones in Spain, at Lascaux but they are virtually impossible to visit. Driving then up the Vezere valley and back to Perigueux. We are starting to see more large motorcycles out on the roads (as things warm up) and it is great to see the two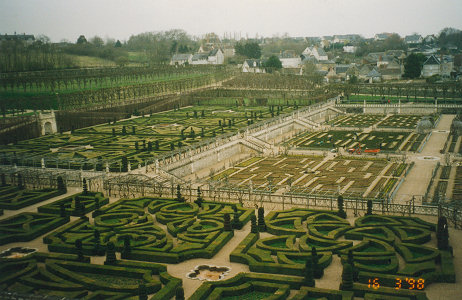 finger wave to everyone irrespective of bike make. All too often in Australia non Harley riders and Harley riders will not wave to each other, only to like types. Quite a ridiculous situation I think. Also the French drivers are courteous, drive sensibly and seem to be motorcycle aware. Perhaps the expensive fuel at $US 1.10 a litre keeps them sensible. Road signs are easy to follow in France, seeming logical and well positioned. Perhaps the first totally sunny day in a week has put me in a good mood to wax lyrically.
14/3/98 350 km north to Blois along the 'Paris bis', a more minor road, avoiding towns and traffic. Despite it only being 14 days into Spring we have been following it North for over two months since South Morocco and hope to have a 5 month spring this year. The small farm and traditional farm houses with small outbuildings in the Dordogne gradually changed to larger broad acre farms as we headed north. The countryside in Southern France is incredibly beautiful and without any new development seems to have remained the same for centuries. France is suffering the same population problems as other western countries. Movement of young people from the country to the cities and
an ageing population, leaving ageing farmers and no-one to pay for the older generation. Funny enough the third world is having huge families, supposedly to help look after their parents in old age. Western governments having taken on this burden 20 odd years ago removed this need for large families. Of course with the greater international migration occurring, the surplus of younger people in the third world will have to move to western nations filling the gap of young people and their taxes will support the elderly. Take away national boundaries and two problems are solved, but will it happen?
15/3/98 Blois is the centre of the Loire Valley, the playground of the Kings and nobles in the 15th to 18th centuries and they left behind their chateaux for the 20th century middle classes to view and ponder their lifestyles and excesses that lead up to the French Revolution. Most non religious historic buildings were built at the expense of the peasants or slaves of the time but we are in awe of the builders and envious of their lifestyle yet we are disgusted by today's palace builders like Saddam Hussein in Iraq, Suharto in Indonesia and other leaders' edifices to themselves. Here they did leave behind some magnificent, truly French architecture.
Buildings with lovely gardens by the rivers in the valley. The setting is as beautiful as the period paintings and furniture within the chateaux. We toured past about 10, looking into the gardens of a few and visited Cheverney where the current owners are still related to the original builders, keeping many of the original tapestries, furnishings and paintings from the Renaissance period.
16/3/98 550 km today, west into Brittany finishing at Concarneau. We travelled the south levy bank of the Loire River passing many chateaux before visiting Villandry, famous for its extensive gardens of herbs and vegetables separated by rows of manicured low hedges and surrounded by trained fruit and shade trees. Further down the river around Saumur they quarry a soft limestone that hardens and fades with age. The cliff facing the river is pock marked with these small quarries, many covered with lovely stone facings cut from the cliff and the cave then used as a house. Every building in the area is constructed using this pale, almost yellow, stone contrasted with the dark grey slate roof.
17/3/98 Concarneau,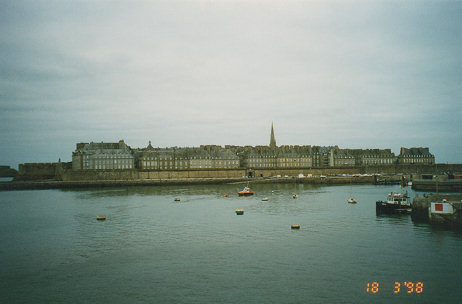 famous for its crepes (we over indulged in apple and chocolate) and the small island fortress. After yesterdays long day it was a late start but we managed the 350 km beautiful coast road to St Marlo, calling in at small coastal towns for flan (my favourite French pastry, a baked custard slice), coffee or a sit in the local park and a stroll around the local marina of which there are many in the area. Petrol in France is expensive but 10% or more can be saved by buying from supermarket based petrol stations at the edges of most towns (such as E. Leclerc) and its also a great place for groceries as we aren't eating in restaurants, having exclusively picnic meals, all cold but still loving the pate and cheeses.
18/3/98 My birthday and now 45 years old. Kay gave me a trip around Europe on a Harley-Davidson as a present which, funny enough, is what I gave her last month. More specifically she gave me (apart from hugs and kisses) a trip to the island of Jersey.


Move with us to Jersey , or go to our next visit to France .