Travel Through Finland on a Harley-Davidson
By Peter & Kay Forwood
Finland on a Harley (20/7/10 - 24/7/10)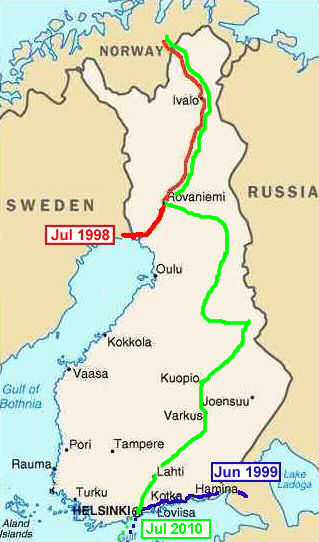 Distance 1646 km (574215 km to 575861 km)
This is part of the sixteenth section of our around the world trip.
Complete Trip Overview & Map
Coming from Estonia or read our previous visit to Finland
20/7/10 Thames Valley H-D had arranged to send the replacement rotor (alternator/magneto) to the Helsinki H-D dealer and we had ordered a new seal and spacer from that shop by phone, and all were there on our arrival. When discussing the oil leakage problem from the primary to the engine compartment with Mikko and Petre, mechanic in Helsinki, they generously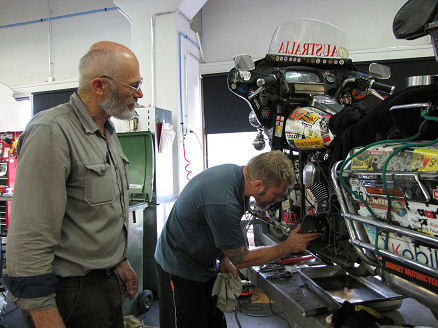 offered us a workbench so we could fit the new rotor and seal, using their H-D seal inserting tool, as the seal we inserted in the hotel carpark in Poland was still leaking slightly. It took a few hours of work, with Petre helping us where necessary, to remove the old seal which we had cemented in place using quite a hard glue, having presumed oil had been leaking around the outside of the seal. A new spacer for the seal to run on was also inserted along with the new rotor. It was almost 4.00pm by the time we had finished the work, hopefully the whole problem is now solved. We had been invited, by a Finnish family we had met in Lithuania, to stay at their summer house about 300 km to the north, near Juva, and so with the long day of daylight we headed out in that direction arriving at 8.00 pm. They live on a small farm, both work in the education department, and their summer house is just 6 km from their home and right on a lake. They set us up at their summer house, heated the sauna, and left us to ourselves to relax after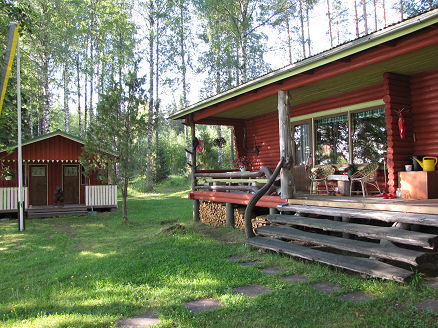 a very long day.

21/7/10 The offer was there for us to stay another night so we accepted, spending most of the day just relaxing and watching birds, swans with their five cygnets, swallows nesting on the porch. There was also a small boat which we rowed about the lake, looping an island, passing a few of the neighbours summer houses, until a late afternoon thunderstorm drove us back to shore. We were joined late evening by our host family, including their three children, who played in the now warm shallow lake waters, had supper and finished with another sauna dip shower before bed. It was a lovely re-introduction to Finland, whose people seem so relaxed and laid back they appear to constantly be on Valium.

22/7/10 We had planned our northward route yesterday and headed out early for Kuopio, a biggish city, at least for Finland, a country with less than 6 million population. Then it was Nurmes and Lake Pielinen with a visit to Bomba House, part of a recreated Karelian village, where a recent festival had left some interesting sand castle sculptures near the lake shores. Further north to Kuhmo and lunch in the town market. It seems to be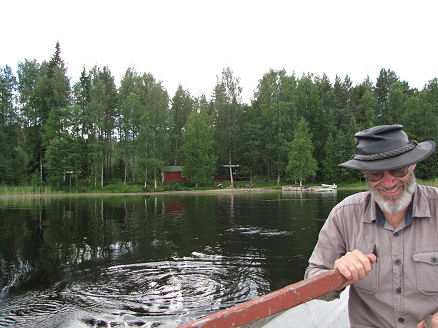 market day in each place we stop, or perhaps every day is market day? Finally we arrived in Karjani having travelled a little over 400 km's but with the great roads and little traffic the distance passed easily giving plenty of time in each of our planned destinations.

23/7/10 Not such pleasant weather this morning. A strong cold cross wind hit us from the start and continued all the way to Kuusamo where we sat warming up in the information office on the internet. The day didn't improve, at least not till we had crossed the Arctic Circle just above Rovaniemi late in the afternoon. It is here that Finland lays claim to Santa Claus, his home, with a couple of major displays and souvenir shops confirming that claim. Hundreds of thousands of letters from children all over the world get posted to this destination each Christmas. Thousands more get posted out from Santa Claus, for a fee. Spent a couple of hours here warming up before travelling only a short distance to a free camp spot next to a lovely lake. The wind dropped, the mosquitoes arrived, but there was a fire hut which we shared, warming into the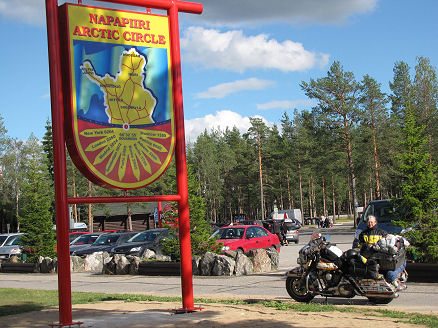 cooling evening.

24/7/10 A nicer day, sunny from the start, the lake glassy smooth, although the signs of yesterday's wind storm were along the road with many trees down, pine trees uprooted, the shallow soils not allowing them to root deeply. We have been surprised at how economical Finland is. Food and petrol seem little different from the rest of Western Europe and the campgrounds similarly priced. Even eating out isn't as expensive as we had imagined and we have enjoyed a couple of local meals. Todays was in a tiny town where a small local festival was being held, reindeer products the theme, local food the speciality. We have noticed that a number of businesses in the far north have closed, that tourism seems to be less than it might have been a few years ago, or maybe people are just spending less, living more carefully. Most of the vehicles on the road are Finnish, not international, local tourism, which is a shame as we have really enjoyed our time in the country. Passed through the remote towns of Ivalo and Inari on the way to the Norwegian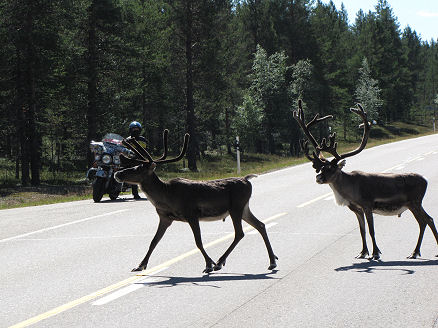 border late afternoon.


Move with us to Norway