Travel Through Finland on a Harley-Davidson
By Peter & Kay Forwood
Finland on a Harley (6/6/99 - 11/6/99)
Distance 392 km (145727 km to 146119 km)
This is part of the fifth section of our around the world trip.
Complete Trip Overview & Map
Coming from Russia or read our previous visit to Finland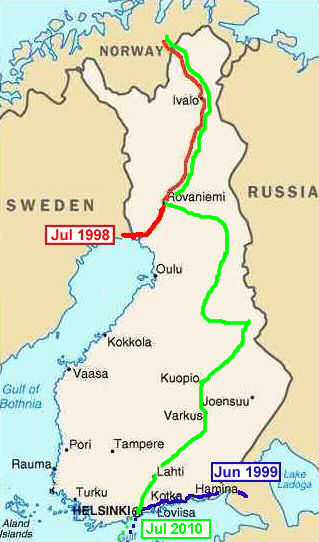 6/6/99 The immediate change to well sign posted, well made roads, houses maintained and used, paddocks and pastures neat and businesses thriving. Quite dull really after Russia but it will be a respite before the rest of Eastern Europe. Helsinki for the night, camped for more money than an average hotel in Russia.
7/6/99 The battery completely died two days ago and we have had to push start the bike each morning for the last two weeks. Not having the alarm functioning properly and wondering if the motorcycle would start at all it was a relief to get a new battery in Helsinki.
8/6/99 Two days and five visas underway. Sometimes I don't think embassies realize that they are the first impression you get of a country. The joy of finding out, like Bulgaria that we now don't need a visa as Australians. To find out that Slovakia will do visas on the spot and cheaply, same for the Czech Republic but a higher price, same for Poland but at a much higher price $US 60.00. To walk into the Romanian embassy and be welcomed with a handshake, shown to a comfortable chair to discuss your requirements and asked to return in two days to collect a visa without even filling in a form is a rare gem. The Hungarian embassy can only manage to process visas Monday Wednesday and Friday mornings and you must wait to collect them at the next opening time. But to take the difficulty cake is the Latvian embassy, a country squeezed between Estonia and Lithuania (both visa free), demanding its "pound of flesh" for its transit position. The cold reception from young Dracula behind her glass shield, processing slowly, four days to get a visa unless you want to pay double for tomorrow or double double for same day service and to help you part with the extra cash you must leave your passports here for the four days, and fill in a two page form almost asking when you changed your underpants last. Not a friendly introduction.
9-10/6/99 When we arrived in the camp ground at Helsinki a couple of days ago Charlie was still there, resting up, and has since managed to obtain a new rear shock absorber and has decided to join us to Berlin via the Baltic's. Still getting all those small jobs done that get dropped when moving in a hurry.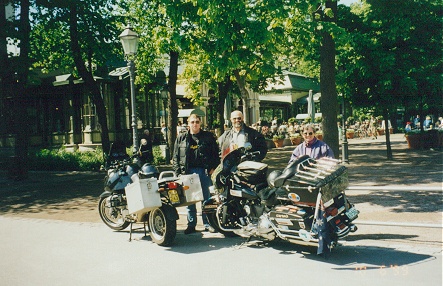 The bikes first wash in a month and even managed some polish. Washing clothes and still collecting visas. The small but efficient and modern Helsinki with its old style architecture, cobbled pedestrian streets and multi island waterfront location in summer great to unwind from Russian tension.
11/6/99 Moving again and after a restful day lounging at the open air museum of Finland's best old wooden houses, farm buildings and churches we caught the afternoon slow boat to Estonia. Leaving Finland on a late Friday afternoon boat we saw another side of the Finnish people we had not expected. The normally reserved conservative, by the book Finns took to the boat's cheaper alcohol, as they would later take to Estonia's tax free goods. A couple were almost to blows and another one arrested within three hours of leaving port, most were noticeably drunk on arrival in Estonia. The Friday afternoon booze cruise, a great ambassador for any country.

Move with us to Estonia or go to our next visit to Finland