Travel Through Ethiopia on a Harley-Davidson
By Peter & Kay Forwood
Ethiopia on a Harley (16/3/06 - 23/3/06)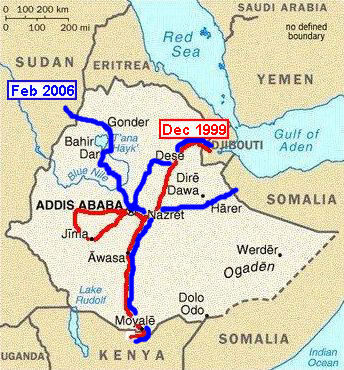 Distance 1629 km (452496 km to 454632 km)
This is part of the twelfth section of our around the world trip.
Complete Trip Overview & Map
Coming from Eritrea via Djibouti or read our previous visit to Ethiopia
16/2/06 Djibouti military at Moulhoule welcomed us and we were able to purchase 20 litres of petrol there. We took a more inland route to Obock, sandier but considerably shorter and arrived about midday and received our passport entrance stamp at the police station. The worst section of dirt was between Obock and Tadjoura with an uphill section, washed out, and filled with large river gravel. Again we unloaded the bike and riding the clutch bounced over the half km. It took two trips carrying our luggage up the hill and by the time we arrived in Tadjoura, mid afternoon, we were exhausted. Not particularly wanting an expensive hotel, about all there is in Djibouti, we pressed on for 40 km to camp just off the road overlooking the bay, a lovely spot and were asleep just after dark, 270 km's of dirt, a long day.
17/3/06 Dirt roads are always harder on the bike. The speedometer was running erratically and the stand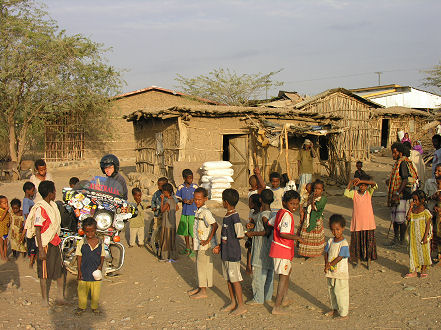 spring hit enough rocks yesterday to come adrift. We attempted to fix both problems this morning before riding back over the old lava flows to the main road, joining up with thousands of Ethiopian trucks carrying goods from Djibouti Port to Addis Ababa, Ethiopia's lifeline. There was no petrol to be found along this route. Its high price promotes smuggling in 20 litre drums, which means petrol stations can't compete and stop selling the product, and when there is a smuggled shortage it becomes unavailable. Luckily we had bought extra in Obock and managed to get across the border to Ethiopia where it was available. Both borders were quick and easy, out of Djibouti and into Ethiopia. We arrived here about midday. This section of the Rift Valley is the lowest point in Africa, 150 m below sea level and unbearably hot most of the year. By mid afternoon, after 450 km's, we were in Mille, an excellent road all the way, but we were still exhausted with the heat and the repaired rear shock absorber not giving a comfortable ride.
18/3/06 Last night's accommodation another three dollar place. Rooms around a compound with safe parking, small restaurant and even a cold shower. My birthday,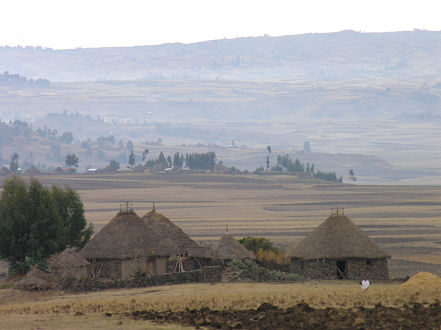 53 yrs old, and feeling every one as we took the dirt road across towards Desse up into the cool mountains then took the sealed but bumpy road south towards Addis Ababa. It started to rain early afternoon and the greenery around showed the wet season had begun here a while ago. The 3200 metre pass near Debre Sina was cold in contrast to yesterday's heat and our night's accommodation needed blankets.
19/3/06 The last 130 km to Addis Ababa where we can throw away the make do shocks, new ones expected tomorrow, DHL tracking say they are in Dubai. There are two other motorcyclists staying at our accommodation. One waiting for a rear shock, the other having had one flown into Khartoum a few weeks ago. A 4x4 Landrover is also here awaiting rear shocks. Amongst the different types of vehicles being conveyed around the world at the moment is a Dutch lady driving a tractor from Europe to South Africa and is intending to take it to the south pole, is also staying here. It seems every type of vehicle has or is being driven around the world. It takes a lot to get noticed, if that is your desire. A friendly bunch to mix with.
20/3/06 The new shocks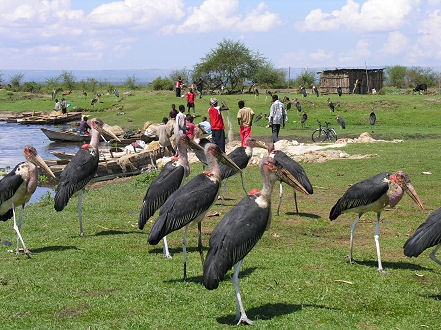 are here, but a customs assessment is necessary, phone tomorrow, perhaps they will be available. Otherwise we, along with the other motorcyclists worked on bikes. Steering head bearings tightened, fixed loose tachometer wire, repaired the speedometer, patched a couple of holes in Kay's pannier, and relaxed, deserved after a pretty tough couple of weeks.
21/3/06 A phone call at 11 am had us in a taxi to the DHL office. Collected their paperwork, then to the airport customs where an assessment of the duty payable was calculated. Whilst the officer didn't seem to take into account the carnet document showing that the parts would be leaving the country on the motorcycle he did accept the valuation that John had put on the parts. Shipped as second hand parts, valued at $20.00 each the customs officer applied a 20% duty plus a 15% vat but charged it to just $20.00, not each item, so we only paid $US 7.00. They were on the motorcycle by 4pm, a reasonably easy job, and we were ready to leave tomorrow after a dinner of eight travellers parting ways. News had filtered down the road via other travellers that a couple we had met in Bahar Dar a month ago, travelling in a Landrover, hit an 11 yr old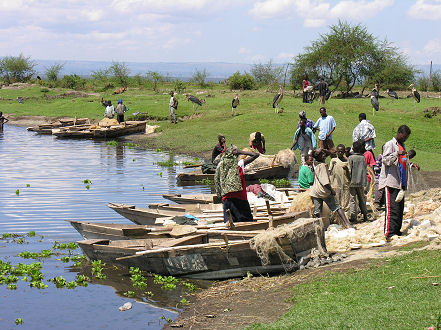 boy who ran out in front of them, and he died, head injuries. Of course they were devastated with the incident but as is the custom here compensation has to be paid to the family, despite having insurance it does not cover family compensations. Negotiations between the police and a solicitor resulted in a $US 6000.00 payment to the family, the equivalent of 20 yrs earnings here. Most people at our accommodation are in their own vehicles and the consensus is it could have happened many times to each of us, such is the density of people walking on the road, often not looking to cross, walking out in front and even occasionally taunting us by standing in the road as we pass. We have had a few near misses.
22/3/06 The wet season started about a month ago and there is a green tinge across the countryside. We headed south covering 570 km to Yabello along a good road now we have new suspension. We will be travelling pretty quickly to Nairobi as we have travelled this road before and want to start looking into getting to the Seychelles somehow from Kenya, if possible. We stopped only for food and a rest but managed a short look at fishermen cleaning their lake fish catch surrounded by Marabou storks.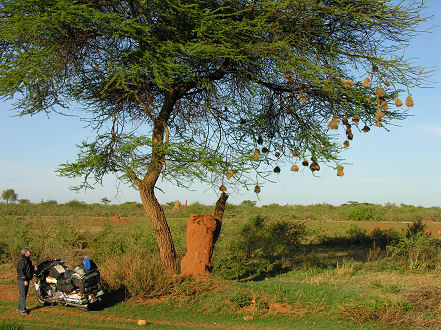 An interesting bird, a bald head and neck like a vulture but built like a stork, and often seen scavenging.
23/3/06 It was only a couple of hours to the Kenyan border on a slowly deteriorating asphalt road where the countryside was getting drier and poorer soils. Weaver birds are now building their elaborate nests in the thorn trees and the red soil sprouts large termite mounds running up five or more metres in height. Ethiopia has certainly cleaned up it's customs and immigration procedures in the six years since our last visit. They are now incredibly polite, efficient and best of all seem honest, no bribery in sight.

Move with us to Kenya