Travel Through Ethiopia on a Harley-Davidson
By Peter & Kay Forwood
Ethiopia on a Harley (16/2/06 - 28/2/06)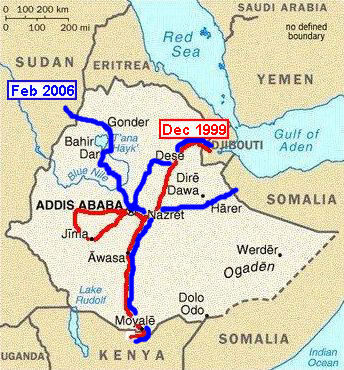 Distance 1646 km (450026 km to 451672 km)
This is part of the twelfth section of our around the world trip.
Complete Trip Overview & Map
Coming from Sudan or read our previous visit to Ethiopia
16/2/06 There were money changers both sides of the border at a reasonable price. Ethiopian immigration was quick and efficient and immediately the culture changed from a reserved Sudanese people who would view us and the motorcycle at a distance to a close up peoples leaning and touching all our belongings. No harm intended, just a friendly closeness. Customs was at a town 40 km from the border where an import paper was issued for the motorcycle, again efficient and no payments. There is no petrol station on the Ethiopian side of the border till Gonder, 220 km, and it took an hour to buy some from a drum at a little shop in town. The dirt road improved and we could travel comfortably at 60 km/hr. The first impressions of Ethiopia are its smiling people, both men and women, being mostly Christian both are in equal numbers out of the houses and the women used to interacting with other people more run roadside stalls and work in the fields and with the stock. The sheer volume of children quite daunting. Running to the side of the road to wave as we passed,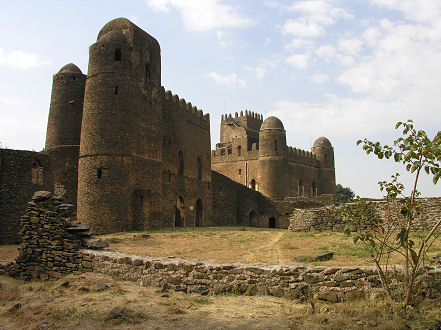 unfortunately also sometimes begging, just opportunistic, as this area of the country seems reasonably prosperous, particularly in the mountains. After a long day, quite exhausted, and Kay's birthday, we went to dinner in Gonder. A beer, the first alcohol in a while, nice meal, and we could hold hands whilst walking in the street, something not done in countries recently visited. Having said earlier that Africa is not good value for money, we are amazed at the economical prices we have experienced so far here. A beer 35 cents, steak dinner $2, ensuite room $9, and we wonder why, compared to Sudan, perhaps the efficiency of having women in the workforce?
17/2/06 The sunrise call to prayer has gone with the Muslim society, replaced by a few barking dogs in the night. Toilets and water to wash at each Mosque is missed as public toilets aren't prevalent here and the smell of human defecation is in quiet areas about town. Women working at our hotel give a softness of decoration and a cleanliness lacking in male only establishments of Muslim countries. Industry is high, people actively seeking sales rather than sitting waiting for customers.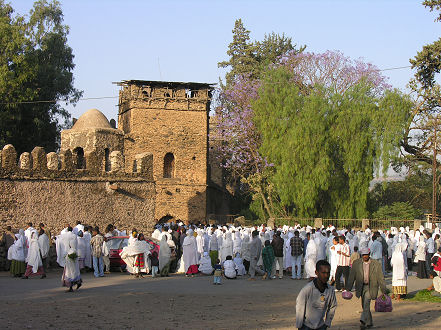 Street shoeshine boys, kids selling lollies and small packs of tissues, car and horse drawn taxi's asking for business, touts looking for commissions and children encouraged to learn English wanting to practice at any opportunity, approaching westerners. This enterprise also brings the negative side. We were eating in a cheap restaurant and were charged for the man sitting at the table next to us. He had simply said he was with us and we would pay for his meal. A polite discussion and the restaurant accepted their loss, not too happily. We pretty much recovered from yesterday's difficulties in the cool, 2300 metre, mountain air. Washed all our belongings of 400 km of dust and wandered about town.
18/2/06 Christianity was brought to Ethiopia in the 4th century and the Ethiopian Orthodox Church at Gonder is one of the oldest Christian centres in the world. Its churches are round with a square roof, bells hang from its eves and many wooden doors allow access to the interior. This morning we were awoken by chanting, not dissimilar in sound to that of North American Indians. The patrons, cloaked in white shawls, perform incantations along the lines of Buddhism. Watching the believers it is difficult to readily determine Christianity as their belief.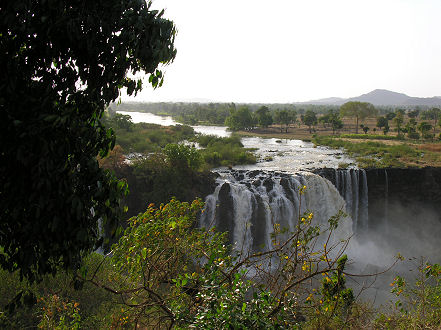 Once the capital of Ethiopia, Gonder came to prominence in the 17th Century when Fasilidas built the Royal Castle and expelled Europeans for over 200 years because of their influence of Catholicism. We toured the ruins, now being renovated, one of sub Saharan Africans few remaining structures from this period. Also toured the baths and some churches.
19/2/06 We left town as the faithful were massing for Sunday morning service and took the new asphalt road to Bahir Dar, 200 km south. The road wound through the mountains most of the time, very fertile crops and pastures, people building houses of split timbers (from crops of Australian Eucalyptus trees) covered with mud and straw. The traditional round house with thatch roof slowly becoming square with the advent of corrugated iron roofing. People were out collecting the remaining stalks of the sorghum crop, carrying home bundles on their heads for cattle fodder later in the dry season. A tour from Bahir Dar had us at the Blue Nile Falls in the evening. Now a less impressive event as much of the water is diverted for the hydroelectric plant nearby and it is the dry season.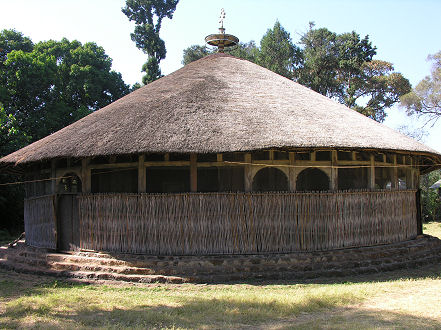 The evening walk through the countryside near the falls as interesting as farmers herded their stock home for the evening. We stayed alongside Lake Tana, the source of the Blue Nile, where there is a steady stream of package and independent tourists passing through.
20/2/06 A morning tour of 16 travellers headed out across the lake to a couple of island monasteries. Built from the 11 to 16th centuries the monasteries are round wooden structures, really churches, often with frescoes a few hundred years old. We viewed manuscripts from the 13th century painted on goatskins, more as drawings than in written form. Our return had us pass a couple of papyrus boats, loaded with firewood from an island, and we floated out of the lake into the Blue Nile. Most of the people we have been meeting in this region of Ethiopia are tourists visiting the northern historical sites but there are a few overland travellers heading north and we gained valuable information from them for our planned journey south.
21/2/06 Headed towards Addis Ababa, the first 250 km's was more new asphalt, well engineered and built. Traffic in Ethiopia is light. A couple of trucks and buses,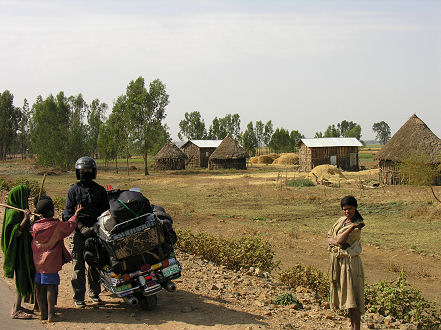 but the roads are extremely busy. People here walk miles each day, using the roads as footpaths. In towns they can form a barrier that is not concerned with the vehicle traffic movement. Livestock also are herded along or across the roads, donkeys pull carts and people carry heavy loads, all requiring our attention to avoid a collision. The new road ends abruptly to patchy roadwork's and at the rim of the Blue Nile River Valley. Roadwork's currently close the road from 10 am till 3 pm daily. We waited an hour before being allowed to descend the gorge, 20 km's steeply downhill off the escarpment with magnificent views to a bridge and another rocky and dusty 20 km's steeply up the other side. People were again out in their fields bringing in the sorghum crop and using cows for tractor power. We stopped 120 km from Addis, late afternoon, and took a small roadside room at a hoteel for an amazing price of $US 1.20, rather than getting to Addis tired and possibly after dark.
22/2/06 Headed straight to Addis Ababa, a good winding road, and straight to the Somaliland Embassy, unmarked as it is not a recognized country, where a visa was issued on the spot, for $US 40.00. To the Djibouti Embassy and we can collect the visa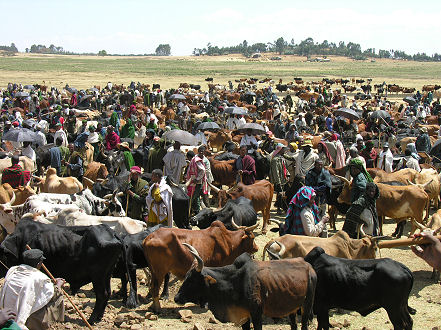 tomorrow afternoon $US 30.00 and we were at the hotel by 11.00 am feeling pleased we had achieved a lot for the day. Addis hasn't changed much since our last visit six years ago, and we are staying at the same hotel near it's centre. There are many beggars, mostly missing limbs, deformed or leprosy affected. The place seems more wealthy, more restaurants, the locals generously giving to beggars. The place seems relatively tidy and children are not about in the numbers, annoying tourists, that we remember. We have been to many countries between our two visits and it is difficult to access the two visits at different times.
23/2/06 Posted home a parcel of gifts we have accumulated, mostly from Saudi Arabia, guide books finished with and paperwork. Tried to get our Eritrean visa extended but their embassy is closed, just a couple of Eritrean nationals guarding the premises till relations between the two countries improves. Applied for a Kenyan visa, $US 50.00, collect tomorrow. Whilst walking towards there in the morning, in a busy street, a well dressed man walked close to Kay, reached over and grabbed a light gold chain that she had been wearing around her neck for years, and ran away with me in pursuit.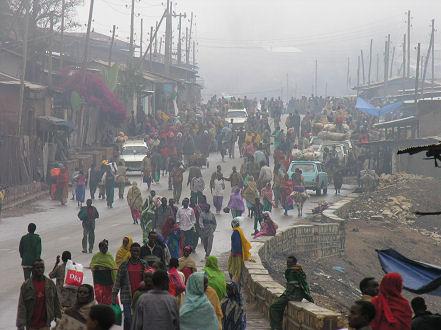 I chased him down a couple of alleyways without success. On returning Kay informed me he had dropped the chain but another man, his accomplice, grabbed it from the ground and ran in another direction. Whilst the public were concerned, no-one would openly admit to being able to identify the men until a few military, then police arrived and a teenage boy owned up to having seen the incident. We filled in a police report but don't expect to hear of any result. The chain was of little cash value, more sentimental. Whilst the incident was not traumatic it does instantly make you apprehensive, cautious and suspicious of others even though the Ethiopian people are some of the most friendly we have met.
24/2/06 A bit of maintenance on the bike readying it for the extensive dirt roads ahead. Tighten belt, strengthen bash plate with rubber supports, fixed a slow leak in the tubeless rear tyre, with a rope plug after removing a nail, and minor maintenance. Collected our Kenyan visa and relaxed. It is customary here that if all the tables at a restaurant are occupied, people will share with strangers. We sat with an Ethiopian businessman, an importer of diesel milling machines, interesting conversation, who ultimately bought us lunch,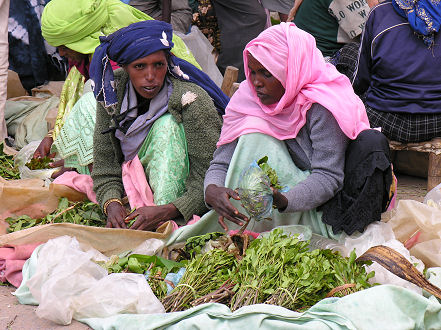 such a contrast from yesterday's robbery. Almost all vehicles are unmaintained diesels and pour out black smoke that settles thickly in the valleys making breathing difficult.
25/2/06 Despite the pollution hundreds of people were out exercising as we left early this morning. Because buses are not allowed to travel at night in this country they leave at dawn and we accidentally got caught up in their slow movement. This rule means that there are many small hotels in each town catering for bus delays or breakdowns, that didn't make their destination before nightfall. Harar is 520 km's along a recently asphalted road that passes through some magnificent mountain scenery. The last 200 km's twisty up and down. where afternoon thunderstorms had us in wet weather gear, the first in two months, and fog closed visibility only to open to sunshine and magnificent views below the ridge-following road. The bridge at Awash, crossing the river, is considered "as dangerous" today as it was when we passed here six years ago. Motorcycles and foot traffic are not allowed to pass, meaning they have to be carried by a truck or bus. We avoided the problem the last trip when coming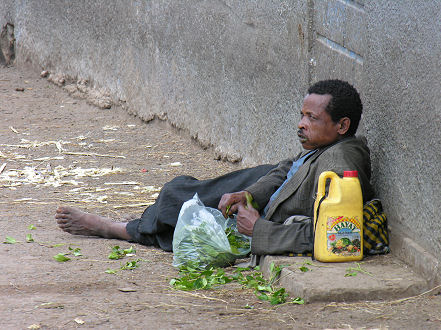 from the west when after a two hour debate with generals who eventually let us pass. Knowing that there is only a roadblock to the east side we ignored local gestations and rode across to be stopped and told we were not allowed to ride across. A "fait accompli" we could not be sent back as we were not allowed to cross by motorcycle. After ten minutes discussion that there were no signs, we were allowed to proceed.
26/2/06 Harar is famous amongst other things as being the only walled city in Africa, and is the crossroads between Christian and Muslims as we head towards the coast. It is reportedly the fourth most holy Muslim site and boasts the largest concentration of Mosques in the world. It is also famous for the hyena that live in the area and wander through town at night. Our hotel, overlooks the football field, ubiquitous in all towns, where after midnight, to the barking of local dogs, a group of hyena wandered up a gully feeding on rubbish. We watched as they calmly moved about, finally calling to each other, and were gone. The city is dirty and has one of the highest concentrations of people living in the street and people who are mentally deranged than anywhere we have been.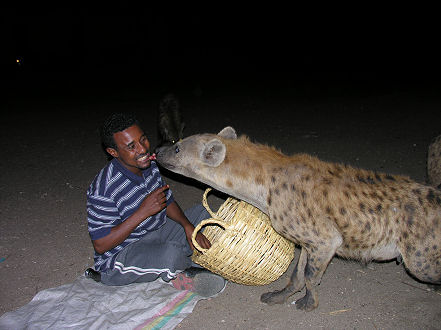 A coincidence or result of the khat (qat) that is chewed each afternoon. The leaf from a mountain tree is bought fresh from the markets at 1 pm, and chewed habitually and socially for the next few hours bringing all commerce and activity to a halt, more so on weekends. A habit or addiction the mild narcotic effect can create tension if not satisfied and lethargy when satisfied. Years ago hyena from the surrounding area would attack livestock and children in town. The chief instead of hunting them decided to feed and befriend them. This process has continued to today and two hyena tamers feed each night. Tourists can now participate, for a fee, getting closer to a wild hyena than perhaps they would like. Kay and I fed a large female, pieces of meat off the end of a 15 cm stick, whilst the tamer fed some pieces from his mouth to the mouth to the hyena. There were just four hyena, mum and three babies tonight and we were the only tourists. Often when food is scarce twenty hyena might arrive, and sometimes more tourists than hyena.
27/2/06 Our hotel has not had water the last two days, just a bucket, water trucks don't work on weekends. The local vultures, scavenging through rubbish thrown into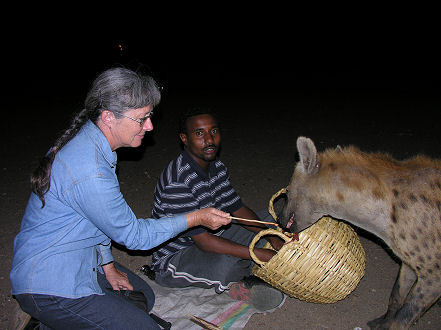 the gully that runs through the middle of town, roost during the day on the tin roof of our hotel, thumping about on landing and fighting. The children of town call as we pass "Faranjo" (white person), money, pen, looking for a hand out. White people in Africa have historically brought presents. From the Missionaries with beads to today's aid agencies with food, medicines, glasses and now tourists with lollies or money. Whilst annoying at times, it is difficult to blame children associating westerners with gifts. Kay had a bout of travellers dread and remained in the room most of the day. I went again to see the hyena feeding. This time there were three small tour groups there. Nine hyena turned up, the feeding involved an orderly pattern, each hyena knowing when it was his or her turn, called by name.
28/2/06 Left the hotel early, unfortunately there was a dead hyena on the road, hit in the night by a vehicle. The dirt road, pretty typical of a lot we have travelled in Africa. Well formed and finished but not maintained leaving the top clay to be broken up and blown away with the base rock exposed and a vehicle shattering 30-40 km/hr speed. Petrol from a drum as many service stations only sell diesel and kerosene. Passed through a variety of landscapes, granite boulders, poor soils, to excellent plateau pastures and crops. The left rear shock absorber succumbed to the pounding, spurting it's oil over the muffler and we were thankful of twin rear shocks as the other one took the load at a slower riding speed. It was dirt road all the way to the border, 170 km's. Handed in our customs declaration, a stamp in the passport, ten minutes and we were finished.
Move with us to Somalia (Somaliland) or go to our next visit to Ethiopia