Travel Through Estonia on a Harley-Davidson
By Peter & Kay Forwood
Estonia on a Harley (18/7/10 - 20/7/10)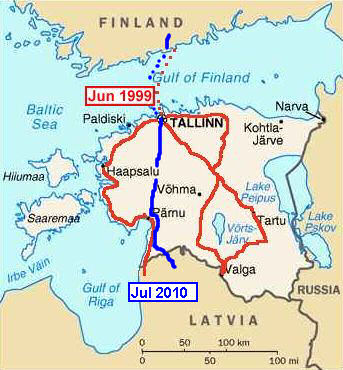 Distance 228 km (573987 km to 574215 km)
This is part of the sixteenth section of our around the world trip.
Complete Trip Overview & Map
Coming from Latvia or read our previous visit to Estonia
18/7/10 Dirt road also on the Estonian side, a total of 25km's, our first dirt for a long time. Back on the main road we met up with three Danish riders at a petrol station and rode together to our hotel. They were riding a loop of the Baltics, just a week, shipped to Poland, ship back from Sweden. Our hotel was in the Tallinn suburbs, close to many Soviet style apartment blocks. Local shops were still operated from kiosks, an outdoor fruit market and an indoor meat and dairy area. It seemed strange, this flash back to the past in a country that is EU and likely to change to the Euro early next year.

19/7/10 Tallinn has been around for a long time. A trading port, many of its buildings, its castle, churches, old buildings, are in narrow streets now semi-closed to vehicle traffic and have been handed over to be maintained for antiquity and tourism. Today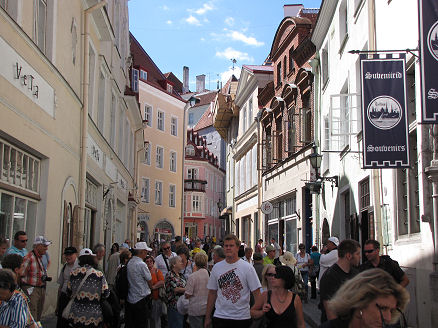 a cruise liner was in town so there were more than the usual masses of tourists but many come every day, holidays or day trips from Finland, where the price of a holiday can be double the price of Estonia. We joined with the other tourists in a streetside coffee, though many were indulging in beer, and it seems any time of the day is beer time in Europe. Not that many drink to excess, but a beer is often taken as we might enjoy a soft drink in Australia.

20/7/10 Our ferry was a 7.30 am departure so it was a 5.00 am rise. Breakfast was included in the hotel price and they generously packed a takeaway for us for the boat, an unexpected surprise.

Move with us to Finland