Travel Through Slovenia, Croatia and Bosnia & Herzegovina on a Harley-Davidson
By Peter & Kay Forwood
Slovenia, Croatia and Bosnia & Herzegovina
on a Harley (28/10/06 - 31/10/06)
Distance 716 km (476058 km to 476774 km)
This is part of the twelfth section of our around the world trip.
Complete Trip Overview & Map
Coming from Italy or read our previous visit to Croatia
28/10/06 Slovenia has been part of the European Union since 2004 but still keeps its border posts. Again our documents were not checked as we rode through with the long line of vehicles entering the country for the weekend. It was just 50 km in and out again, this time to Croatia. Another cursory border, again not opening our passports or looking at any paperwork. The hectic overpopulation of Italy was quickly replaced by a more rural easy going Croatia. The number of rooms for rent rapidly increased and new, although low key, development is springing up along this beautiful coast. The well engineered road runs close to the coast most of the way passing through a few small fishing villages making it one of our best motorcycle rides, as was the road to the south on our last visit here eight years ago. There is virtually no traffic except for the occasional weekend motorcycle from Western Europe and some locals.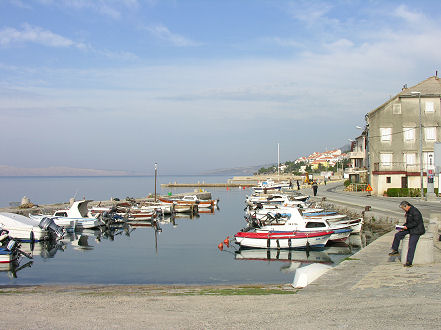 In Karlobag we found a comfortable zimmer, a third the price of the Italian one of last night, overlooking fishing boats with only the road between it and the water.
29/10/06 Kay is still recovering from her cold and we decided to stay another night. The elderly lady running the zimmer has everything in order for a comfortable stay. A fridge, small stove, washing machine and friendly personality. The town has been returned to the locals for the winter. Church bells, a service, then a visit to the local coffee shop for one group whilst the non church goers congregated at the other coffee shop, where a few more beers were being served. We had stopped in Treviso in northern Italy a couple of days ago to collect five Lonely Planet books, for the rest of this section of travel, that we had posted to the local Harley dealer and spent a large part of today doing research. In one of those total stuff ups that occur occasionally even with a well organised company it has taken over a month, five phone calls, four emails to get the books delivered, arriving just one hour before us. Originally supposed to be sent to Spain, they were sent to America by mistake?
The second batch were then sent to Spain, ignoring our phone calls and emails to now have them sent to Italy as we were no longer in Spain. The third batch was finally sent to the correct address, express couriered by DHL, luckily Lonely Planet's mistakes and all at their expense. Still an inconvenience to us having to follow up what should have been a simple internet purchase.
30/10/06 The weather is still holding for us, mid 20 degrees but it takes all day to get there and the nights are getting longer. We found one campground that stays open all year after passing through Split. Situated right on the water and with only a couple of motorhomes, Germans, avoiding a long winter back home, it was a lovely spot except for the gale force wind that descended off the mountains in late evening. The scenery and riding as spectacular as two days ago with winding coastal roads and stone buildings. Development in the next few years and tourists in the high season are starting to spoil the place, a shame as it is them who is spoiling what they are coming to see.
31/10/06 Off at sunrise trying to make the best of the only eleven hours of daylight available to us and we were in Dubrovnik before most shops had opened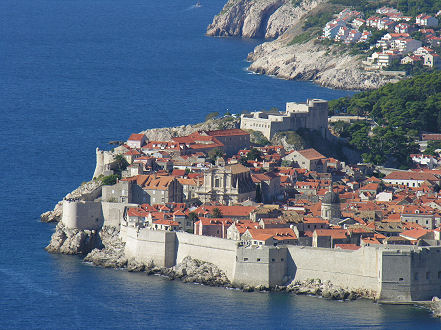 as the clocks had been turned back last weekend from daylight saving and we hadn't noticed. We had passed through the small toe of Bosnia & Herzegovina where it's land dips onto the coast. A casual glance at our passports on either side of the 10 km strip was the only paperwork. Here, perhaps more than anywhere else along the coast is large scale development occurring. As it is the only waterfront for the country the development pressures seem greater. A large cruise ship was in Dubrovnik harbour and people were crowding the streets. This town doesn't seem to close for winter now, it's hotels are all open, very different to when we stayed here eight years ago when tourists were still avoiding the place after the Balkans war. Internet and a chat to a fellow Aussie traveller and we headed for the Montenegro border.


Move with us to Montenegro