Travel Through Cote d'Ivoire on a Harley-Davidson
By Peter & Kay Forwood
Cote d'Ivoire on a Harley (22/2/01 - 24/2/01)
Distance 930 km (223750 km to 224680 km)
This is part of the Seventh section of our around the world trip.
Complete Trip Overview & Map
Coming from Burkina Faso or read our previous visit to Cote d'Ivoire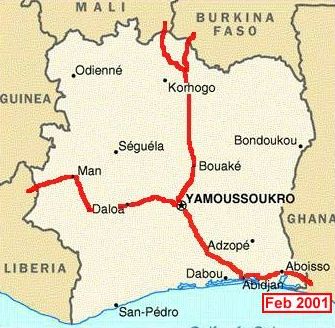 22/2/01 Cote d'Ivoire again and having been away from road blocks in Mali and Burkina Faso were not pleased with the 21 nailboard and barricades we encountered in the 420 km to Yamoussoukro. At an average of one every 20 km, this seems a little excessive control. But with this the lifeline of supplies to the landlocked Burkina faso there is little resistance to the police insisting on money from every truck driver at every stop. We were held up at one post for over two hours at Ferkessedougou because we had not stopped at the previous blockade and refused to return. Surely there was no need to return as they only look at our passports and the motorcycle which they can do here. After considerable time of stand off I proceeded to start taking photos of the surrounding area, including the road block which brought on an immediate reaction from one sergeant to snatch the camera, and a scuffle broke out resulting in Kay's helmet hitting him on the head and him punching Kay in the face. Both relatively gently, although Kay has a minor bruise as a temporary souvenir. Even here women don't openly get punched in the face by Army sergeants regularly, and the situation immediately went quiet. A series of increasingly ranked officials started to visit until the senior civil servant, governor of the region, arrived to hear all sides of the event leading up to and after the scuffle. A statement was taken which we refused to sign as it was in French and we couldn't read it. We were handed back our passports and informed them of our intention to report the matter in Abidjan (where we are not going). Obviously we enormously contributed to the circumstances that led up to the events. Almost all the officers behaved civilly although overly supportive and not accepting of any responsibility for any wrong doing of their own men. All at great lengths to cloud what happened. The lesson for us is the possibility of a rapid deterioration of the situation where one man used to wielding his authority snaps and a more tragic outcome can ensue and would be covered up by his compatriots.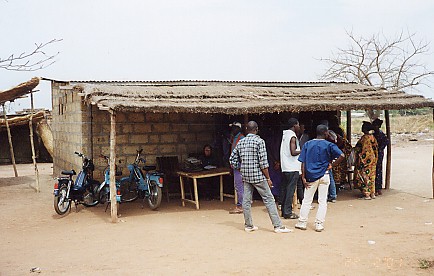 23/2/01 320 km to Man and another nine nailboard roadblocks which after yesterdays debacle we approached cautiously. On each occasion we were approached by officers and did not have to disembark from the motorcycle, unlike the locals who all had to empty their vehicle and report to the officers sitting in the shade. It has more the feel of a subjugating invading army rather than an army defending its people from some outside threat. Despite there being touristic sites in the area we have had enough of Cote d'Ivoire and will move on to Liberia tomorrow. Why are we here? To try to understand these countries and see first hand how the people have to live under the governing regimes.
24/2/01 So far Cote d'Ivoire is about the only country we have visited that we would not like to return to. After leaving Daloa we have been stopped eight times for passport controls and finally arrive at the last post to be told we need a "Laissez Passeur" for the motorcycle to cross. This can only be obtained in Danane, 25 km back, over dirt roads, from the Prefecture with a stamp from the Brigadier of the Army. Being Saturday we had to hunt over town to find the right person and get him to type the letter, then wait till 4 pm to get the army to stamp it. Back at the border with a document they had hoped we couldn't obtain so a cash settlement could be received and a thorough search of the motorcycle and goodbye and good riddance to Cote d'Ivoire.

Move with us to Liberia