Travel Through Chile on a Harley-Davidson
By Peter & Kay Forwood
Chile on a Harley (13/11/02 - 18/11/02)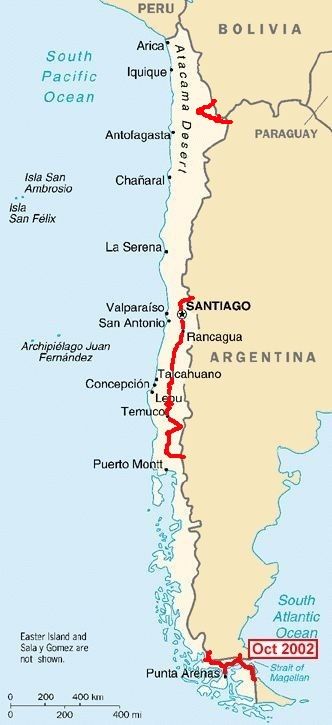 Distance 828 km (313136 km to 313964 km)
This is part of the ninth section of our around the world trip.
Complete Trip Overview & Map
Coming from Argentina or read our previous visit to Chile

13/11/02 Chilean border formalities were not for a further 150 km after the border and along a newly paved excellent road. The scenery here is stunning. Salt lakes, some with water others brilliant white, a couple of flamingos and vicuna (a wild version of the llama). This altiplano ride at above 4000m is surrounded by higher peaks with snow crystallized wind formations in crevices near their tops. The last section was a 40 km downhill run to San Pedro de Atacama where a pedantic border crossing kept us for about an hour.
14/11/02 San Pedro is a bustling tourist town. A hub for seeing the area and for tours going to or from Uyuni in Bolivia. The region is billed as South America's most beautiful area and its remoteness adds to the appeal. Not wanting to take a 3 or 4 day organized tour of the region, nor follow a tour on our motorcycle as they travel quickly and some areas would be nearly impossible for the Harley, we settled on a two day trip to the southern Bolivian area from San Pedro and to take the road from Calama to Uyuni via the northern salt lakes in a few days time. Now travelling with Ben on his Yamaha XT 650 probably until Uyuni the two bikes headed back up the newly sealed road for 45 km to the Bolivian border and after a friendly official and a park fee payment of $US 4.00, rode the 5 km to Laguna Verde. From here our 100 km trip of good to poor, hard pack to sandy ripples road to Laguna Colorado was the most picturesque desert region we have seen. We passed salt encrusted lagoons with bright pink flamingos feeding. Barren mountains and extinct volcanoes with a multitude of colours.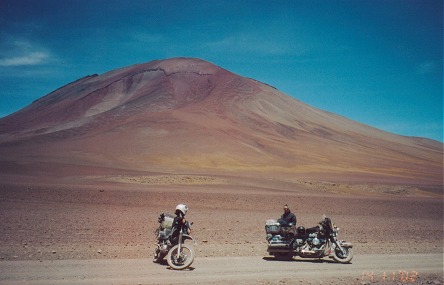 Bathed alone in the thermal hot springs and got lost as we passed the highest geyser field in the world at about 5000m above sea level, also the highest we have ridden the motorcycle. We had decided not to rejet the carburettor as fuel consumption was normal and the diaphragm carby seems to be adjusting for the altitude. We did however adjust the idle which was very slow and noticed a distinct lack of power at this altitude. After our day of solitude we arrived at dusk at Laguna Colorado to seven jeep loads of tourists. This was their second night of the tour from Uyuni to San Pedro. The new mud walled building with straw ceiling was unfinished yet full, but the locals managed to squeeze us into a dormitory, such is the current popularity of this region with tourists.
15/11/02 The seven 4x4's left before dawn on their hurried schedule.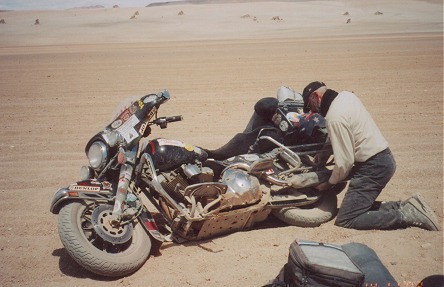 We returned by the same route after a leisurely breakfast, avoiding the deepest sand where we had dropped the bike yesterday, stopping off at the geyser field with its colourful boiling mud pools and steaming fumeroles and another dip in the hot springs. Sixteen more tourist filled 4x4's passed us on the way but at each stop we managed to be alone. Spending the two days above 4000m and sleeping at 4300m, working hard on the motorcycle and walking in the cold we were pleased to get back to San Pedro to relax.
16/11/02 Quite tired we checked over the motorcycle, minor maintenance, internet, relaxed and talked with other travellers. Many are still concerned about travelling in Argentina because of travel warnings, preferring the more expensive Chile. A few are quickly learning the reality of what a great country Argentina is to travel at the moment.
17/11/02 A short hop to Calama, across the desert, an oasis, and the supply town for the Chuquicamata copper mine. Just out of town, the world's largest open cut mine supplies 25% of Chile's export currency. The mine is encroaching on the town with people being relocated to Calama as the overburden slowly envelopes the old town's buildings.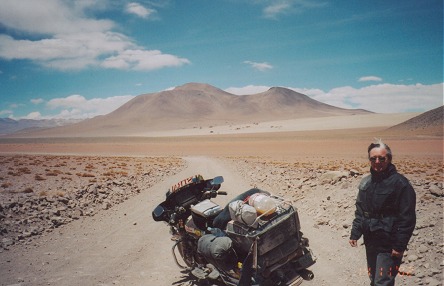 18/11/02 We left at dawn taking the sealed road 35 km to Chiu Chiu, then an excellent well sign posted dirt road, travelling at 80 km/hr. Sections of this road have been salt capped, running smoother than asphalt. The road slightly deteriorated nearer the border but maintained an easy 60 km/hr. We passed two smoking volcanoes, many dormant ones and two enormous salt lakes. At one lake the salt was being mined and trucked out. The road was now dry around the salt lakes but would be quite difficult in wet conditions like those earlier this year. A total of 200 km brought us to the border at Ollague. An easy departure from Chile with officials.


Move with us to Bolivia