Travel Through Chile on a Harley-Davidson
By Peter & Kay Forwood
Chile on a Harley (28/10/02 - 2/11/02)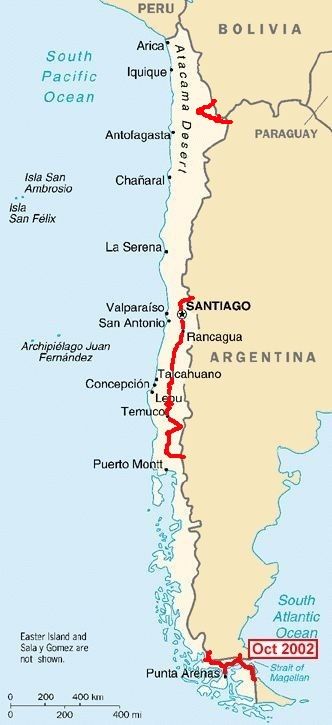 Distance 1544 km (309193 km to 310737 km)
This is part of the ninth section of our around the world trip.
Complete Trip Overview & Map
Coming from Argentina or read our previous visit to Chile

28/10/02 The mountain pass still has roadside snow as we head into the western slopes for the first time after an easy border crossing. Immediately the higher rainfall and warmer temperatures show a lush growth and denser foliage. This side the mountains drop sharply, are full of thermal activity with volcanic lakes and snow-covered volcano's. The temperature has risen to the low 20's as we ride the four lanes of the Pan American, in sunshine, but after only 80 km we headed into Panguipulli, a small town on a lake with views over two snow capped volcanoes. A small dirt road to Villarrica and on to Pucon and we have moved from the Argentinean lakes district to the Chilean in the same day with vastly different scenery.
29/10/02 Chilean prices are 50-100% more than in Argentina so it's lower class of accommodation and supermarket eating. Our hospedaje overlooks the magnificent Volcan Villarrica, covered in snow yet steaming from its small crater on the summit. Skiing for the season is finished on it's slopes but organized treks to the 2800m high peak leave daily and we watched almost 50 people as they attempted the climb, content ourselves to walk the lower snow covered slopes and toboggan back to the car park. The snow reflecting the sun we both ended up with sunburnt faces.
30/10/02 We met two delegates from C.I.T.E.S. who were in Chile to attend the world conference for trade in endangered species. They were in the Huerguehue National Park to view the Araucaria trees in their natural habitat. The trees only grow indigenously in this border region of Argentina and Chile and are listed for discussion and possible ban from international trade at this conference. The striking tree with straight trunk, canopy top and spiky leaves look like a cross between a cactus and a tree, living for 3000 years, towering above other species. The seven km walk to the ridges where they grow passes through bamboo thickets and snow drifts, alongside waterfalls and at the top are three beautiful glacial lakes beneath these giants giving a quiet Jurassic Park feel to the area.
31/10/02 600 km, mostly on the Pan American, generally four lanes and good surface with small toll charges for motorcycles. Past dairy farms, fruit orchards and vineyards, never losing sight of the snow capped mountains to our right even as the haze increased as the day got warmer. Chose a small cabana just south of Santiago ready for our early assault tomorrow.
1/11/02 Too late we discover that November 1st is All Saints Day and a public holiday.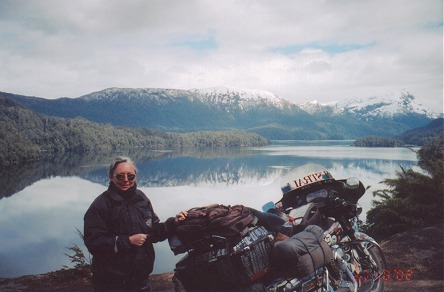 We are in Santiago to collect a tyre and not only are most shops shut but the promised reopening of a Harley dealer here in September didn't eventuate, and is still months away. With the strong U.S. dollar and the poor economic environment in the region luxuries like Harleys have suffered as have many dealers closed. After trying to locate possible shops to get a tyre tomorrow we attempted to book into a cheap hotel. But with the expensive hotels occupied by the government funded C.I.T.E.S delegates and the cheap hotels occupied by the more cash strapped grass roots lobbyists we ended up in a place that could be loosely described as the "Adams Family". Run by three quaint old ladies dressed in anything from hikers boots to plastic bag aprons, hair curlers and masses of runny make up and mascara looking like it hasn't been changed for weeks. The bright red carpet lined floor, walls and furniture added to the intrigue.
2/11/02 It seems Dunlop tyres are not big in Chile being out priced by the locally made ones. Ours having worn quickly on the hard chip seal and dirt roads, we were left a bit unprepared. We were informed a tyre might be found Monday but the low chance and a two day wait unappealing. Headed north through the now dry cactus and scrub covered hills and up the incredible 3300m pass with its 28 hairpin bends to the border and tunnel at the top.

Move with us to Argentina , or go to our next visit to Chile .