Travel Through Canada on a Harley-Davidson
By Peter & Kay Forwood
Canada on a Harley (27/7/01 - 21/8/01)
Distance 7203 km (248738 km to 255941 km)
This is part of the Seventh section of our around the world trip.
Complete Trip Overview & Map
Coming from the United States of America or read our previous visit to Canada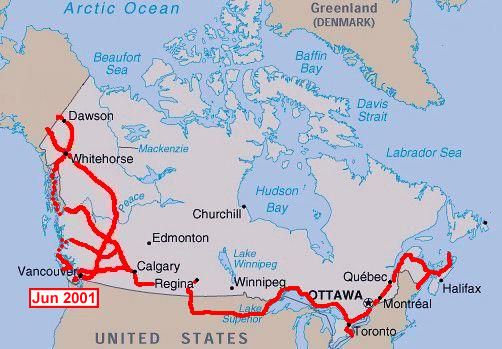 27/7/01 Canada and the 20 border crossing questions this country asks us at each entry. The official parrots them off. Carrying any alcohol or tobacco, weapons, mace, pepper spray, bear spray, drugs, do you use drugs, if I search your bags would I find any buts or left-overs, are you carrying anything for anyone else, would you tell me if you were a drugs user and have you ever been arrested. The last one the most important particularly for Americans because if they have a conviction even for drink driving or marijuana use at any time, even 30 years ago, Canada has those records now, and can check, and you aren't allowed into the country. However if more than five years ago you can clear your record by paying a rehabilitation fee of $200 Canadian, then you are allowed in. You may have paid your debt to society 30 years ago in America but, you aren't good enough to come to Canada, but if you pay us 200 dollars you are now good enough to come here. Not even in Africa would they try to get away with such a ridiculous charge.
28/7/01 At the confluence of the Yukon and Klondike rivers the gold mining town of Dawson City sits beside the river. This is where miners trudged to over 100 years ago taking between 6-18 months to arrive from the south. Within a few years there were paddle steamers up and down the river and a railroad over the mountains.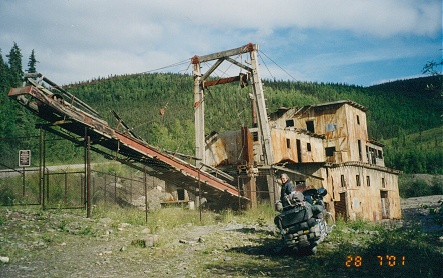 The easy gold ran out and enormous dredge machines eight stories high and 3500 tons moving less than a km a year and floating in their own pond dug into the permafrost gold bearing ground arrived. The old paddle steamers and dredges can still be seen rotting around town along with the enormous piles of discarded rock snaking across the old creeks and gullies. The historic town is trying to keep its turn of the century appeal but is being encroached upon by tourist facilities.
29/7/01 530 km to Whitehorse, southern Yukon, crossing many flooded rivers from record summer rains. The scenery not seeming as spectacular as when we first saw it on the way up three weeks ago. Now the short trees are just short trees and the lakes just another lake as we hurry south for another deadline. We try to avoid deadlines but somehow they creep into our schedule and we should be in Vancouver within the week. The season here is almost finishing, businesses laying off temporary staff already as the now south bound exodus isn't excited and has spent most of their money.
30/7/01 Two new tyres. Again Dunlop has arranged for us to collect free tyres in Whitehorse. The rough chip seal roads and dirt eating through them faster than smooth asphalt. Its great to be back to reasonable prices for groceries in Canada after the doubly higher prices of U.S. goods and Alaskan prices. We can now walk the supermarket buying almost what we like rather than what we can afford. People still come up to us impressed with the trip like the man from Minnesota who said what a great trip and handed us a H-D T-shirt, and said keep riding.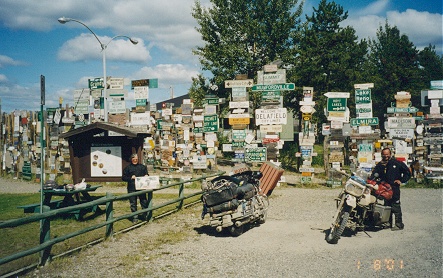 31/7/01 700 km today, and the motorcycle passed its quarter of a million km mark as we headed south to camp roadside near Liard Hot Springs. The map is small but the distances vast in Canada. Still meeting long distance travellers. Simon, a Brit, just ridden his home made piecemeal motorcycle over Russia to Magadan and flew it to Anchorage, now heading south to South America. I always like roadside camps as the neighbours are non-existent or wildlife. Tonight we had a beaver building a new dam, paddling in his mist covered pool, crystal clear you could see every movement of his finned feet and flat tail.
1/8/01 Another 700 km, the rain still not leaving us alone. I am sure the clouds are following us. Too lazy to hold the water in the sky they let every drop fall. Not heavy but the road is rarely dry.
2/8/01 Another 700 km. I don't like deadlines. To William's Lake. The days blur together. The diary doesn't get written and when it does the small details are missing.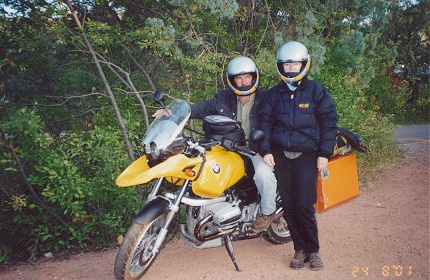 3/8/01 Another 600 km and we are in Vancouver. Down alongside the scenic Fraser Canyon. Our deadline to meet Ron and Lou. Two Australians who shipped their new BMW GS 1150 over here to ride Canada for the next two months. We are a day earlier than planned, always allowing one day for unforeseen problems, and surprise them at their campground.
4/8/01 They are from our home town in Australia and Ron travelled with me in India four years ago. This time the wives are along. For couples used to living semi separate lives to be thrust together for two months will be a different experience. Just the newness of camping every evening and being on a motorcycle every day. Cooking on a one burner stove, showering when water is available and not knowing where you will be tomorrow all add to the adjustment. Working together and relearning each others particular idiosyncrasies.
5/8/01 The slow purposeful, thoughtful packing of the first timer differs from the methodical ease of the experienced. Each item hasn't yet found a permanent home. Ron and Lou left for a three day, find themselves tour north and we rode to Grant and Susan Johnson's.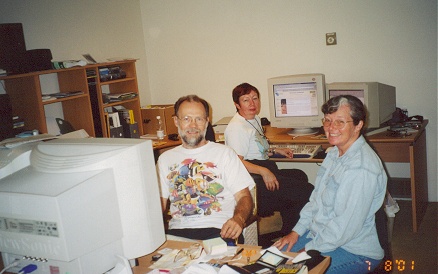 6/8/01 The nerve hub of Horizons Unlimited has moved from England to Canada, at least for the moment. The high priority gear, computers, were air lifted and now reside in prime position in the lounge. Two each for the operators Grant and Susan. Having been here only a month the lower priority equipment like furniture has still to arrive by boat. We were welcomed by Susan's home cooked meals and bread, something we miss with the one burner stove. The unpaid dedication these two have to inform long distance motorcyclists is amazing. Dozens of emails are answered daily. Many requesting the same information, others requiring extensive research. A monthly electronic magazine and web site design occupy even more time. For us, this keeps us in touch with other travellers we have met. They receive news of our travels and we keep up with what they are doing, all delivered free to our email address. Even in the middle of remotest places we can find out the joys, difficulties, experiences and frustrations our friends are experiencing in equally remote locations.
7/8/01 Kay's mother had been visiting Canada on a two week Alaskan Ferry and Rocky Mountain Railroad tour and we had an opportunity of spending her last day together in the city lucking into a choral performance.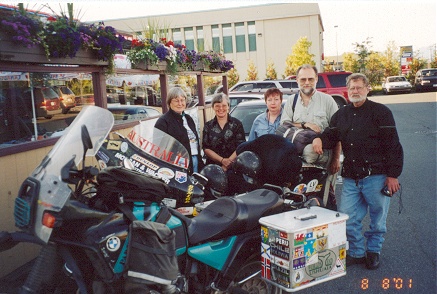 Eric and Gail Haws, travelled up from Oregon to meet Grant and Susan and us. It had been three years since we had met this multi around the world couple at the Tesch Rally in Germany. Now they spend a couple of months home and a couple of months travelling. They were the first long distance motorcyclists we had met and were a prompting force in getting us started. We first met while they were in Australia in 1996.
8/8/01 Our travels with Ron and Lou started in brilliant sunshine. The ferry to Sidney on Vancouver Island passed by two pods of about 10 in each, Orca whales, one pod quite close although the ferry was moving quickly. Smaller than I had pictured they were moving through the silty, rain dirtied waters where the river meets the ocean. As the boat moved through the narrow section between islands seals could be seen sun baking on the lighthouse island.
9/8/01 It seems everyone is out in the sunshine. Campgrounds and roads packed with holidaymakers heading up and down the island. After another quick look at Victoria and its wonderful flowers everywhere we travelled through to Parksville and into a provincial camp tonight. Set in pine woodlands alongside the ocean with views of islands across the water.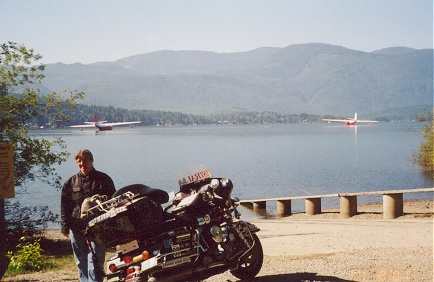 10/8/01 Across the island to Tofino and back. Past large old growth Douglas Fir and red cedar trees, through the mountains with crystal clear lakes. Sproat Lake is home to the "Martin Mars" water bombers. Large float planes, used for fighting forest fires, they touch and go on the lakes scooping up tons of water for the next water bombing. The sandy beach at Tofino is backdropped by enormous driftwood logs washed up in storms and the sunny day we had disappeared into thick fog at 2 pm. Rolling in from the ocean this warm fog didn't deter the swimmers or beachgoers, but an eerieness settled in.
11/8/01 Riding together but not in each others pockets. We have settled into leapfrogging, leaving at different times but having a meeting place one or two hours ride away, with Ron and Lou. That way we are both not constantly worried where the other is, whether we will be holding them up by stopping for a photo or to look at scenery.
First into the meeting place boils the billy or starts lunch or just relaxes till the others arrive. Rode to Port Hardy via the Telegraph Cove fishing and whale watching village.
12/8/01 We joined the BC Ferries boat to Bella Coola last night in perfect weather but awoke to thick fog hovering just 50 meters above us allowing only views of the lower coastline. During the day the ferry called in at three predominantly native peoples settlements, their only access to the outside world by this boat or sea plane. The village of Bella Bella had a great interpretative centre on the history of its peoples. Shearwater with a salmon fleet and a four hour stop in Klemtu where the locals invaded the ship as a floating mall to play video games, buy food, candies and gift shop items. This being their only Sunday afternoon entertainment. The boat slowed and stopped so we could see a mother humpback whale and calf at play, rolling over and splashing the surface and the fog had lifted to sunshine but at 6 pm it rolled back in like someone slowly pulling the cover over a bed.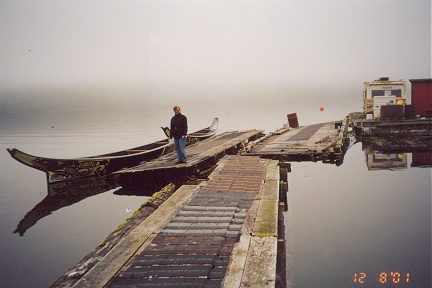 13/8/01 Bella Coola is at the top of a long fjord arm. In thin fog the boat slowly edged its way between fishing boats with their long nets trailing. Mountains either side were occasionally dotted with snow or small glaciers. The milky blue of glacial melt a line across the fjord where the waters meet the clear green ocean. The 60 km of dirt road leaving Bella Coola rises steeply swithchbacking alongside near vertical drop-offs to reach the stunted trees of the plateau with clear beaver ponds everywhere. This high altitude peat tundra some of my favourite scenery.
14/8/01 Autumn is coming and the squirrels are collecting dried grass and dropping pine cones. There seems to be a hurriedness in their actions as the long summer days shorten. The temperatures have risen since we were in the area two months ago. The grasses turned reddish golden and the skies have a heat haze from the last ten days of no rain. Rode through Williams Lake and half way to Jasper staying in another beautifully timbered provincial park.
15/8/01 We are slowly getting the African red mud and Alaskan grey off the motorcycle. The whole bike needs going over with a toothbrush. An hour here or there when we have water and time.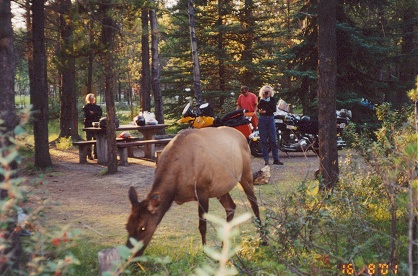 Its a good way to spot possible future problems. You would never believe how many small cavities mud and dust can get into. Jasper tonight and despite most of the snow having now melted on the mountains it's still as beautiful a scenery as our last visit.
16/8/01 Most of the parks animals have moved to higher altitude grazing but the bear are still around picking thousands of berries each day to get fat enough to winter over. A black bear sat just off the road edge gorging on these berries, moving from one bush to another rapidly eating, totally unfazed by our presence, on the motorcycle, on the other side of the road. With the engine idling, just in case, we watched for over five minutes before he ambled into the forest. We headed down the parkway viewing the mountains and glaciers southwards, a totally different view from our northward visit last time.
17/8/01 While travelling with Ron and Lou we are happy to visit the Rocky Mountains a second time. The rivers and lakes a milkier colour from the glacial melt without the snow melt to dilute it. They end winter a deep emerald blue and as the glacial silt enters they turn a milky grey.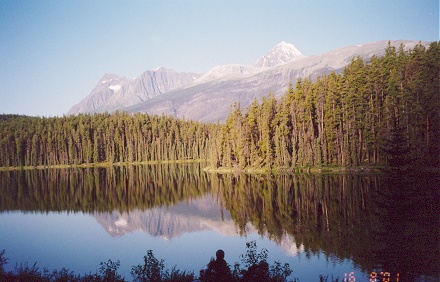 The rivers rise each night flooded by yesterdays sunshine melt only to drop each day as the night time cold reduces the thawing. The glaciers now fully exposed with the last snow remnants gone. Banff for the night.
18/8/01 Mid August the prime summer tourist time with National Park ranger interpretative shows daily. Informative walks, movies and talks. Wolves have been back in the park for over 20 years after a 30 year absence when they were hunted out. Although rarely seen, preferring to remain in remote areas, their numbers are quite large, feeding on the abundant elk populations. We listened to an evening ranger talk on the research and struggle the park has balancing the needs of the animals and humans. With roads killing many wolves and campsite smells attracting them.
19/8/01 Leaving the treed mountains for the rolling treeless foothills to Head-Smashed-In. A buffalo/bison jump. This low cliff was used by native peoples almost continuously for the last 6,000 years to heard bison towards. Stampeding them faster and faster till it was too late and they plunged over the cliff dying in the process. The autumn kill provided winter meat, skins and bones for tools for the large bands that had gathered to help in the hunt. Now a world heritage site with great interpretative areas.
20/8/01 We have learnt to live with noise as a society. Not just our own motorcycle engine but the constant drone of mechanical sounds. Out of the sound absorbing trees the road and rail noise can carry kilometres to even a remote camp site. The slightly undulating grasslands surprisingly noisy. We passed salt lakes on the way to Moose Jaw. Migratory birds rest here to fatten on the "sea monkeys". Small brine shrimp that can live in waters more than ten times as salty as the oceans. Some birds flew from South America and fly on to the arctic to nest. Others come here to nest, and move south as winter approaches. They seem to have accepted the noise of a highway next to their resting place.
21/8/01 Yesterdays record 400 km from a tank of petrol, achieved by a constant, strong tailwind blowing across the prairies, vastly different at 4.4 litres/100 km from the lowest, 9 litres/100 km on bad petrol and muddy roads in Africa. Visited the Royal Canadian Mounted Police training facility and museum in Regina. With almost no horses left it's a vastly different force to the "one that always got its man" back when Canada had a wild west. Now 85% of recruits have a degree. Still an unusual national police force that is contracted by some cities and provinces as their local police.

Move with us to the U.S.A. , or go to our next visit to Canada .