Travel Through Burkina Faso on a Harley-Davidson
By Peter & Kay Forwood
Burkina Faso on a Harley (8/9/06 - 12/9/06)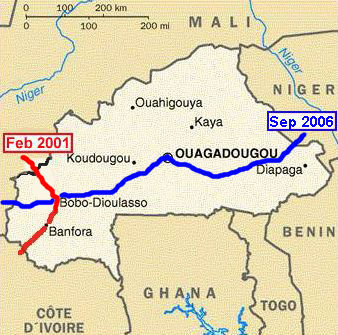 Distance 872 km (469695 km to 470567 km)
This is part of the twelfth section of our around the world trip.
Complete Trip Overview & Map
Coming from Niger or read our previous visit to Burkina Faso

8/9/06 Entering Burkina Faso equally as easy. Polite officials and efficient. The light rain had stopped and the air was crisp. We are now heading slightly south and the countryside is verdant, underpopulated and fertile in comparison to the area around Niamey. It was market day in a small village and the women were dressed up for the day in town. Different tribes had their different styles of head wear, hair styles and accompanying local jewellery. The maize (hard corn) is just ripening and cooked over charcoal is quite edible and along with the fried dough balls is the main market food. Fada Ngourma is a small town, a base for some American Peace Corps volunteers. This organisation has volunteers all over the world. They do a couple of years, usually in remote villages, taking on a project aimed at lifting living or education standards. We met three in town, about half way through their two years, and had an enjoyable dinner.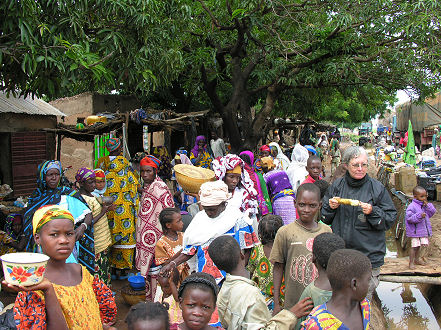 Each of us a little starved of outside conversation and contact there was great dialogue. A young well educated group, not long out of university, they have vibrant ideas and enthusiasm for the world, where as us older folk have become a little more sceptical. It is great to see an optimistic future through their eyes.
9/9/06 Into the capital, Ouagadougou, just 250 km after a relaxed breakfast with the Peace Corps volunteers. The country is sparsely populated and few villages can be seen yet crops are planted and stock graze. We dodged a few storms and caught one but dried before we reached the capital.
10/9/06 Sunday in the capital is quiet. We hardly ventured from our accommodation, a hotter steamier day as we rested. This region of Africa has improved in the last few years. Banking facilities are easier with a number of ATM's, unfortunately only linked to the Visa network we again had to change our limited supply of US dollars at a poor rate as our ATM cards are linked to Mastercard which is not represented here.
11/9/06 There are many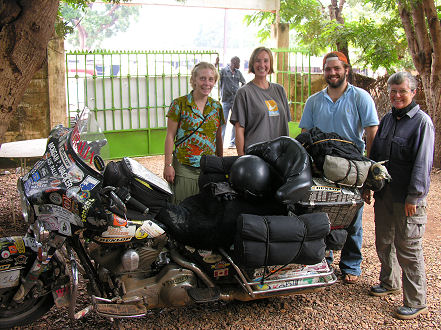 newly constructed good asphalt roads in this area linking countries and allowing increased trade. With most countries also using the CFA currency, which is fixed to the Euro, it's a bit of a mini Euro Zone. The flat countryside the same, crops, small villages and animals darting from long grass onto the road occasionally to keep us awake. Took a rest half way to Bobo-Dioulasso and changed all the motorcycle's oils, engine, gearbox and primary, and filter, taking about an hour. Also flushed the engine trying to burn off some carbon as the rear cylinder's spark plug has been coking up, causing misfiring from all the oil we are now burning. The old oils were returned to the new oil containers and a woman and her three children collected the containers as we were leaving. I know she will use the containers but what will become of the oils is unsure. Met another bicyclist, an American just finished her Peace Corps two year stint in Senegal and now riding across to Ghana alone. A long lonely journey. We stayed in Bobo-Dioulasso for the night where we met two motorcycle travellers heading south.
12/9/06 Another good road to the border. Burkina Faso seems to be progressing ahead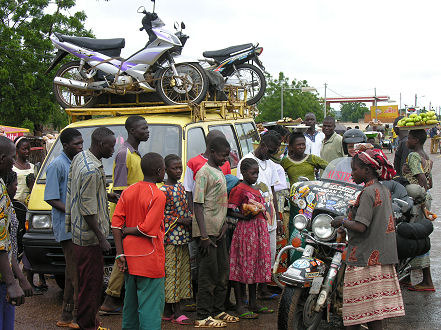 of it's neighbours with modern petrol stations appearing, no police road blocks slowing trade and allowing for corruption and no speed humps through towns making a very enjoyable country to visit, particularly as the region is so green. Easy paperwork to leave the country.

Move with us to Mali