Travel Through Bulgaria on a Harley-Davidson
By Peter & Kay Forwood
Bulgaria on a Harley (28/6/11 - 6/7/11)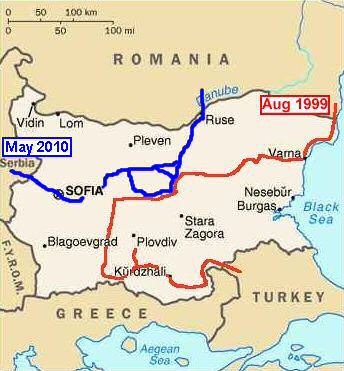 Distance 1378 km (589624 km to 591002 km)
This is part of the seventeenth section of our around the world trip.
Complete Trip Overview & Map
Coming from Romania or read about our previous visit to Bulgaria
28/6/11 The Bulgarian authorities entered the motorcycle and our documents in their computer and we were on our way to an apartment hotel right on the Danube River, just south of Vidin.

29/6/11 The more we head into Eastern Europe the more economical travel becomes. Petrol prices here are 20% less than in Western Europe, our studio apartment is 27 Euro a night, and a meal and bottle of wine for two last night was 15 Euro. Quite a refreshing change to Australian prices. It has been lovely weather the last week apart from strong winds and today we braved them again to visit Vidin, not a recommended city, but also visited the magnificently located fortress at Belogradchik. Situated atop an exposed outcrop of weather jagged rocks it seems a great location for a fortress to overlook the plains below. Back to our Danube riverside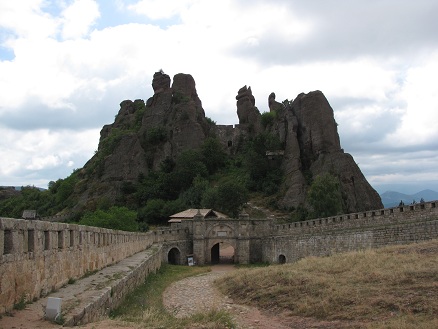 accommodation for the night.

30/6/11 A quick ride, fast road with little traffic, to Sofia. Actually just an overnight stop having visited the city last year we are staying on its outskirts. After the flatlands of last week it is great to ride alongside some mountains.

1/7/11 These mountains however attract rain, thunderstorms today, moving across as we ride south to Rila Monastery, Bulgaria's most famous. Started in the 10th Century, restored in the 15th, burnt down and rebuilt in the 19th it has some amazing history and has been responsible for keeping alive Bulgarian culture and language despite invading forces. Governments come and go but religion seems to prevail. A large monastery with a stone courtyard surrounded by four storied stone accommodation for the monks. The church, in the courtyard is extensively muraled inside and outside. Set in forested surrounds alongside a stream its location is as magnificent as the monastery. We rode onto Bansko, a ski town, for the night.

2/7/11 It is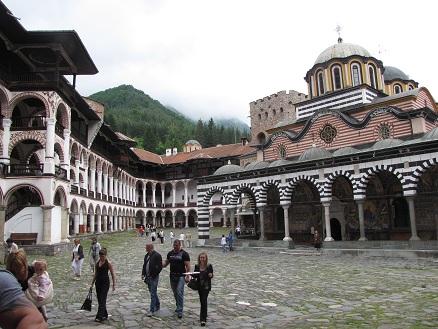 not often we mention the places we sleep, unless they really, really, stand out, but Family Hotel Yanitza, in the middle of Bansko, is truly friendly in a simple way and with great food in the restaurant downstairs. At 15 Euro a double, with breakfast, its also tremendous value. The owner speaks good English. A rainless but cool sunny day in the mountains, with snow still in the alps as we joined the local crowds, mostly weekenders from Sofia, walking above the treeline. Mostly coachloads, as private car ownership here is still expensive. The main walk follows a small stream higher and higher but the more enthusiastic aim for the mountain peak. Some sit just past the carpark, relaxing in the mountains, picnicking, guitar in hand singing folk songs over a raki.

3/7/11 A colder cloudy day as we descended from the mountains to Plovdiv. The road, from Yundola to Belovo, the 842, a particularly lovely section along a small river down through a deepening gorge. Most smaller roads here are a little bouncy but the lack of traffic makes up for any roughness. On the flats it was a quick ride along the last section running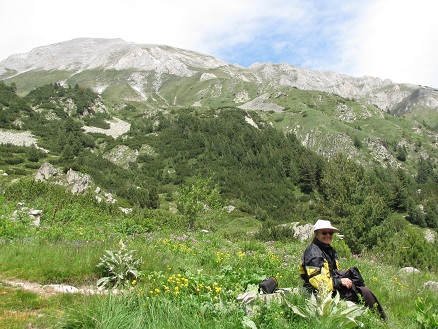 ahead of rain which we just beat to our hotel in the middle of town. By early evening the rain had cleared enough for us to venture into the streets, the old section, cobble streets, Roman ruins, Thracian ruins, Bulgaria's oldest mosque. As is the situation in much of Bulgaria much is yet to be restored, and sits next to dilapidated ruins. It is like this with the Kashta traditional homes, that lean over the cobbled streets.

4/7/11 The last couple of days we have been passing roadside gypsies selling berries and wild mushrooms collected from the mountains. Today on our way to the coastal town of Sozopol it was stone fruit, at the peak of their season, cherries, apricots and nectarines with roadside sellers most of the day. With traffic increasing as we approached the Black Sea coastal town of Burgas it was a relief to arrive at Sozopol, just to its south east, with its beaches, and at the moment, almost peak holiday season, packed with scantily dressed sun bathers. Our hotel room right in the middle of the Harmani Beach bustle allowed for people watching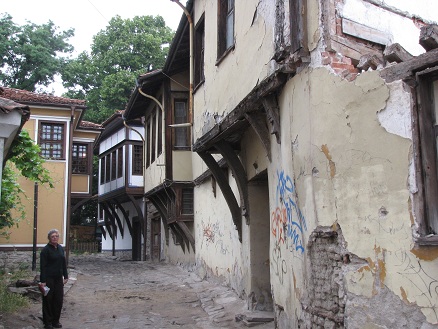 from our secluded balcony.

5/7/11 20 years since de-Sovietisation of the country has brought many changes, not least a divide in peoples fortunes. The decentralisation of industry of Soviet times, building factories in rural areas, has left them decaying and the population moving to larger towns and cities, leaving behind run down rural areas. Ski towns and beachside areas have benefited from city money, attracting apartment development, restaurants and holiday services. Sozopol is part of the developing areas. Old buildings renovated, new ones built, but it has managed to retain an organised chaos, an appeal of the Bulgarian holiday atmosphere. Busy, vibrant yet not totally consumed. Just a looking day, strolling the old part of town, tasting crepes, fried small sardines, a local beer, joining in from a distance.

6/7/11 This is the furthest eastward we are travelling this time in Europe so from here it is slowly making our way back towards the west and our flight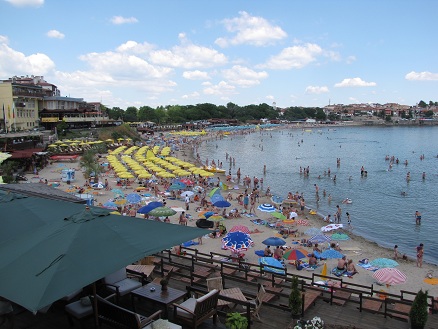 to the USA. 37 years married today and we celebrated by taking a Harley-Davidson motorcycle ride to the Black Sea beachside holiday destination of Costinesti in Romania. Some might think it was no different to any other day of the year. Along the coast through Varna dodging thunderstorms, a big port city, and an easy border crossing to leave Bulgaria.


Move with us to Romania