Travel Through Bulgaria on a Harley-Davidson
By Peter & Kay Forwood
Bulgaria on a Harley (21/5/10 - 27/5/10)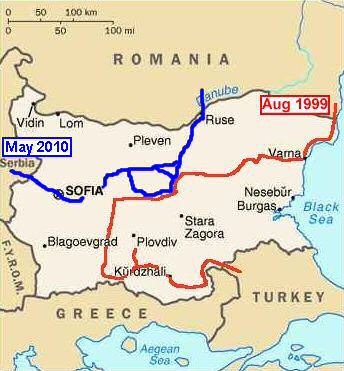 Distance 798 km (565683 km to 566481 km)
This is part of the sixteenth section of our around the world trip.
Complete Trip Overview & Map
Coming from Serbia or read about our previous visit to Bulgaria
21/5/10 An easy border crossing with the sun finally shining. Passports stamped and no request for motorcycle insurance. It was just an hours ride to Sofia, flatter country, green and flooded from the recent rains. We had been recommended a hostel in the city but could only obtain beds in an 8 bed dorm. It has been a long time since we have needed to take a dorm bed. The busy hostel has all the other necessary facilities, washing, internet, interaction, and includes dinner and breakfast in its 13 Euro per bed price, so we took the dorm option. Obviously the Hostel Mostel has all the right ingredients, it was full by nightfall. Sofia is a one or two night city, not a real party town, and our dorm was quiet, although one resident obviously got lucky,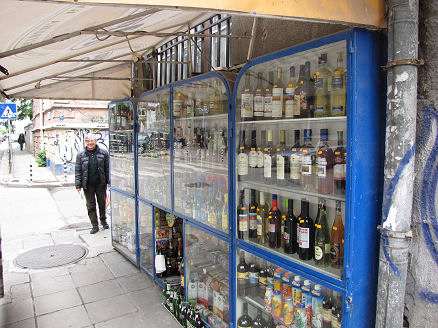 not arriving back from a nights outing till we were getting up in the morning.

22/5/10 Having travelled almost alone, or with the retirement crowd, for the last few months it was great to find a busy hostel for some traveller connection, and an opportunity to talk with a generation one removed from ours. Visited the local highlights, including the Sveta Sofia Church, which has been built and rebuilt on the same site since the 4th Century, even acting as a mosque during the Ottoman era. The architectural magnificence of the Alexander Nevsky Church viewed from the outside, stunning, and built as a memory to those who liberated this region from the Ottomans. We are enjoying the Balkans, apart from the rain, more than we expected, prices are good, people are friendly, scenery in springtime stunning. Picked up a litre of local wine at the market for dinner. Dispensed into a plastic container, right out of an oak barrel in the street, it wasn't a bad drop to share with the hostel residents.

23/5/10 The big event
today was moving from the dormitory to a double room, otherwise we sat around the hostel most of the day.

24/5/10 We have been meeting a surprising number of motorcycle travellers in the Balkans. Perhaps it has been triggered by the beginning of the European riding season, the first of May, but since arriving in Albania, groups of three to half a dozen have been going by almost daily. Bikers from Hungary, Germany and six from Brazil on Slovenian rented motorcycles, large bikes, BMW's. Special motorcycle accommodation places have been springing up accordingly, like Doug's Moto Camp in Idilevo, near Veliko Tarnovo. We had met Doug at the Horizons Unlimited rally in Germany last summer and along with Poly and Ivo they run the summertime campground and rooms out of an old, renovated, farmhouse and out buildings, having turned the barn into a restaurant and bar. Arriving just after lunch we were welcomed by Ivo, (Doug and Poly were on their way back from a motorcycle rally in Greece), and he provided us with a lovely traditional Bulgarian dinner.

25/5/10 With the weather having warmed it was a loop ride around the region to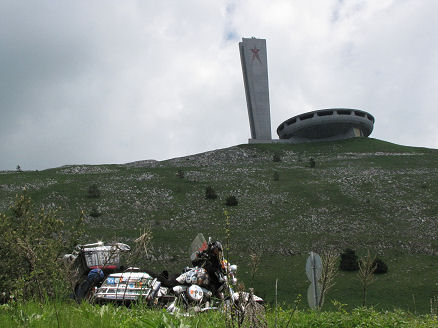 the south. Two mountain passes, an open air museum and a visit to some small towns. Bulgaria was fully immersed in the Soviet model before it again became an independent country in the early 1990's. Enormous square chizzled statues dot the countryside. Monuments sit atop mountain passes. Bleak apartment buildings rise up from towns and enormous decentralised factory ruins sit in green fields. But amongst the pre 1990's architecture are renovated and modernised buildings. In Soviet times there were no town shopping areas as westerners know them, there were few products to sell, but now ground floor apartments have been converted into shops, restaurants and cafe's. Some of the old factories are still functioning, some being modernised, but it seems a lot of it is outside money as Bulgaria has recently joined the European Union. In the region of the small rural village of Idilevo there are a British couple renovating their old farmhouse, an Irish man is planning to renovate two houses he has recently bought, and another Brit who has moved here is running a small parts business. Other villages have Western Europeans also moving into the area, retiring, semi retiring, looking for a more economical or relaxed lifestyle. Doug and Poly arrived back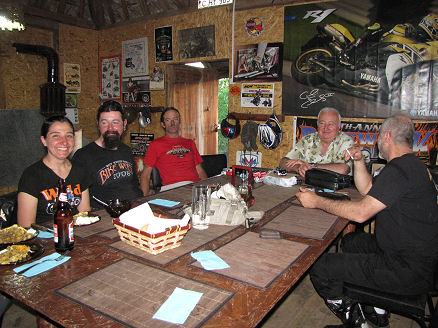 from the rally in the afternoon and Poly's father, the Mayor of Idilevo cooked everyone, including a couple of their friends, a lovely moussaka for dinner in the restaurant bar, for a great evening of chatting.

26/5/10 Out for another loop of the area, this time to the country's old capital city, Veliko Tarnovo, with its walled citadel in the old quarter, after first visiting the Dryanovo Monastery. The moto camp is in a good position for seeing "the real Bulgaria" its countryside and small villages as well as staying in a quiet village where rush hour consists of one, or on a busy day, two horse drawn wagons passing on their way to pasture. While we were away Poly had, as offered, arranged to obtain Greencard Insurance from a local broker. For 110 Euro we had a three months policy, valid for all of the EU countries, something we have not been able to readily or economically obtain previously, and giving us peace of mind.

27/5/10 We could have stayed longer, sitting on the verandah, or eating great meals, but it was time to move on and we left after an extended goodbye, heading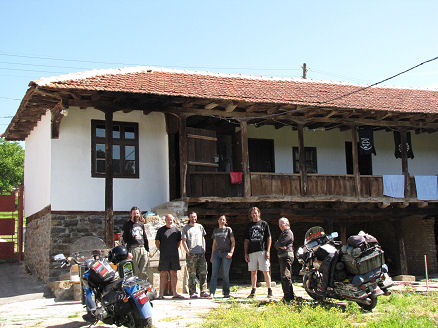 for Romania, crossing out of Bulgaria without any document checks, or payment of bridge toll to cross the Danube border river.

Move with us to Romania or go to our next visit to Bulgaria