Travel Through Bosnia Herzegovina on a Harley-Davidson
By Peter & Kay Forwood
Bosnia-Herzegovina on a Harley (12/5/10 - 19/5/10)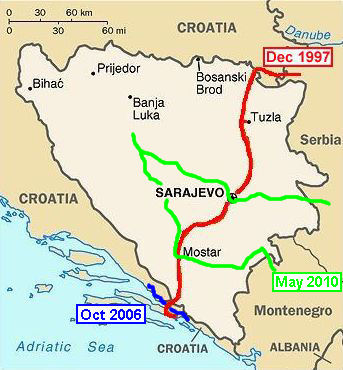 Distance 661 km (564571 km to 565232 km)
This is part of the sixteenth section of our around the world trip.
Complete Trip Overview & Map
Coming from Montenegro or read about our previous visit to Bosnia Herzegovina
12/5/10 The Balkans has become an easy place to travel over the last decade, no visas, easy borders, and we crossed smoothly a little after lunchtime. Unbelievable as it might sound the scenery didn't deteriorate on this side of the border and after getting a tank of gas and changing money at the petrol station in Brod we headed south through the Sutjeska National Park with its still snow covered peaks, birch forests in burgeoning spring growth and lush meadow pastures. We followed snow melt stream after flooded river up and down mountain valleys through to Gacko and on to Mostar, taking a hostel room for the night.

13/5/10 The forecast rain settled in late last evening and continued all night and into the day only clearing mid morning when we again ventured out for another look at this magnificent city. A boundary between opposing forces in the recent war of the 1990's it suffered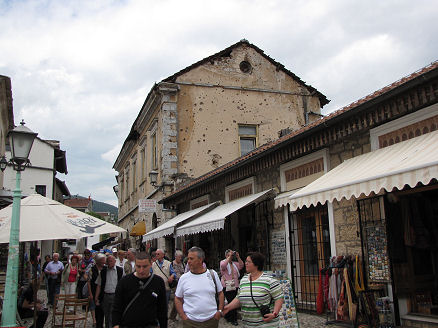 enormous damage but its past history, dating to before the 17th century, required it be reconstructed at the end of the conflict. After standing for over 400 years the Stari Most (old bridge) had been destroyed by artillery in 1993. Almost every building in the city was peppered with bullets, burnt or bombed. But today the stone bridge has been rebuilt, reconstructed, the cobble streets are again smooth, -ish, craftsmen, or at least souvenir sellers operate out of rebuilt stone and stone roofed shops, and the tourists throng the streets, arriving by the busloads on day trips from Dubrovnik or staying for a night in town.

14/5/10 A heavy thunderstorm arrived as we were departing our hotel so after just a one kilometre ride we were waiting it out in a coffee shop, reminding us that we had moved away from the dry Mediterranean to the rainy mountains of Europe. It cleared an hour later and we rode towards Jajce, north west, along more mountain roads, drizzly passes, sunny valleys, stopping in Bugojno for a tourist free lunch of local burek, a meat, potato and filo pastry dish, not unlike a good Australian meat pie. Jajce is a small town/city with a large history ideally situated near a waterfall with surrounding mountains. Police closed the main city street as the mix of population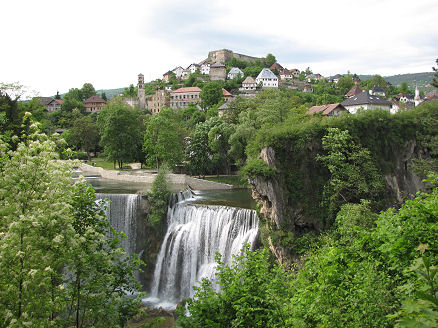 came out on this Friday evening to promenade town. Mostly a young generation the small but lively bars and disco's filled early and closed late. A new mosque dominates the city centre and a newish church sits a valley over.

15/5/10 It rained all night and into the morning and our internet enquiries, www.wunderground.com showed a forecast of rain for today, with a cold change and prospects of rain and cold weather for the next week, not a good forecast for riding in the mountains of Bosnia and Serbia. Occasionally reducing to showers, between which we ventured out for a city street stroll, changing money at the bank and a coffee. Most of Bosnia seems to accept Euro or MK notes interchangeably, but not Euro coins, making currency easy.

16/5/10 Raining again this morning as we were deciding whether to head for Sarajevo, our fourth day of rain in a row. Not wanting to spend a wet day in the room, not wanting to spend it on the motorcycle missing the magnificent scenery of Bosnia, an annoying decision, but riding won out and we took the 160 km to Sarajevo which, despite the oil filler plug working its way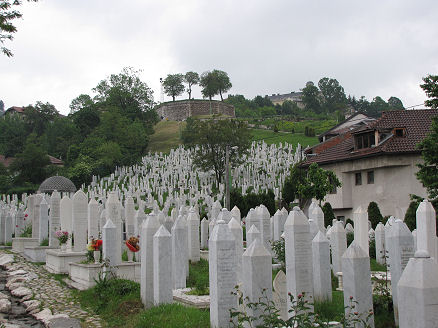 loose, causing oil to be sprayed over the rear brake disc and pads, giving zero rear brakes as we left the freeway entering the city, was uneventful in a constant drizzle to rainy ride. Riding into a city without rear brakes in rain isn't a great entry but we have found driving in Bosnia quite sane, probably due to the fairly intensive policing we have noticed. Accommodation, along with almost every thing else we have been purchasing has been excellent value, with Sarajevo more expensive but still reasonable and we took a hostel right next to the old town. Sarajevo has changed enormously in the last 12 years. Water and electricity stays on 24/7, bullet damaged upper stories have been repaired, as have most bombed and burnt out buildings.

17/5/10 We have visited many war torn countries, but, Bosnia-Herzegovina is different. In other countries the war front line recorded most of the damage leaving large percentages of a country unscathed but in Bosnia almost every town suffered significant damage, either from fighting on a local ethnic or religious basis, or fighting on a national level. Add to that the regional displacement of more than a million people, the political divide, and many have not returned home after the war, so their homes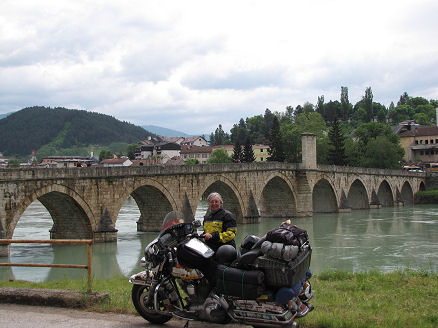 remain destroyed, dotting towns and the countryside years later. Strolled around the old city dodging raindrops, visiting the place where Archduke Ferdinand from Austria was assassinated in 1914 sparking the First World War. Even managed a walk to the Martyr's Cemetery where hundreds of headstones record dates of 1994 and 1995.

18/5/10 Rain again so we stayed another day in our heated room listening to podcasts we had previously downloaded from ABC radio, and watching downloaded TV and movies. A pretty slack sort of day apart from changing the oil covered rear brake pads with spares we carry.

19/5/10 The day started better, some sunshine and we left Sarajevo for Serbia via Visegrad and its 10 arch 16th century bridge. Like all the roads we have been riding on in Bosnia, they are green on our map, meaning great scenery, and todays was no different. A low mountain pass, high grassy plateau, gorges, tunnels alongside a hydro dam, and if it wasn't for the cold, less than 10 degrees max, it would have been an even better ride. We left Bosnia only to return, as Serbia wouldn't let the motorcycle in, no green card insurance, no discussion, and nowhere at the border to purchase it. It was a 32 km ride back in Bosnia to the Serbian town of Priboj where we were told there was an insurance agent.

Move with us to Serbia