Peter & Kay Forwood Round The World Trip on a Harley-Davidson Motorcycle

Our motorcycle is a 1994 model Electraglide Classic, 1340cc, manufactured in November 1993 and purchased new in January of 1994.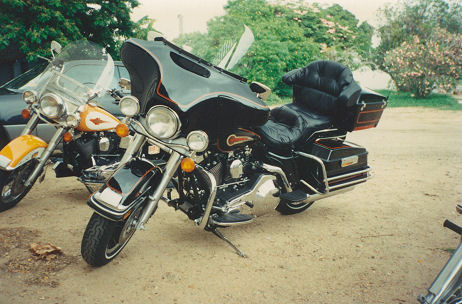 Note: The information in this section, derived from our diaries and our memories could contain discrepancies. The diaries are accurate, being written mostly the following day however the memory, sometimes over ten years ago may not be as reliable.

On the 26th day of July 2007 our Harley-Davidson clocked over 500,000 km's in Sri Lanka and was just short of its 14th manufacture birthdate. We had recently been asked by a follower of our trip to summarise the motorcycle's performance during that time. A list of repairs, parts used etc.
Engine:
The first repair was at 75,000 km's in Greece (25/6/97) when pieces of surface hardener flaked off the cam requiring a new cam and cam followers.
At 191,000 km's in the Namibian (30/4/00) desert a faulty cam bearing failed. A new bearing was fitted but otherwise second hand parts were used in the repair, all that was available in South Africa at the time.
The first engine rebuild was carried out by Harley-Davidson of New York (13-25/4/01) after 229,000 km's. Just the top end. The cylinders and pistons went to 10,000 oversized, new valves and valve guides, the bottom end remained original. The second hand parts, cam and lifters replaced in South Africa were now replaced with new parts.
At 419,000 whilst crossing Russian (22/5/05) Siberia a cam follower collapsed resulting in it rubbing over the cam for the next 3400 km's till I could get it to Mongolia (4/6/05) where parts were flown in and a backyard repair done.
The top end of the engine was again rebuilt at 485,000. The engine's cylinders and heads were removed in Delhi (12/12/06) and flown with us to Australia where Morgan and Wacker, Brisbane rebored the cylinders, new pistons and virtually all the components within the heads were replaced. We put the engine back together on our return to Delhi (21/1/07). Unfortunately it ran hot from the start, whether poor quality Indian oils or petrol, a tight engine, we were unsure but the overheating remains a problem.
The bottom end, crankshaft area remains untouched, the engine has never been removed from the frame.

Gearbox:
The gearbox has not been opened to date.

Clutch:
The clutch was first replaced as a precaution in South Africa (7/9/00) at 198,000 km's as we were about to cross Africa with a lot of mud and sand. This clutch is still in the motorcycle.

Frame:
The frame is the original one but in Lao (19/2/05) after 413,000 km's of use it needed welding and strengthening, for the first time, below the left hand footboard, likely due to the crash bars flexing the frame over the many times we have dropped the motorcycle on dirt roads, particularly crossing Africa.
The same position on the right side cracked at 421,000 km's whilst crossing Siberia in Russia (24/5/05), a similar welded gusset repair was made.
Whilst in Kazakhstan (18/5/05) at 432,000 km's the frame above the rear shock absorbers cracked right through on one side and slightly on the other. Both sides were welded and strengthened.
The swing arm broke through at the rear axle bolt in Senegal (16/9/06) at 472,000 km's and was repaired roadside but was better repaired and strengthened in Delhi (20/12/06)
Owing to the overloading of the motorcycle and the conditions of the roads we have travelled we were pleased to get more than 400,000 km's from the frame before needing any repairs.

Exhausts and Mufflers:
The exhaust pipes are still original, except for the crossover pipe from the rear cylinder, but the genuine H-D mufflers rusted out at about 70,000 km's. They were replaced with Staintune stainless steel mufflers, free of charge, as part of their research and development program. They are still on the motorcycle, dented and battered from hitting many rocks. One needed patch welding from this damage but otherwise they are still functioning well.

Panniers, Mudguards and Tank:
These are all still original as is almost everything externally visible (crash bars and windscreen excepted). This model motorcycle comes standard equipped with two fibreglass side panniers and a top box for luggage storage. Since almost the beginning of the trip these have, by necessity been overloaded according to the manufacturers specifications and soon needed strengthening and occasionally still need bracket welding or fibreglass repairs, either due to accidents or use.

Rear Shock Absorbers:
They were first replaced in South Africa (7/9/00) at 198,000 km's. They were again replaced in Australia (2/7/04) at 392,200 km's. We made a mistake tying down the rear wheel in the back of a 4x4 in Somaliland and the reverse action of pulling instead of pushing on the rear shocks damaged them and they needed to be replaced again after only 60,000 km's.

Front Forks:
The front fork seals were first replaced at 198,000 km's in South Africa (7/9/00) when serious chrome wear was observed. The forks were then honed and rotated to have a different surface face the front, the wear area. The forks themselves were replaced at 270,000 km's in the U.S.A. (10/1/02) after the outer layers of chrome had virtually worn away. Fork seals were again replaced in Australia at 392,000 (2/7/04) and are the current ones.

Drive Belts: Harley-Davidsons are belt driven. Low maintenance but being a continuous loop when it breaks it is a fairly major job to replace roadside.
The first drive belt was replaced in Greece (23/11/97) at 76,000 km and was replaced by the H-D mechanic in Thessaloniki after trailering the motorcycle to the shop.
The second belt lasted 64,000 km's and broke in Georgia (6/5/99) where a temporary belt we had previously fashioned from two broken belts scavenged from a H-D dealer was fitted, allowing us mobility whilst a new one was flown in. The temporary belt was replaced in Russia (25/5/99). This was our first belt replacement. We have replaced all the subsequent broken belts ourselves, one of our most regular major repair jobs. We started to carry a spare belt which fits nicely inside the top box but increased that to two spare belts after breaking three in Africa.
Three belts were broken in Africa on our first trip there, one in South Africa (20/4/00) after 50,000 km, one in Congo (21/11/00) 20,000 km, and one in Mauritania (28/3/01) 20,000 km. Deep mud and deep sand are hard on the belt as it acts like a scoop and filling the rear sprocket over tightens the belt and can cut and break it. We learnt to run the belt loose, often to the extent of having it slip on the sprocket under excessive load, preferable to having it break from overstretching.
Unfortunately the belt guard broke in the Congo mud and equally unfortunately we forgot to replace it when we arrived in the U.S.A. which resulted in a broken belt in Alaska (13/7/01) after less than 20,000 km's and even once we realised the problem before a new belt guard could be purchased we again broke a belt, this time after only about 2,000 km in Canada.
We had a bit better luck with the next belt it lasting 68,000 km till a beach ride in Peru (15/12/02)
Even luckier, or moving on better roads, our longest life belt lasted 110,000 km breaking in Siberian Russia (19/6/05).
The last belt was again in Africa, in Kenya (25/3/06) after 30,000 km.
The current belt has 45,000 km of use.
We have used 10 belts in the half million km travelled by the best of our memories. Now a regular job it takes just three to four hours for a roadside replacement.

Tyres:
We have not kept track of the number of tyres used. Dunlop tubeless tyres have been used the entire trip. The rear tyres usually last approximately 17,000 km's although they are often changed when not fully worn out due to local availability. The front tyres last approximately 26,000 km's. It is estimated we have used about 33 rear tyres and 20 front tyres. We have only had about 7 punctures, all in the rear tyre and mostly when the tyre is almost worn out. Each puncture has been repaired by plugging the tubeless tyre. All but one was successful. A nail made a small rip in the tire and the plug would not hold. In this case we had to remove the tyre and plug it from the inside.

Regular Repairs: All these parts are carried as spares.
Front Engine Mounts.
The engine mounts used to last quite a long time when the motorcycle was new (60,000km) but as we started to do more corrugated dirt km's and the engine started to vibrate more due to wear they failed more often (as little as 12,000km) till we now have a modified unit made mainly out of a used tyre sidewall which seems to last indefinitely.
Swing Arm to Gear Box Mounts.
We have had periodic problems with the swing arm bolt rusting and becoming seized to the bushings, likely due to deep water crossings. This has often made changing a belt problematic and sometimes removing the swing arm bolt has destroyed the swing arm bushings so these have been replaced more often than would normally be necessary. We haven't kept accurate records but estimate they have been changed about every 100,000 km's.
Starter Motor Clutch.
A part that lasts on average about 70,000 km's. Often the engine misfires (runs backwards) on startup when hot or with a weak battery and puts excessive strain on the starter motor clutch.
Speedometer Cable.
This part has lasted on average about 80,000 km's. We diligently record all the km's travelled, but have probably lost a few hundred km's along the way between this part's failure and it's replacement.
Speedometer Driver.
The part that connects the front wheel to the speedometer cable, lasts on average 100,000 km's, again we have lost a few hundred km's between it's failure and repair.
There have been many more minor repairs, too many to list here, plus normal maintenance items, batteries, brake pads, oil changes, oil filters, air filters, some oil seals and gaskets that have deteriorated over time and misuse.

Through our inexperience as mechanics we have caused a number of problems whilst trying to solve other problems. A wise mechanic once told us that you should keep repairing your own vehicle until it ends up costing more than taking it to a mechanic, that way you learn more about the machine. Sometimes we have gone close to costing more than a mechanic, particularly when we can't find what is causing a problem. The recent engine overheating problem is a case in point. Despite investigation and replacing a few parts, like the oil pump, we have been unable to rectify the overheating problem.

Stranded, motorcycle lifted due to breakdown:
The motorcycle has left us stranded, requiring towing or lifting three times. The first was the first broken belt in Greece (26/11/97), 76,000 km. The next time was for the failed cam bearing in Namibia (30/4/00), 191,000 km's. The third time was again due to a belt. As we then only carried one spare and now needed a second one, and hadn't been home or visited a H-D dealer to replace our supply, the motorcycle had to be carried to Agadir in Morocco (3/3/01), 228,000 km's. All other repairs have been done roadside or we have managed to ride somewhere to fix the motorcycle. Only once have we needed to camp roadside, in Russia 20/6/05, because a problem couldn't be solved before nightfall.

According to the C.I.A. World Factbook there are 32 million km's of roads in the world. Allowing for repeats the half a million the motorcycle has covered represents only about 1% of those. There are many more unridden choices out there!!! The world is too big a place to ride the same road twice!!!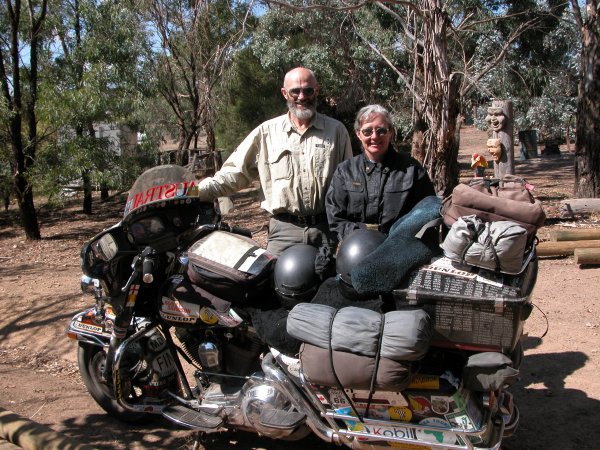 From and article written for the Australian magazine Heavy Duty, Ridden Not Hidden in July 2004
Made in York USA in November 1993 but stamped a 1994 model this Electraglide Classic was delivered to Townsville and sold to a couple who had ridden only dirt bikes. Their original desire was for a Softail but the dealer suggested a touring model would better suit their desire to travel comfortably, long distance, so the marriage was born, a threesome. Ten years later and 370,000 klm under the seat and the three are still on the road. It was a slow start, just 8,000 klm the first year, polishing and shining more than riding. The second year, 16,000 klm, till the three roads out of Townsville, North, South and West (East is a bit wet) had been done to death and the motorcycle headed for Darwin and a flight to Bali Indonesia. It was to be eight years older and five continents wiser before it's return to Australia in November 2003, a more battered but worldly motorcycle.
Modifications. Coming equipped from the factory with two panniers, a top box and fairing, there were few modifications or accessories considered necessary to tour and live out of the motorcycle for years. A rack on the top box would later carry the kitchen, the mirror shanks extended by welding a 50cm insert, allowing better vision past shoulders and passenger, otherwise the motorcycle was left as it arrived. It was thought that reliability would be better and availability of standard spares easier with no further modifications. The first real "while travelling" adjustment came with about 70,000 klm on the clock. After the constant speed humps of India, unmarked and situated under trees in the shade, and almost impossible to see, the overloaded panniers, bouncing, cracked the fibreglass around the mounting bolts. Thin plate steel was silicon glued either side, with holes cut for the rubber grommets, made in an Iranian sheet metal workshop, has solved the problem to today. The same workshop welded the rusted holes in the genuine H-D mufflers enough to get to Greece where new stainless steel "Staintune" mufflers were fitted and despite their reshaping on many rocks are still functioning on the motorcycle. The rocky dirt roads and creek crossings in Nepal prompted the next modification, a bash plate, made from beaten mild steel, dimpled for rigidity. Tabs hooking over the motorcycle's cross member under the frame and held in place with hose clamps at the front made it easily removed for oil changes. The steel was cut with a coal chisel, welded using acetylene, (produced by dripping water onto carbide rock) and oxygen, and the dimples made by smashing an old ball bearing welded to a hammer. A four dollar job in a Kathmandu backyard welding shop, it has protected the sump from rocks ever since. Occasionally needing roadside reshaping, bashing it straight with similar rocks that damage it. The need to camp and cook in Europe, a cost decision, produced a lawnmower fuel drain tap T-piece on the petrol tank's crossover hose. The multi fuel stove then filled directly from the tank removing the need for an extra fuel container. This also proved handy to drain the tank for flying or shipping the motorcycle or to remove shitty or dirty fuel. An overloaded bike on a bouncy potholed road in Malawi Africa (the weight of luggage was coming down from a previous pothole as the rear wheel slammed into the next one) bent the rear guard inwards, buckling it onto the tyre. A local cut an old roadside sign, 3mm steel, with a hacksaw, into two plates which were later attached using roofing bolts, another four dollar job. The last "major" modification was more wear and tear. The motorcycle having been dropped several times on dirt roads and the crash bars bent slightly and restraightened a few times, the last straw came hitting a concealed stump on a narrow dirt track crossing The Congo. The crash bars wrapped back onto the footboards one side and twisted forward the other side limiting steering to about 10 degrees to the left. The only option of a roadside repair, U turn to the right and hit the same stump going in the other direction, straightened out the bars. Later they were strengthened, reinforcing the connection points to the motorcycle.
Repairs. A tool kit was carried and a workshop manual, not that a spanner had been used on the bike by the owners prior to leaving Australia, and indeed not for the first 25,000 klm overseas. The Harley dealers in Malaysia and Thailand being paid for that privilege. Indeed it wasn't till Bangladesh that the manual surfaced for the first time. There was no charging of the electrical system. Finally it was realised that the regulator had unplugged from the stator (alternator), a common occurrence with this model, it was learnt later. There were no Harley-Davidson dealers in the regions of Bangladesh, India, Pakistan and Iran, and it was unreasonable to carry enough oil for changes along the way so Harley-Davidson USA were contacted and they advised the use of high grade diesel oils as an alternative (which have been used ever since). An oil change in the desert of Iran, simply dumping the used oils on a turnout, as is the custom in this country. A more environmentally friendly procedure developed for subsequent oil changes. The oil drained into kitchen tidy plastic bags, doubled up in case of leaks. This is then poured into the new oil's container, after the oil change, and disposed of thoughtfully. This usually meant giving it to one of the many onlookers who probably used it in an old car or piece of machinery. The plastic bag procedure also excellent for storing oil or oily parts during repairs, keeping them clean, like while changing a stator in the hotel carpark at Daytona Beach, U.S.A.. The first belt finally snapped at 75,600 klm after carrying a hole in it for the last 40,000 klm. The motorcycle was towed to the Greek Harley-Davidson dealer in Thessaloniki and a new belt installed. The second one snapped 65,000 klm later in the old Russian republic of Georgia, and having learnt of the expense of being towed previously a temporary spare belt had been carried and was now fitted. A new belt was ordered, air freighted from Australia. The temporary one had been fashioned out of two previously broken belts, spliced together, a V wedge being cut over 16 teeth and bolted together using threaded stainless rod through the teeth. It lasted 2300 klm, till well after the replacement had arrived, finally breaking in a small Russian town. That day's diary entry reads as follows. "On leaving our hotel, just 100 metres out and the temporary belt snapped. Intourist Hotel offered the use of their garage and "workshop". The staff kept rolling through throughout the day, along with some sight seers, solving problems for us as they arose. Not being mechanically minded and attempting a usually 4 hour dealer repair, our 12 hour, 10 am to 10 pm effort hopefully a success. We required 2 large sockets not carried, provided after a search of the town by some helpful onlooker. And after mistakenly fully withdrawing the swing arm bolt, a special tool was required to re install it which despite being after closing time Friday afternoon was machined at the local machinery shop on a lathe and drill as a special order for just $US 1.50. We however discovered the previous Greek belt repairer had used an over length inner primary bolt screwed through into and puncturing the sump and stripped the thread. It was then just Araldited into place to prevent an oil leak. With no alternative at this time we repeated the error and hopefully it will hold until it can be fixed correctly." It remained this way for 20,000 klm till the Harley Dealer in Dubai, U.A.E. offered bench space. A butterfly wall plug with bakelite washers was siliconed and bolted into the sump (still there), and the correct bolt inserted into a retapped hole. The subsequent five belt changes roadside easier with a spare belt being carried at all times along with the necessary tools to fit it even in locations like South Africa, The Congo mud, Mauritanian Sahara Desert, the Alaskan Haul Road and Peru. In the West African country of Benin oil consumption rapidly increased from a comfortable 1.5 litres per 4000 klm oil change to one litre for every 300 klm and would finally reach a litre for every 250 klm before leaving Africa. A crack had developed in the Y pipe out of the rear cylinder, overheating it and along with the poor fuels and hot weather had caused the problem. The rapid increase in consumption halted with the Y pipe being welded but it wasn't till the bike's arrival in New York 10,000 African klm's later that it could be repaired. At 230,000 klm, this was to be the first work required to the heads or cylinders (a faulty cam bearing had previously been replaced). New York Harley-Davidson did a marvellous job in rebuilding that area with parts supplied by Morgan and Wacker of Brisbane. New valves, seats ground, 10,000 oversized pistons and a rebore, new cam and push rods. The motorcycle has now covered a further 140,000 klm without needing any engine repairs.
Spares. The local experienced mechanic knows what is likely to break on each model since he fixes it. Hence knowing what spare parts to carry is only possible in hind sight. Regulators are notoriously fickle and after carrying one for seven years it was finally used, in Cuba last year, worth the weight? in Cuba yes, no American products there. So "where" is as important as "when" in a breakdown. Other items like speedometer cables that last only about 70,000 klm are reasonably regular, light and not a necessary mobile requirement, but everyone likes to record the K's. Totally debilitating items, coils, ignition modules, are small, expensive and haven't yet broken, still carried. The progression from carrying no spare belt, to one and finally two, indicative of the rider's ability to change a belt on the spot, and experience of having two belts break between Harley-Davidson dealers, plus a place to conveniently carry them, fitting neatly inside the top box. It's not much good carrying parts that can't be replaced by locals or oneself. Wheel bearings and seals, oil filters, spare cables, some gaskets, stand springs, carburettor jets, light bulbs and plugs are handy to carry rather than to try to source locally. Other repairs needed facilitate ingenuity like mounting a car battery with ockey straps on the rear footboard or inside the top box with extension cables, still others require uplifting the motorcycle to a Dealer, 1000 klm from Namibia to Capetown, South Africa for a cam bearing. The secret to a roadside repair seems to be "if you are having bad luck in breaking down, make sure you are having good luck where and when."
Not finished yet? The motorcycle since its return to Australia last November has already travelled from Sydney to Townsville and back down to Melbourne, Tasmania, Melbourne, 18,000 klm. A clockwise loop of Australia seems in order as a deserved rest from overseas adventures. However a return to places unvisited overseas is still planned, starting September 2004, leaving from Darwin to East Timor. "The world is too big a place to ride the same road twice."