Travel Through Austria on a Harley-Davidson
By Peter & Kay Forwood
Austria on a Harley (10/9/09 - 15/9/09)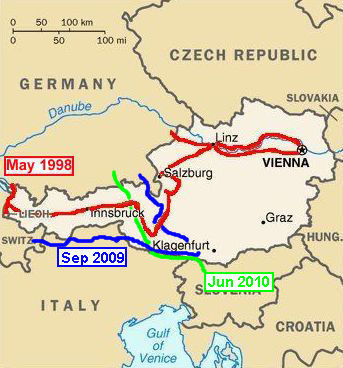 Distance 462 km (545989 km to 546451 km)
This is part of the fifteenth section of our around the world trip.
Complete Trip Overview & Map
Coming from Italy or read our previous visit to Austria

10/9/09 After a picnic lunch overlooking the lake at Misurina we headed into Austria and taking a smaller road decided we could make it to Faaker See, where the European Bike Week has been held each year since its inception in 1998. Despite its youth about 100,000 people come here each year. Started by Harley-Davidson as a venue for its European 95th anniversary celebrations it has become an annual event, incorporating all brands of motorcycle, but still predominantly Harley's, and featuring many amazing custom motorcycles and manufacturers. We arrived about 5pm and sat watching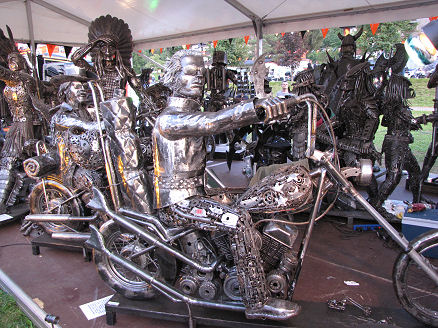 the constant stream of motorcycles circling the lake, limited to one direction, and after watching for a while we joined them to seek out a campground. Most people take accommodation in nearby hotels or apartments but there are also many campgrounds. The event had officially started four days ago and all the lakeside campgrounds were already booked out but a quieter one, a couple of km's along a side road had spaces, and great facilities, but at a festival price, and a three day minimum stay, so camping here was not a budget winner. Although tired we couldn't resist venturing out to ride fully around the lake, stopping at the Harley-Davidson Village where vendors from many of Europe's Harley shops, plus custom motorcycle shops, food stalls, bars, and just about anything a Harley motorcyclist could want was for sale. Many venues had live bands and as we wandered about the crowds grew more dense, but
the food and beer stalls were doing far better than the merchandise shops. On the border with Italy, Northern Italy, Italians predominated the people we met, but there were also many Germans, French, Austrians, Brits and more local nationalities, and we even met another Australian who was working in Italy.

11/9/09 The campground was quiet reasonably early, not long after midnight, and was also up early, with shower queue's long by 8am. Some people were leaving, others were arriving, and like us many were staying. We took it easy for the morning, catching up, maintenance on the motorcycle (campgrounds our preferred place), then ventured out near lunch time to look at the Arneitz Village where there is a more basic, less corporate Harley group of vendors. Here the more hard core seem to congregate. More custom shops, wet T-Shirt competitions and burnouts and cheaper beer, an area that seems to have sprung up in mild competition with its own bike shows etc. Back to the H-D area for their Custom Bike Show, where we entered our motorcycle in the Touring Section, but
we didn't win or get a place even though there were only six motorcycles in our category. It seemed that the sheep skin seat cover, the fuel outlet for our stove, the heavy duty disk lock, the extended mirrors and the road scars, not to mention the stickers from touring didn't rate against the shiny chromy bits and nice paint jobs that obviously make the motorcycle a better touring model? that gave the winner and second place getter their prizes. Still we didn't expect to win, never having done so even though we occasionally enter in these events. It is always a great safe place to park the motorcycle for the day, right in the middle of the event. Back to our tent late afternoon to find that the campground was full. Motorcycles had been arriving all day, the weekend the busiest time. A picnic meal before heading out in the evening to a nearby bar with a couple of live bands playing light Springsteen type music.

12/9/09 Even though we enjoy this type of rally we really don't fit in. In fact we don't seem to fit in at most rallies, more a novelty than a conformity. Whilst our motorcycle gains enormous amounts of attention, photos,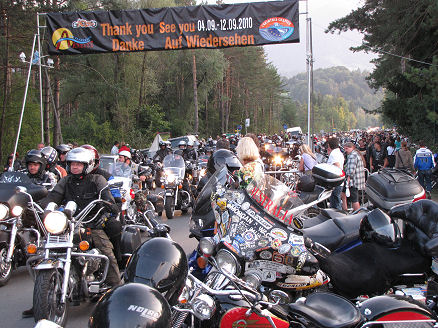 even an occasional requests to sign magazine articles (particularly as one recently appeared in the Italian press), and people occasionally recognising us in the crowd, (something that always seems amazing), we seem too removed from the normal life most people here are living. Saturday, the parade day, and the road around the lake so motorcycle jammed that we decided to watch rather than ride. Everything was on the road. The most modified motorcycles possible, anything from a V8 to a moped, motorcycles with long extended forks, bobbed rear ends, lowered to ground scraping, they are all here and whether the customising world has changed and we have been left behind? nowhere have we seen such an array of heavily modified motorcycle art. The afternoon and evening became more bizarre as more alcohol was consumed, riders became more daring, mini burnouts, short bursts of speed, a heavier police presence and occasional policing, more ambulance sirens, and we preferred to be off the road, but still watching the antics of a generally younger than us crowd.

13/9/09 The packed campgrounds started emptying early, slowly, long rides ahead,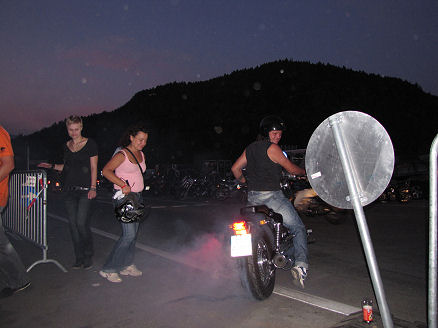 less enthusiasm at the end of an event, but for us just another day down the road. Heading north we chose to ride over The Gross Glockner Pass, a national park area, an enormous glacial region with many mountains above 3000m. It has been over eleven years and near 450,000km since we were here and the place hasn't changed from our memories. This time we could walk from the glacier viewpoint up through a number of tunnels to a small waterfall alongside the Pasterze Glacier. At 2500 metres the going was steady, an hour's walk, with stunning views overlooking the glacial tongue, with marmots grazing and barking at passing dangers. The rain had been held back all day but when we crossed the pass, heavy fog then cold rain descended on us, and 3 degrees, restricting our views of the northern side and by the time we left the National Park we were looking for dry accommodation, easily finding a motorcycle friendly Guesthouse. As a large portion of the vehicles on the road are motorcycles most of the accommodation advertises motorcycle friendly, and the people here were.

14/9/09 It rained heavily overnight and at breakfast and by check out time was still raining,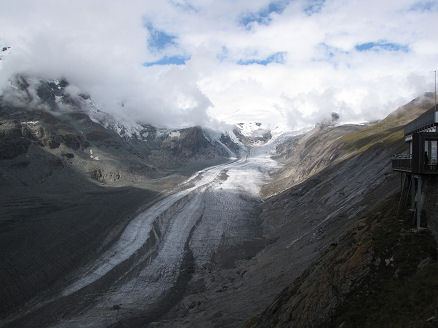 so as we have said previously, it is pointless to ride in the rain and miss the scenery, particularly Austrian mountain scenery, so we checked in for another night, hoping for a better day tomorrow. The road across yesterday's mountain was now closed due to snowfall overnight, and the trees and hills not far above our guesthouse were covered in new snow. The other two motorcyclists staying in out Guesthouse left in the rain, one riding to Poland today, 700km's, a miserable ride. It never stopped raining all day and as the fog lowered and rivers rose we could see the dairy farmers across the road rounding up cattle for the evenings milking as we sipped a "sturm" a cloudy alcoholic grape drink, we think? in the guesthouse bar.

15/9/09 The fog was still there but the rain had gone. We pumped up the rear tyre, still a slow leak, but not worth repairing as we will be collecting a new tyre in a couple of days. This side of the mountain range autumn is already here, just a few degrees as we left on another lovely mountain ride, leaving Austria near Lofer, and pondered how easy it now is to hop between countries in Europe.


Move with us to Germany