Travel Through Australia on a Harley-Davidson
By Peter & Kay Forwood
Australia on a Harley (12/11/03 - 20/7/04)
Distance 36919 km (357692 km to 394611 km)
This is part of the tenth section of our around the world trip.
Complete Trip Overview & Map
Coming from the Ninth Section, U.S.A. or read our previous visit to Australia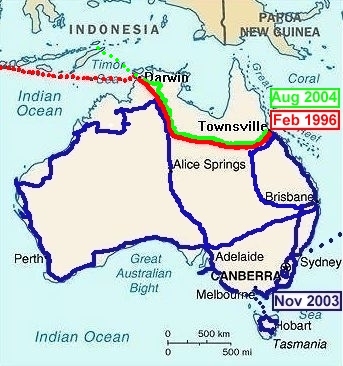 12/11/03 Two months to the day since we left the motorcycle in San Francisco it was available to us at the wharf in Sydney. Shipped with the other 300 Australian Harley-Davidsons returning after the 100th anniversary it was to be one of the first bikes home despite delays in transhipment and slow handling at Sydney's wharf. Other, not too happy shippers will have to wait even longer to receive their motorcycles. We had filled our time visiting relatives and friends and were rapidly reaching a point of overstaying our welcome. The actual collection took less than 30 minutes with the agent having cleared customs and quarantine procedures, all we were required to do was load it onto the borrowed flatbed tray and drive it to Goulburn, 200km west.
13/11/03 Staying at Kay's mother's unit and using the facilities of her cousin Philip's workshop we started work on the motorcycle. We try to anticipate potential problems before they become serious and cause bigger problems whilst we are on the road and since we haven't done any major repairs in the last 50,000 km a bit of overhauling was necessary. Morgan and Wacker, H-D distributors in Brisbane, long time supporters of our trip, again provided us with the parts we asked for at cost price. Philip's workshop, on a farm out of town, is set up mainly for fabricating sheep and cattle yards but has all the necessary equipment we need to work on the motorcycle. Today was mainly spent disassembling the motorcycle and organizing the parts, removing the front sprocket and rusted swing arm bolt with air tools.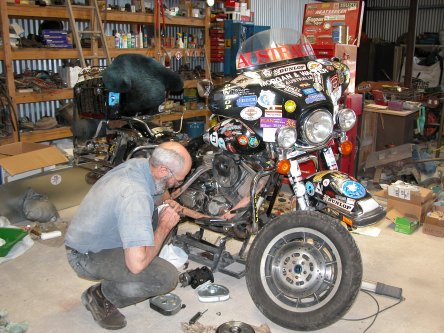 14/11/03 A welding facility, Philip reinforced a crack in the Staintune, stainless steel mufflers, welded tabs on the spare speedometer drivers, strengthened the exhaust heat shields, ran a weld bead around the wheel bearing cones to remove them, and beefed up the sagging bike stand. Wear and tear jobs on an old motorcycle. Kay and I busied ourselves replacing wheel bearings, front and rear drive sprockets, swing arm bushes (an ongoing problem for us, rusting to the swing arm shaft despite anti seize lubricant), a new starter motor, attempts to stop a couple of oil leaks and regular maintenance. Working low to the ground, deep knee bends up and down picking up parts and squatting to tighten and loosen parts had our legs and backs aching by evening after two months of inactive sedentary life.
15/11/03 Not a mechanic at heart it was relieving to see the motorcycle reshape itself back to a whole bike this morning as the last jobs were completed. We still have a list of minor maintenance (as always) that can be done as we travel. The parts replaced were worn but not worn out and will be kept for that time when the motorcycle is older and new parts may not be affordable or available.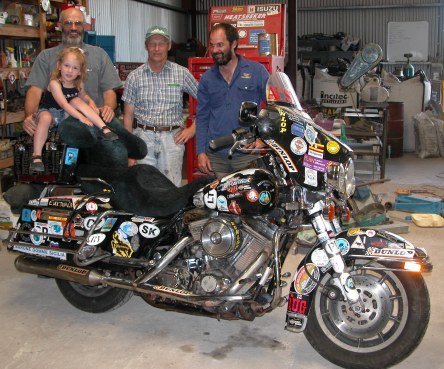 It was Philip's wife's, Tanya's birthday today and we had a good Aussie barbecue at her parent's farm to celebrate before firing up the motorcycle and riding back to town, great to be out of the cage (car) and free with the fresh air and smells of the road again.
16/11/03 Repacked the motorcycle, leaving unnecessary items at Kay's mum's. A thankyou lunch at the old Goulburn Brewery and with Philip and Tanya (also Harley riders), in rain, we were on the road, well a short hop to Peter's mums place in Canberra. The motorcycle ran well but without any turn signals, everything else fine.
17/11/03 The Canberra region is where we have spent most of our lives. I moved here at 12 years old, Kay at 18 to attend university where we met. We were married here and built our first home in the suburbs and our first son was born here. Our other two children were born in nearby country towns while we lived on small (by Australian standards) properties running angora goats. We left the region for warmer weather in the north, Townsville, seventeen years ago but its always great to return to old stomping ground memories.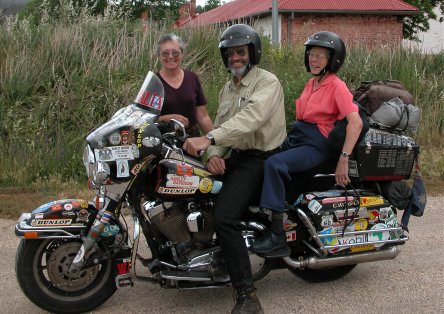 With mobile phone, digital camera and lap top computer along with separate hard drive joining us on this section it was thought necessary to have independent 240 volts, so we installed a small inverter to the motorcycle. Mounted inside the top box it should make wild camping easier, giving us something to do after dark. A dirty or loose connection must have been the cause of no turn signals because after investigating the problem they worked without changing anything.
18/11/03 An 80 yr old and a 73 yr old, our two mothers, went for a ride on the motorcycle back seat over the last two days. The first time on a motorcycle for both of them. A bit late perhaps to move to the front seat but a great experience. We left this morning, I guess the beginning of our Australian trip. Heading north towards Sydney we peeled off onto the Old Hume Highway. The road we always travelled on to visit our Sydney relatives at Easter or Christmas. Now more of a series of backwater towns surrounded by small acreage allotments with horse, alpaca, cow or goat grazing and owned by retirees, Sydney commuters or as a hobby farm visited weekends. Bypassing Sydney we ended up on the Colo River in the Blue Mountains in an onsite van. This dying form of family cheap holiday accommodation is being superseded by holiday cabins in campgrounds.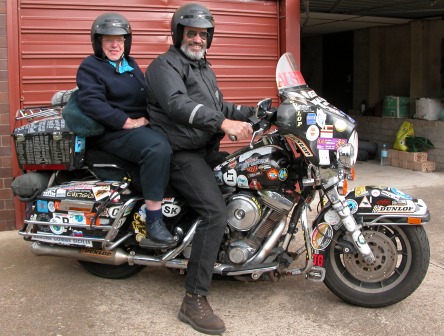 Old caravans, perhaps too rickety for the road, would be positioned permanently, cutlery and crockery supplied, bring your own linen, blankets and pillows. A stove and fridge, one step up from camping, one down from a motel, in price and comfort.
19/11/03 In July 1929 Jack Bowers and Frank Smith bought a brand new Harley-Davidson motorcycle and side box and rode it, leaving from Sydney, 15,000 km's around mainland Australia, visiting all the capital cities, across almost non existent tracks where water and petrol supplies were unknown. Graham Felton and John Sinclair have restored a 1940 model H-D with side box and plan to re-enact the event as authentically as possible exactly 75 years later. They generously sent us a copy of the book "Around Australia the Hard Way in 1929", excellent reading, an account of the trip by Jack Bowers written sixty years after the ride in memory of his lifelong friend. Graham and John are looking for sponsors or supporters for their charity ride and have details on the event at their site or email to feltonharley1929@yahoo.com.au We relaxed, a rare day to ourselves, pottering, reading, planning the trip and enjoying the solitude. A short ride along the Colo River where fertile flats were cleared below timbered sandstone cliffs.
20/11/03 Like many parts of the world Australia has had a rural to city population move over the last few decades leaving the population of smaller country towns static or in decline. With no new housing or building most have retained their heritage centres and with the current swing to restoration are looking magnificent. Old banks, usually the centre of town, two stories, built when country money flowed with wool, now a lovely residence or guest house. The two storied veranda surrounded pubs (hotels) of timber, now B & B's and still the meeting place for a drink with the locals. We took the New England Highway, inland, from Singleton to Guyra, at 1300 metres in cool weather, walked the local bird habitat, Mother of Ducks Lagoon.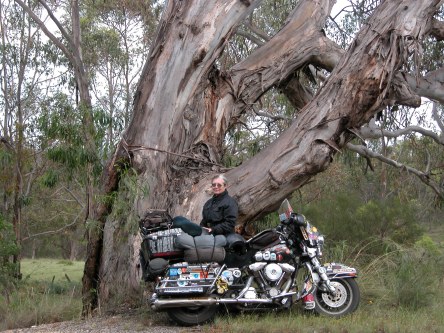 21/11/03 In our seven years away the road rules have changed, become more conservative. Residential speeds have dropped from 60 to 50 km/hr, school zones to 40, speed cameras installed along with red light cameras creating great wealth for the government. Trucks are monitored with both speed and driver duration through a network of sophisticated roadside monitoring devices. It appears they work because as we crossed the state border from NSW to Queensland, a less conservative state, traffic increased it's speeds free of electronic monitoring big brother. Into Brisbane to stay with our oldest son John.
22/11/03 At 25 yrs John has been looking to buy his first motorcycle. He has been looking for a while and after we both took a Triumph Tiger for a test ride a deposit was paid, the bike to be collected next week. A dual sports 950 cc bike it handled well on my test ride and made our old H-D feel like a vibrating clunker. The evening was spent celebrating the purchase, watching as Australia was narrowly beaten by the English in the Rugby Union World Cup. The Irish pub, a 50/50 mix of barrackers for each side, plenty of rivalry, chanting, alcohol, each side traditional opponents, in a game as close as any.
23/11/03 Australia's booming economy has led to a housing boom. Prices have risen, new construction increased and trade's persons almost impossible to find. The high real estate prices have not converted into higher rental costs, yet, and good houses are still affordable. We were invited to a BBQ (barbecue) and spa at Kelly's, an old school friend of John's. Lazed all afternoon relaxing, surrounded by bubbling spa waters.
24/11/03 While working on the motorcycle last week we had noticed the clutch hub had worn to the extent small pieces had broken off its toothed edges. A new one had been bought Friday, the bike disassembled in John's garage this morning and the Morgan and Wacker workshop installed the new inner clutch hub. We put the bike back together. At 350,000 klm's parts are still breaking for the first time, just wearing out. Headed out into the mountains of Toowoomba in the afternoon.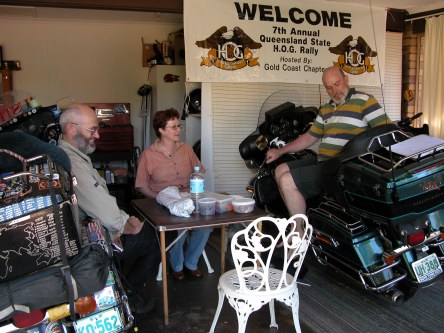 25/11/03 Haydn and Diane have been thinking of a long overseas trip by motorcycle for some time. The dates are now set, one year of travel starting next May, the Americas, both North and South. Well into the planning, often a way to keep the trip's enthusiasms, momentum, going, a bit of confirmation from another traveller always reassuring, we were invited to stay at their Toowoomba house. Long term, long distance Harley riders they intended to take the currently owned 2002 Ultra H-D. It's only other travellers or intended travellers that are truly interested in more than the polite few questions friends or relatives ask us. Here it is a search for information that may be important and reassurance of to date plans. By no means a one way street, new people have new ideas and often change our more time weary ways of doing something.
26/11/03 With 20 years of local knowledge on the most scenic route to ride to Noosaville we left to follow Haydn's directions. Up down, over and around the hinterland mountains, often the only vehicle on the road we weaved through small towns, ate the recommended meat pie, stopped at Somerset Dam having a relaxed day to ourselves to camp on the Noosa River edge right in Noosaville. Meat pies are almost a unique Australian meal. About 12 cm's in diameter the pastry is filled with anything from steak, mushrooms, bacon, cheese, kidney, well at least that is on the label. Rumours abound with children that they have the neighbour's cat, dog or all the waste from the dead or dying animals of the world cleverly disguised in an edible dish. If you comment to someone you haven't eaten goat or kangaroo chances are they will ask have you eaten a meat pie. Usually served with tomato sauce (not ketchup) and available in every town, occasionally served with green pea soup, the pie afloat with a dollop of red tomato sauce, a culinary and colourful delight.
27/11/03 The inverter, boosting the 12 volt DC to 240 volt AC we recently installed on the motorcycle, charged three batteries and worked the lap top for two hours before the motorcycle battery became close to not starting the bike. Sitting at the campsite almost waterfront on the river, watching small boat hire, tour boats and canoes pass by. Noosa is one of Queensland's premier tourist attractions, beach, river and lagoons in a perfect temperature. A national park stops development in one direction while units spring up everywhere else. We were stopped by a H-D rider we had met at the 100th Anniversary touring the U.S.A., Glen. He and another local couple who follow our web page teamed up for dinner and a couple of drinks, topping off a great day.
28/11/03 The main road north from here goes inland a bit from the coast avoiding the need to bridge wide coastal rivers. Another way north for 4x4's is along the long expanse of beach at low tide. A popular drive with tourists, many losing their vehicles, getting bogged ahead of the incoming tide. We chose backroads weaving through small settlements of cattle farms to sugar cane. Unfortunately the forestry service here has enormous tracts of land put down to pine trees. Not native to Australia they denude the environment of birds and animals in their mono culture and are spreading seedlings into the surrounding National Parks and bushland. Hervey Bay tonight.
29/11/03 Our daughter and boyfriend live in this idyllic coastal town. Tourists come here to see the humpback whales resting along their migratory path during calving and also to visit Fraser Island, the world's largest sand island, just off shore.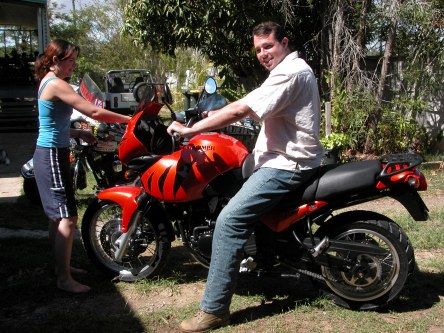 We had waited here for three weeks last month while the motorcycle was sailing from America, doing the above tourist highlights and walking the beaches in perfect weather.
30/11/03 Bought and installed an 8 watt fluorescent light for camping. Run straight from the battery and rolled up inside the tent it draws little power and takes up little space. By far the oldest vehicle in the family is our motorcycle. Younger people wanting younger things. John's new motorcycle was ridden here to run it in yesterday and Jenny and Ben's car a 2 year old Jeep Grand Cherokee again left us feeling antiquated.
1/12/03 550 km north through Rockhampton to a small country town bypassed by the highway and left behind as the train station closed, called Ogmore. A friend of ours bought a house here five years ago, it had been repossessed by council for non payment of back rates, the town's entire population of about 50, almost all on pensions. The pub closed last year, the school and shop earlier and the petrol station years ago.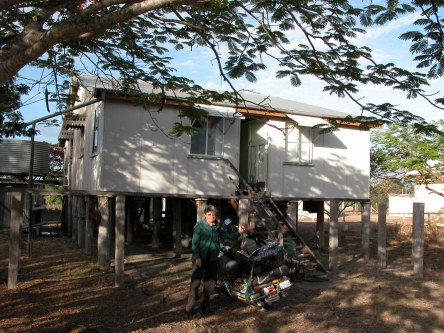 Some houses are now empty, left to slowly fall apart. Some rural towns close to cities have seen recent revivals but this one, too far from anywhere, only attracts those who can't afford to live anywhere else. Our friend's house has not been lived in since he purchased it. We slept there overnight to monitor its condition as living 700 km north it is difficult for our friend to keep an eye on it.
2/12/03 By far the best time to see Australia's animals is at night, most being nocturnal. Otherwise early morning is good. Leaving this morning we spotted three large birds, jabiru, bustard and emu but just riding we have seen kangaroo, goanna, echidna, snakes and a dingo. Unfortunately we have seen many more road kill animals than live ones. Australia also has dozens of large colourful birds, parrots to pelicans and black swans easily visible. The smartest animal in Australia by far is the crow. Often feeding on road kill it is rarely seen dead roadside, knows where cars travel on the roads and in which lane, can judge the speed of oncoming vehicles and ambles just off the road or to the other side to avoid cars. No other animal, including dogs, seem to have this awareness of moving vehicles. We travelled north to Bowen, to a small bay at the edge of town, walked the rocky headlands and beaches near our cabin.
3/12/03 Another morning walk before the temperature rises here in the tropics. Just 200 km to Townsville stopping at a friend's farm for a couple of hours along the way. 7 yrs and 10 months ago since the motorcycle left from outside the Harley-Davidson dealer's shop, Orm Snells. 334,290 km's, 143 countries and many memories later we returned with the motorcycle. We returned to the same shop for a photo before visiting our youngest son Michael in his unit.
4/12/03 The local TV news station was unable to film our arrival yesterday but asked for a re-enactment this morning which went to air in the evening. No mater how frugally we travel we still manage to collect gear. Used parts, T-shirts, guide books, paperwork that eventually arrives home, Townsville. Our 4 bedroom home, above two smaller flats, has one bedroom securely locked and full of a lifetime of belongings and trip memorabilia. The remainder rented out to help finance the trip it is in the process of changing tenants giving us an opportunity today to sort and reorganize boxes of gear sent home from previous trips.
5/12/03 Townsville is one of Australia's fastest growing cities. Being big enough, at 150,000 people, to have most facilities of a University, Entertainment Centre, casino and dozens of pubs and clubs. Situated on the ocean, our house is just two streets back from the beach. Being at latitude 19, it's hot in summer and perfect in winter. The family moved here 15 years ago, after our around Australia trip. It's a scuba diving centre where we ran a dive business for a while, stationary while the children finished school. Spent the day catching up with old friends.
6/12/03 Saturday morning has historically been a meeting time outside the Harley-Davidson shop. This has been extended to include the occasional sausage sizzle. Whilst the local HOG club has largely moved on since our involvement years ago there are still a few members from the old days. Owning a home always involves repairs and maintenance. A large tree in the front of ours has it's roots upsetting the brick driveway so in the heat Michael and us and a few helpers uplifted the bricks, tamed the tree roots, levelled and relaid the drive then enjoyed a few beers.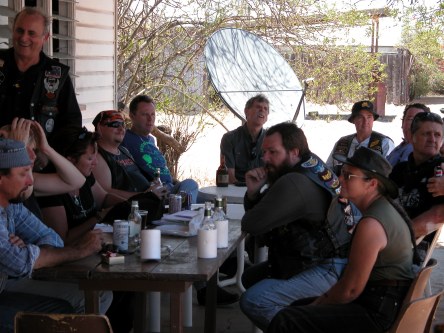 7/12/03 Once a month the HOG club goes for an organized ride, today to Mingela Pub, 90 km inland, along a generally straight stretch of road, like most in this area. A popular pub with bikers we were joined there by a group of Ulysses riders, you have to be 40+ to be a junior member or 50+ to be a full member. There are a growing number of members who can join both clubs, and do, thus being the ageing population of motorcyclists. Ulysses is open to all motorcycle types and sizes whilst HOG is just for Harleys. The crossing over of members does a lot to help clear the air between motorcycle brand exclusivity problems. A country pub it puts on a free lunch roast every Sunday, making money from drink sales.
8/12/03 From the outside travelling endlessly seems like constant bliss but there are still the daily chores of shopping, washing and cleaning to do and in the heat of the tropics time moves faster as we move slower getting tired more quickly. Necessary jobs today.
9/12/03 A job carries with it a certain status and with it a social expectation level.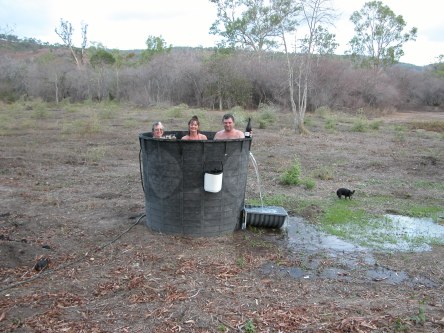 Factory workers rent houses in poorer neighbourhoods while doctors drive expensive cars and live in big houses, it's the pigeon holeing expectation. We visited our doctor friend on his 50 hectare property at the edge of town but instead of a big house he and his wife have chosen to live in a motley of 3 caravans, two transportable dongas and five shipping containers. With electricity from a generator for a few hours a day and a can toilet, living is spartan. Still the place is quiet for reflection, people rarely drop by and a sea breeze flaps the caravan tarp keeping the place cool. We took a dip in a previous septic tank, now cleaned and used as a swim, spa, cooling pond and sipped champagne in the evening surrounded by bird noises, watching the sunset and the moon rise.
10/12/03 The local newspaper has been running a progression of articles on the trip over the last few years, the final interview today and article to be published this weekend. Another breeze cooled evening sipping wine at the Doctor's caravans with good company.
11/12/03 Billabong Sanctuary, a small Australiana animal park on the outskirts of Townsville has been growing in reputation steadily over the last 15 years we have lived here. A hands on park catering to smaller groups rather than mass tourism.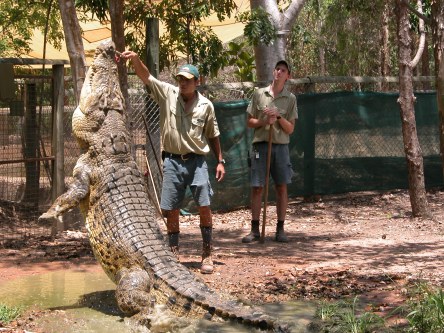 For the normal admission fee, a ranger program allows for the handling of most safe animals, even a crocodile and snakes, as well as the more cuddly wombat and koala. Nestled in the forests around a series of billabongs (small dams) birds and kangaroos roam freely within the grounds. We spent the whole day there, reacquainting ourselves with Australia's wildlife before relaxing in their swimming pool.
12/12/03 The dreaded dentist, annually at our age, and catching up with old friends, some who have moved on, others who seem to be in perpetual routine.
13/12/03 Our son Michael owns a 1989 Nissan 300 ZX which being a performance car and a hobby requires enormous amount of time and more money. His only transport, it is still rarely driven, taken to brag sessions at the local hangouts where modifications for performance or to adjust manufacturers mistakes can be discussed. It cruises the hotspots looking good and looking for beautiful women. Today it has its front end removed for yet another modification and a touch up to the paint work.
14/12/03 Motorcyclists in every small to big city in Australia have a toy run Christmas ride.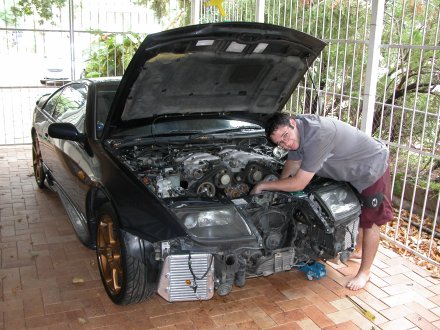 Bikes gather, some dressed up in Christmas glitter, ride across town, toys, presents or food brought or gathered along the way is donated to the Salvation Army Christmas Appeal for children. Townsville's ride today attracted over 300 bikes and was followed in the evening with a ride to see houses dressed up with christmas lights. An American trend now adopted by Australians as well, houses twinkle with fairy lights, animated Santa's and glowing signs wishing seasons greetings. Whole streets get in on the fun with house after house lit up.
15-18/12/03 We have been a bit relaxed over the last few days not achieving much. It's difficult when the mechanic who has been giving us advice for years at the H-D dealer in Townsville decides to go out on his own. His relationship with his old workplace will obviously be under strain yet we feel a close relationship with both places. Not really competing directly RHD, Classic Supplies and Services, operates from a small shop repairing mostly Harley's of the older types, also specializing in sidecar manufacturing. Bruce, the owner is always interested in our trip, especially how the motorcycle has been running and the problems it may be experiencing.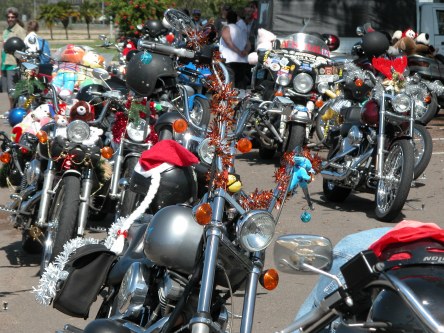 Time never seems to be a problem and we can talk for hours on the subject. Today he helped us with engine alignment, engine mounts and starter problems. We used to ask what parts usually wear out at certain klm's, however recently, apart from his H-D there aren't any bikes to compare for repairs at this high a mileage.
19/12/03 Three years ago on one of our trips home to Townsville we met a couple new to Harley's and the HOG club. Wally and Dawn enthusiastically involved themselves in the motorcycle and club activities. A later trip home saw Wally as the club director, offering his own house to hold the club's Christmas party. Unfortunately this trip home he was sick and died last Monday. The club rode him out, 40 motorcycles followed the hearse through town as a tribute to a great friend. It seems we have passed through the ages of engagements, weddings and christenings and have moved on to that of funerals. The start of the final chapter. We headed south late in the afternoon to start the around Australia trip, reflecting on the need to do things whilst we are young enough and healthy enough.
20/12/03 Airlie Beach, the hopping off spot to the Whitsunday Islands, where I passed the IDC to become a Scuba Diving Instructor in 1988 and where we chartered a couple of sailing boats years later to take the children to see the islands and reefs. It has changed, now a popular young backpackers destination with little english heard as we walked around. The muddy ocean front remorphed into a park with a 2 acre lagoon type swimming pool and walking paths in both directions along the coast. We swam and walked pleased to be away from the social pressures of being with friends over the last few weeks.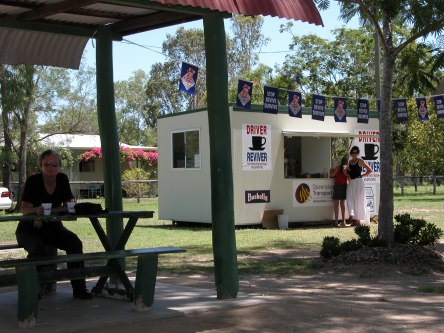 21/12/03 The death rate on Australia's roads has been in decline for the last 20 years with hundreds less dying each year now and a corresponding less number injured. One of the main killers is the long distances between towns where people get tired but don't rest. On these sections the communities and government have set up Driver Reviver roadside stops where free tea or coffee and biscuits are provided by volunteer staff. They operate during all holidays and holiday weekends. 550 km today in hot driving conditions we utilized the Driver Reviver stop with picnic tables surrounded by native trees and birds. Yeppoon on the coast tonight.
22/12/03 The Great barrier Reef stretches for over 2000 km's to the north of here. It and the islands offshore stop the Pacific Ocean swell from reaching the mainland so that only small waves pound the beaches. Mangroves grow in the calmer shallow waters along the coast and large tides often leave enormous areas of beach exposed at low tide to walk along. Yeppoon has a fine silty sand beach, not the best for swimming but the ocean breeze keeps the place cool.
23/12/03 I was told recently that we are going the long way around Australia, clockwise. Driving on the left side of the road we do the bigger circle, not that there is much difference by my calculation, less than a tenth of a kilometre. Catching up with family for Christmas, back to Hervey Bay, 450 km today.
24/12/03 Our daughter and partner have been living together for the last 6 months and its now time to meet the "in-laws". Together we drove the 450 km to the Gold Coast collecting son John along the way to spend Christmas at their place. Never an easy meeting, the parents of your children's current partner, both sides cautious of the others perception, particularly as we like their son. A lovely canal home and warm welcoming, relaxed people awaited us. A walk to the beach, surfing, BBQ dinner and a few drinks.
25/12/03 A long time ago we stopped buying presents at Christmas or birthdays for anyone other than children, preferring to give the money we would spend to overseas charities supporting child development. This being a different Christmas with new friends, our family decided to each buy themselves the presents that they wanted, wrapping them up as being given from other family members. This way everyone gets what they want and the surprise comes to the person who the present is from. A swim in the pool, a surf at the beach, everyone ate too much as usual at Christmas and another relaxed day.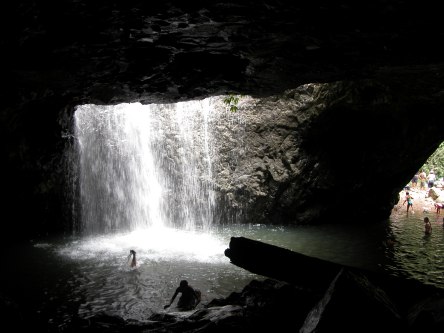 26/12/03 Starting only an hour south of Brisbane yet it took us all day to get back to John's place. The hinterland mountains parallel the coast and on a hot day it's the escape area for the plains living people. The twisty roads pass through rain forests and open forests with small farms dotted along the way. The Natural Arch National Park is a popular swimming hole and the cafe at Binna Burra on top of the mountain in Lamington National Park where we had lunch also busy. It was great riding these roads with John on his new Triumph.
27/12/03 At 365,122 km's the speedometer finally died. It had been playing up for the last month. We had ordered a spare and decided to give it to ourselves for Christmas from Jenny and boyfriend Ben. "They" couldn't have picked a better present, or better timing. Today we adjusted the new speedometer to read exactly the same as the old one, took photos of both and installed the new one. We also received an MP3 player from the rest of the family, for Christmas, which can be played through the bike's sound system. Capable of recording about 100 songs it should keep us entertained through the longest trips. Also capable of downloading new songs from the USB port on our computer giving us access to about 1000 songs. Ain't new technology great, and a "coincidence" just the present we wanted.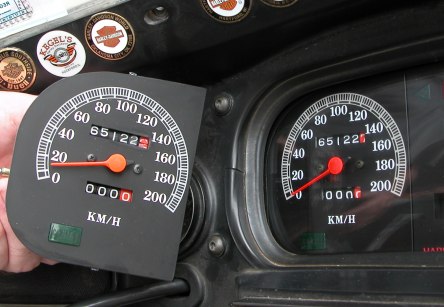 28/12/03 We had travelled with Ken and Carol Duval in Namibia, South Africa, a few years ago. At home now saving and planing for their next trip their home is opened up to almost every motorcycle traveller passing through Brisbane. A BBQ afternoon with two Germans, bicycling around the world, in Ken and Carol's backyard. Four couples there approaching or over 50 years of age realizing they were moving more into the "never zone". That age where you will never do something. Something that had been planned for at a younger age, a hurry up for the things we really want to achieve.
29/12/03 We have been staying the last couple of days with my old school friend Chris Rowley, also best man at our wedding and God Father to our children. Chris recently married an Indonesian lady and we were tempted to hurry up a revisit to that country with the magnificent Indonesian foods served at their friend's place today at lunch.
30/12/03 We first met Ron travelling Australia 17 years ago. Travelling in a van he and Nena, his partner fished, scuba dived and snorkelled their way around. A keen sailor, since then he has built an 11 metre catamaran to his own design and together they sailed it around Australia for a year in 2000/01. Now based just north of Brisbane we caught up, staying the night on his boat, anchored up in the river drinking home brewed beer and alcoholic ginger beer and enjoying coral trout grilled on the back deck BBQ.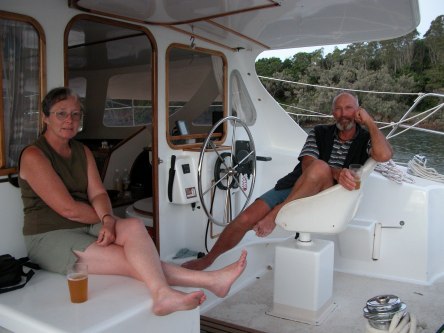 31/12/03 Cruised up the Mooloola River and canal development looking at the multi million dollar mansions with water frontage and expensive boats moored off the house jetty, reflecting we had the same waterfront views and scenery last night. Only a few km's to Noosa where we have rented a small unit for the new year's holiday to learn to surf and spend time with some family. A quiet new year's eve.
1/1/04 Having been brought up on the coast, mainly Sydney, I had learnt to swim in the surf and body surf but had never progressed to riding a surf board. People from all over the world come here for the warm waters and fairly consistant small even break waves. For the lessons they use a large soft board. Mine 3 metres long and broad with soft edges, top and fins for safety. We only surfed in white water. The first half of the lesson board control and the second half standing up on the board which they guarantee everyone will do, and we did.
2/1/04 We had met Glynn Roberts in Europe years ago. A long distance motorcyclist he was now in Australia with his friend Marzy, just for a month and stayed with us last night.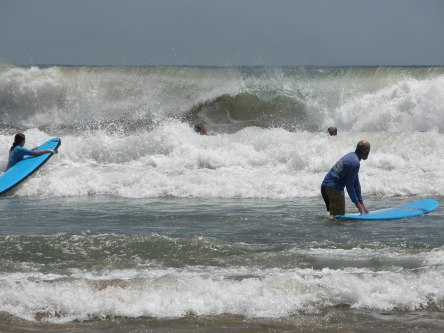 We were all down the beach practising surf board riding or riding the smaller boogy boards in shallow water. During a lull in the waves Glynn, surfing a boogy board on his own, was caught in a backwash rip and was carried out past the breaking waves. The large waves had caused a cross current digging a trench where the water could flow back out to sea, within a few minutes Glynn was in trouble. Spotted by Kay from the beach we informed a surfing instructor who raced out on his board as Glynn was being carried further out. Glynn was short of breath and turning blue when the instructor arrived, loaded himself onto the instructor's board and was paddled back through the waves to shore. Exhausted, it was a warning to us all of the dangers in the surf for those not experienced. The board Glynn was using was last seen heading towards New Zealand. The rest of the day was spent relaxing and practising more board riding.
3/1/04 Another day board riding, the surf increasing in size with south easterly winds and swell. Many exposed beaches along the coast closed due to rough conditions. The news reported more rescues of surfers in trouble. My energy levels extremely low after three days in the surf but we managed a BBQ lunch at the unit with three Townsville and two local friends plus the family.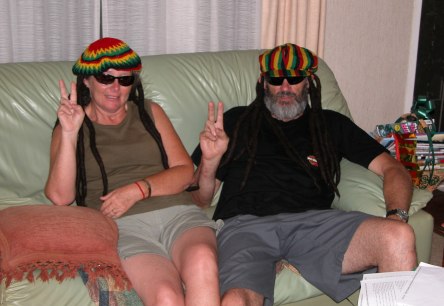 4/1/04 Wound our way south along the busy coast road with John on his Triumph, through Maroochydore and Mooloolaba to Brisbane and a couple of nights with Ken and Carol Duval.
5/1/04 Many ideas come from bouncing conversation back and forth. An idea was born to digitally photograph the H-D parts list, the workshop manual, the camera manual and the MP3 Manual along with other important paperwork. We put them onto the computer as small .jpg files. A few hours later and our paperwork is almost totally digital, reducing weight by about 3kg plus volume.
6/1/04 South again, along the Gold Coast beach strip, listening to some of the 1000 songs we have now MP3'd, played through a cassette converter and the motorcycle's sound system. The lap top becoming even more indispensable as it's use expands from business records to our web site, to photos, and slide shows, to music and product manuals. The majority of Australia's east coast is a series of beaches broken by headlands and cut by rivers and lagoons giving calm waterways inland and exciting surf in the ocean. One lagoon after another is developed, canal front housing, boats and swimmers but Australia's laws prevent the ownership of rivers and beaches, keeping them free for the public to use.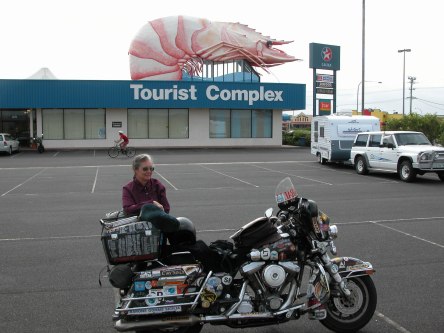 7/1/04 We had stayed with Chris and Julia in Brisbane and they offered us a bed at their macadamia nut farm between Ballina and Lismore where we stayed last night. 40 acres with two houses and a cottage nestled amongst the orchard of nut trees. An Australian native tree the nut has become popular world-wide, with this region now covered in small orchards of varying sized trees. Low maintenance, the trees can be managed from a distance most of the year.
8/1/04 A bit peopled out from the Christmas New Year period and with temperatures of 38 and 39 degrees the last couple of days we rode to Lismore early morning for shopping and rested at the farm in the afternoon.
9/1/04 More pleasant weather. A ride to the seaside town of Ballina past the big prawn. This eastern seaboard of Australia has an obsession with the biggest this or that, from the big merino in Goulburn to the big pineapple, big marlin, big mango, big banana etc. A loop north to Byron Bay and the light house at the eastern most point on mainland Australia, overlooking busy surf beaches sheltered by the headlands. Back to the farm through rolling fertile hills riding ridge roads.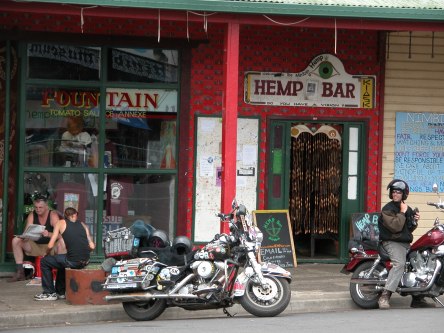 10/1/04 In 1973 the Australian Union of Students organized the Aquarius Festival, similar to the American Woodstock however after the festival not everyone went home and the town of Nimbin has remained an alternative lifestyle centre since. The flower power, freedom of sex and drugs has to some extent been corrupted by time. Our visit today revealed a semi time warped town with 50+ year old hippies mingling with a younger generation requiring modern drugs looking for themselves or what the oldies had. A whole generation has now grown up here, a social experiment with mixed results. A local cafe was recently trashed by unhappy youths, disgruntled with the owner. Yet there is an overlying peacefulness with the locals. Happy to talk and welcome outsiders, tourists, not intent of screwing every dollar, quite a social experiment, unique, a place we would like to return to spend more time.

Move with us to the next section of Australia