Travel Through Andorra on a Harley-Davidson
By Peter & Kay Forwood
Andorra on a Harley (7/10/09 - 9/10/09)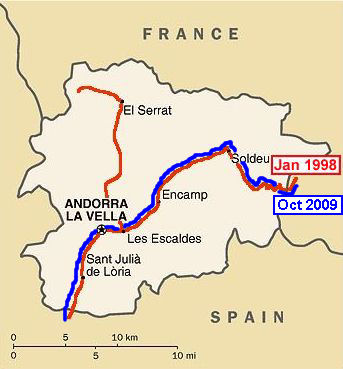 Distance 105 km (550592 km to 550697 km)
This is part of the fifteenth section of our around the world trip.
Complete Trip Overview & Map
Coming from France or read about our previous visit to Andorra
7/10/09 Andorra is a virtual tax free state bordering France and Spain. Its mountain location makes it a cheap skiing destination and the tax free shopping gives something to do when not on the slopes. The building construction that has gone on here since our last visit is astronomical. We had booked a hotel, but got lost, care of Tom Tom taking us down to Encamp, instead of leaving us up in the mountains at Pas de la Casa, to which we later returned. This gave us a pre look at the new buildings and new ski fields, now empty, October and November being the quietest time of the year, as summer also brings walkers wishing to avoid the heat of the lowlands. Looking in the many discount shops we decided to purchase a new remote hard drive, a 500 gigabyte unit, to supersede our 250 gb model, as a back up for our photos and the lap top. We also bought a car DC adapter that boosts the 12 volts to 19 volts to power our computer, a more efficient method than our old inverter that boosted the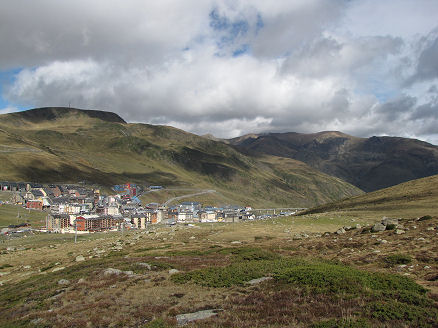 motorcycle's battery to 110 volts only to be then reduced to 19 volts by the laptops power adapter. This should give us longer motorcycle battery life for the laptop, long enough to watch a full length movie on cold winters nights in the tent.

8/10/09 More shopping, this time medical supplies as prescription medication like, ciprofloxacine and metronidazole, the two drugs we carry for most ailments, can be bought cheaply over the counter. Then it was a walk up into the ski fields, now being grazed by cattle and horses, past small creeks of seep water and a little run off from an overnight storm. The temperature in sunshine is still mild and even in the evening was comfortable to be out in. Most of the shoppers are day travellers and have left the area by mid afternoon leaving it a bit of a ghost town but the shops stay open till dark.

9/10/09 Left our excellent value hotel to ride down into Andorra La Vella, a big bustling city spread out between steep mountains, then back across the border, onto Spain.

Move with us to Spain