HU Travellers Meeting New South Wales 2014
Workshops and Educational Sessions
...because Horizons Unlimited meetings are about information, not just inspiration!
Facilities for a Fantastic Weekend!
The event is taking place at Riverwood Downs, in the foothills of Barrington Tops World Heritage Wilderness Area, NSW.
"Riverwood Downs is set on the banks of a beautiful mountain river surrounded by 15 acres of manicured parkland and gardens and nestled in a 750 acre cattle and horse property.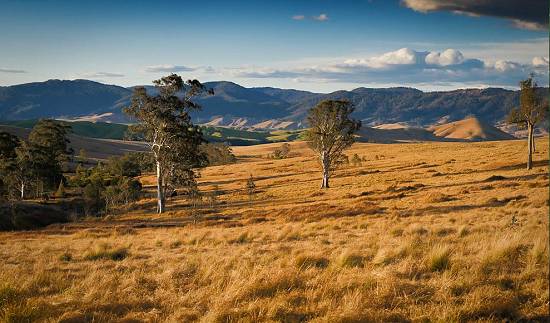 The Resort has a licensed a la carte Restaurant, Wilderness Cafe for casual dining, Horseriding, Swimming Pool, Canoeing, Bushwalking, half court Tennis and Games Room, with 5km of River frontage and shady walking trails, for your enjoyment.
Tall mountains, cool mountain pools, crackling log fires, fresh air and bright stars, abundant wildlife, friendly staff and relaxed country hospitality complete the peaceful setting."
Presentation Facilities
We have a large hall in the main resort complex, called the Woolshed. This room has plenty of natural light, but it can be made dark enough to watch a presentation. We also have the Barrington Room, the Conference Room, the Lounge Room and plenty of outdoor areas to utilize.
There is free wireless internet available.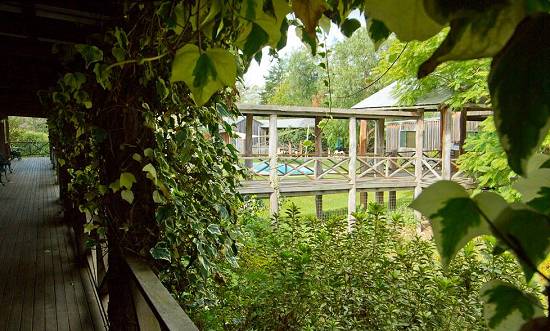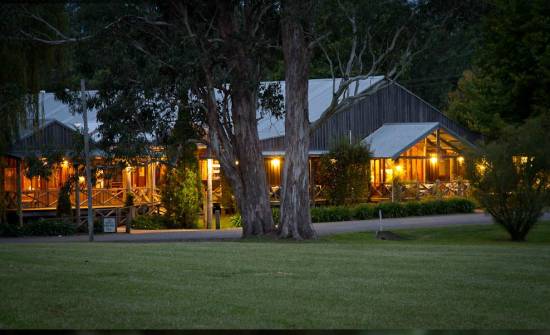 Accommodation
Camping (Pre-book when you register)
There are 106 unpowered camp sites. We have negotiated a rate of $11 per person per night if booked in advance. If you are on a bike, we do expect you to share a camp site depending on numbers.
There are 9 powered camp sites. Please contact Riverwood Downs directly to book one of these sites, as they wish to ensure you get the most suitable site for your requirements.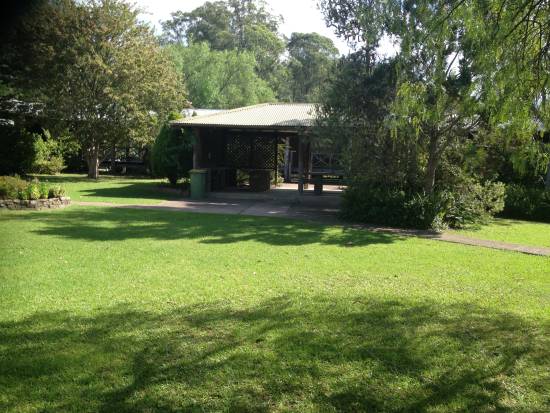 There is an on-site restaurant, bar & games room, café, kiosk and function centre as well as two barbeque areas for attendees to make use of.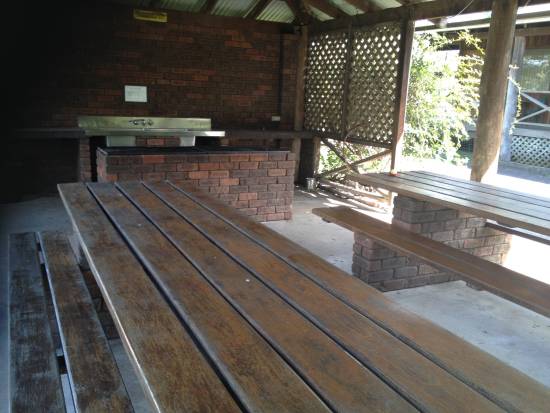 Other Accommodation
Riverwood Downs has a range of accommodation options which can be booked directly through them, but please don't delay your booking as we expect to fill up. Please mention Horizons Unlimited to get the best rates. Free phone: 1 800 809 772. Email: Rese...@RiverwoodDowns.com.au or contact them on Facebook.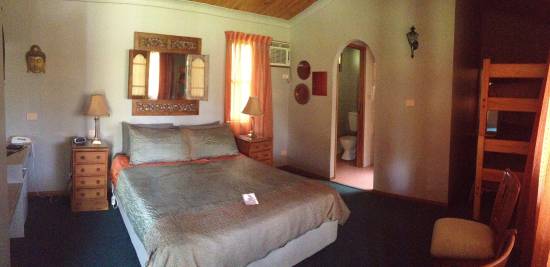 "We are happy to give your guests a 10% discount off spa cabins, park cabins and resort rooms to put prices for Horizons Unlimited in line with our best advertised prices. After applying the 10% discount, the Horizons Unlimited rate for these rooms would be:
Riverside Spa Cabin $430 for two nights, or $520 for three nights
Resort Spa Room $332 for two nights, or $422 for three nights
Queen Boutique Room $280 for two nights, or $370 for three nights
Park Cabin $246 for two nights, or $336 for three nights
Breakfast is not included in these rates."
Food
Dinners (Pre-book when you register)
We have arranged to have buffet dinners for Friday and Saturday nights. Quantities will be limited, and we must give the venue final numbers 14 days before the event, so don't wait to book! Grant is drooling just reading the descriptions! :)
Friday Barbeque Buffet Dinner $25.00
Main course - Beef sausages, scotch fillet steak, marinated chicken wings, platter of grilled seasonal vegetables, fried onion, bread rolls, creamy potato salad, coleslaw, garden salad and condiments.

Dessert - Pavlova with whipped cream and seasonal fruit, warm chocolate self-saucing pudding, Home-made lemon cheese cake and whipped cream.
Saturday Spit Roast Buffet Dinner $25.00
Main course - Leg of pork and leg of lamb slow roasted on a spit, oven roasted beef sirloin, pumpkin and ricotta vegetarian wellington, steamed seasonal vegetables, roast potatoes and pumpkin, cauliflower mornay and condiments.

Dessert - Chocolate mousse, banana pecan bread and butter pudding, platter of fresh fruit, whipped cream.

Other Meals (a la carte)
Breakfast - Served as a buffet in the Barrington Restaurant
Unlimited cereals, fruit, yoghurt, toast with spreads, fruit juices, tea, brewed coffee and milo. $12.00 pp

Add a plated hot works breakfast of bacon, eggs, chipolata, hash brown, tomato, to the continental selection. Vegetarian options available $8.00 pp

Hot Chocolates, Milkshakes & Espresso Coffees are available from $3.80
Lunch Sample Menu - Cafeteria-Style Lunch Service
Assorted wrapped sandwiches and wraps $6.60
Vegetarian Spinach and Ricotta Roll $3.00
Whole fruit pieces $1.00
Tempura battered fish fillet $3.50
Hot chips $3.50
Wedges with sweet chili & sour cream $6.50
Assorted fresh salads $8.80
Spring roll or Chiko roll $5.00
Assorted cakes, biscuits and slices $5.50
Penne Carbonara $2.80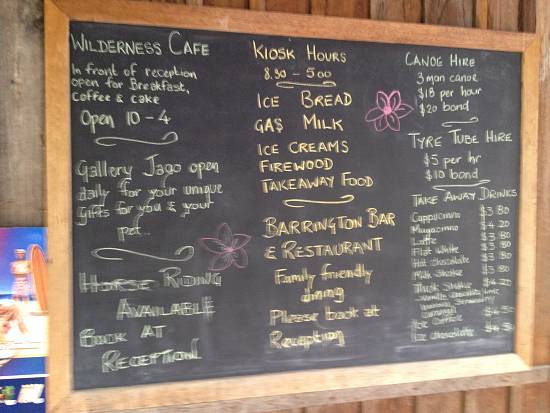 ---