HUMM (Horizons Unlimited Mountain Madness) 2011 Event
There are THREE classes:
1 - Dual-sport off-road, all bikes over 645cc with off-road pretensions
2 - Dual-sport off-road, all bikes under 645cc with off-road pretensions
3 - Pavement only, anything will do
The 2010 system worked well, and everyone was happy with it, so it's the same for 2011. You will get your checkpoint books on 5 July for Session 1 (or 11 July for Session 2) at 11 am, and can ride from 1-6 pm that day if your team agrees, or spend the afternoon planning and preparing. 6-7 July (Session 1) and 12-13 July (Session 2) will be full days of riding (from 8 am - 6 pm). So, this effectively makes it a 2 1/2 day event. We highly recommend planning on at least one day after the event to ride the trails you missed! Stay on at the hotel, ride with others, and meet in the bar after :)
OFF-road HUMM: for dual-sports
Bikes need not be dedicated off-road specials but need to have a vague predilection for the dirt. So GS Adventure yes, Electric Glide in Blue, no. Knobbly tyres a plus but by no means essential.
Remember, two off-road classes, under 645 and over 645cc!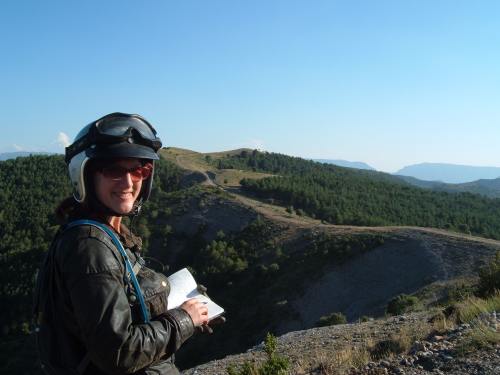 The mountain trails have been heavily reconnoitred and small metal plaques have been affixed in stunning locations. Each plaque bears a random string of six letters. Just like orienteering each team gets the same map and a checkpoint booklet on Day 1. Each checkpoint gets its own page upon which its location is clearly described. Teams must record certain letters from each plaque. Crucially, the booklet is not a roadbook. No two teams ever take the same routes, there is no course as such.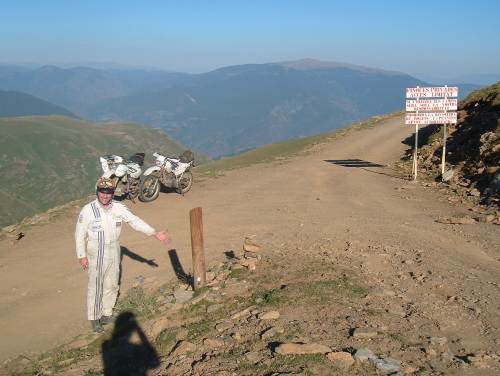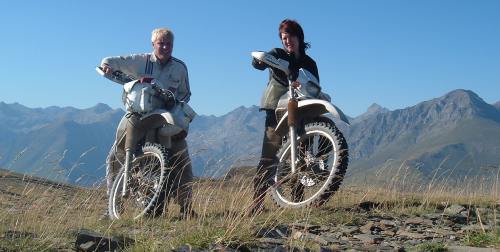 After a full 2+ days of riding, some folks dash back home whilst others sedately spend a few more days visiting the checkpoints they didn't get to during the event. In this way the HUMM is both a fun competition and a ready-to-go trail riding package.
ON-road HUMM: for all road bikes
Any road bike will do the ride, though Gold Wings and similar will need a good rider on a few of the roads due to extremely tight hairpins. Sports bikes will be fine too, with the same caveat. Many people on big "adventure" bikes also ride the On-Road class, as their bikes also work perfectly on the often tight Spanish roads.
The on-road HUMM is designed more for the 'stop and smell the roses' types, although it does get very competitive!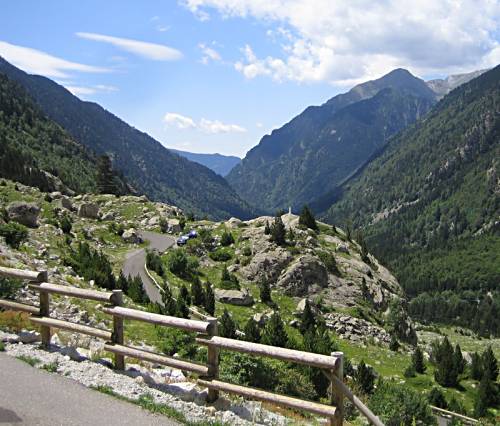 Just like orienteering each team gets a map in advance and a checkpoint booklet on Day 1 of the event! Crucially, the booklet is not a roadbook. No two teams ever take the same routes, there is no course as such.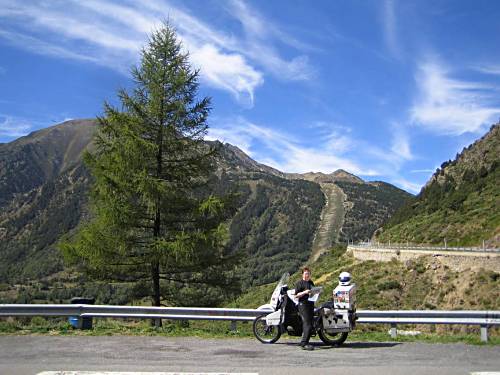 We (Grant and Susan) have ridden just about every paved-ish road in the Spanish and French Pyrenees and Andorra, and selected the best for you. We have selected 40 checkpoints out of the 60+ available, and we have affixed a random letter somewhere around the checkpoint. Unlike the off-road version, the letters are NOT out in the open to reduce the risk that they will be removed between now and the event, but there is a picture in the book to clearly show where it is. If the letter is missing, just take a photo of the location, duplicating the photo in the booklet as best you can.
Each checkpoint has its own page upon which its location is clearly described. Teams must record the letter at each checkpoint, and occasionally answer a question which can only be answered from information at the checkpoint. There are bonus points in case of a tie.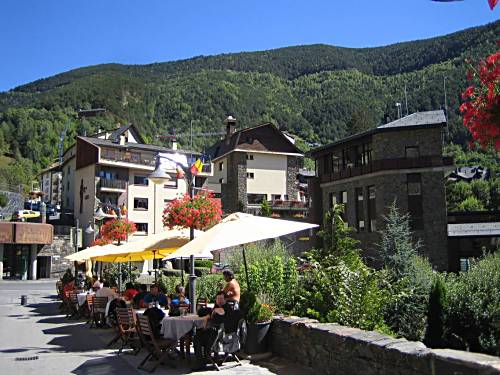 Note: Road teams MAY NOT go off-road voluntarily. If roadworks require a short detour, that's okay, riding off-road from Andorra to Spain is NOT okay. Violation of this rule will result in disqualification of the team.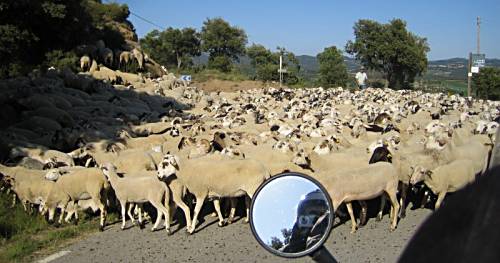 As with the Off-road event, we do NOT expect teams to be able to get to all the checkpoints in the 2 1/2 days. Stick around and spend a few more days visiting the checkpoints you didn't get to during the event.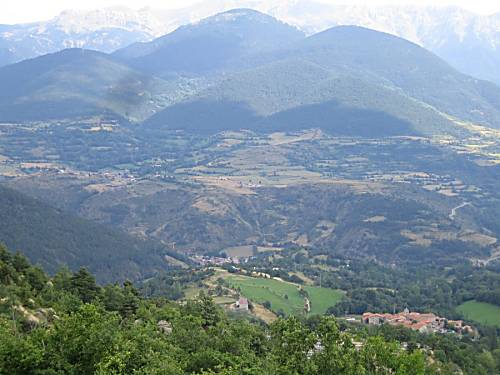 Payment, prices etc
The fee includes:
Map

(one for each team)
Event book (for each team):

Trophies for all members of the 1st, 2nd and 3rd place teams in each class where there are sufficient entries.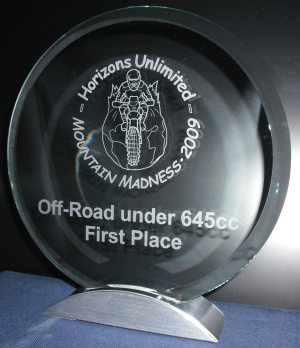 Certificate of completion for all finishers
HUMM Commemorative synthetic riding t-shirt, £25 value and only available to participants.
Buffet style awards dinner on last night.
Welcome and end of day beer/soft drink.
2 and 1/2 days of superb riding in the Spanish Pyrenees!
Breakdown and accident support:
HUMM Support Package, to retrieve you and your bike in case of breakdown or accident out on a trail or on the road. This service is provided by Loco for Motos, using trained mechanics and

medical technicians who can provide first aid and

medical evacuation to the nearest suitable facility.
The Support Package is INCLUDED in your entry fee, and includes:

Recovery to the hotel, workshop facilities and tools at the hotel (consumables must be paid for, if used)
Medical Assistance - using Loco for Motos 4x4 vehicle and medical equipment, injured riders will be stabilised and recovered to the nearest suitable facility for medical care where feasible. Their bike will be recovered to the hotel should they be unable to ride.
Note: 4 bikes had to be retrieved in 2009, and the retrieval cost can easily be £400, so we think that this is a very valuable service.
Fee schedule:
The HUMM 2011 event registration fee is payable in full by end May (if space still available).

Book and pay in full between March 1 to end May, price is £199 (PLUS hotel deposit if applicable)
Book and pay in full between June 1 to July 1, price is £279 (PLUS hotel deposit if applicable) and NO t-shirt, sorry it's too late, they're all ordered. Hotel space MAY be available. You will probably get a photocopied booklet and map!

No refunds after May 30. (unless we cancel)

Important: Registration closes when we are FULL!

And yes, we will REMOVE the registration form and post a note when we're full and registration is closed.
Refunds
If you must cancel, please notify us before May 30, 2011, and we will refund your deposit less a £25 fee for administration and to cover PayPal charges. AFTER May 30, 2011, there will be no refunds. Substitutions will be allowed, but the substitute must register online, and comment that they are substituting for you, and you need to confirm it.
HUMM Accommodation:
Riberies Hotel details
For 2011 we have negotiated a great rate for the entire 4 star Riberies Hotel.
There are TWO room styles:
Room Style:
All rooms have safes, tv, telephone, wi-fi, minibar, hair dryer.
Price
per person per night
Comfort
air-conditioned
€61
Rustic
NOT air-conditioned, slightly smaller, and furnished in a more "rustic" style, but are still very nice rooms.
€49
The rate includes room and cooked breakfast. And it's the best breakfast in Spain, and depending on your tastes, possibly Europe!
Dinners can be purchased at €12 each from the hotel when you check in. A la carte is more. Note: Your awards buffet dinner on the last night is included in your event price.
We have reserved the entire hotel for the 5-7th July, and 11-13 July. If you wish to arrive early, and stay on extra nights afterwards, the per person per night rate is the same, just note the dates you want in the Comments field on the registration form and we will reserve them for you.
If you check, you will find this is a very good price for this class of hotel with facilities - pool, spa, etc. If you are on a tight budget, we understand, and there are other slightly cheaper hotels in town and camping 5 minutes walk away.
Please do keep in mind that it is important that we fill the hotel so that we can take over the garage for bike prep / repairs and all the common areas for planning, not to mention the bar and restaurant for the after-riding festivities! If half the participants decide to stay at another hotel or hostel to save a few quid, and therefore half the hotel is filled with non-participants, it will detract hugely from the whole event and we won't get the garage.
There is a deposit required of £50 on the hotel, which we will pay directly to the hotel. Thus, when you check out you are responsible for paying the hotel the balance, plus dinners, bar bill and any other charges, e.g. massage services.
Note that the price we quote above is exactly the price we pay to the hotel.
Want to come early or stay late? We have a great deal.
Hotel Address and contact details:
Camí de Riberies, 25595 Llavorsí, Spain
Tel. +34 973 622 051
Fax. +34 973 622 231
Alternate Hotel choice, the Hotel Castellarnau:
We have PREBOOKED rooms at the Hotel Castellarnau and the Hotel de Rei, and we'll book you in. When you register you can make your choice of rooms.
Hotel Castellarnau in Escalo (approx 8 km north from Lllavorsi). (map)
We've stayed at the Castellarnau in the past to make sure we can recommend it. Our review - nice location, quiet, large parking area, bikes can be parked out of sight of the road. Outdoor pool and very pleasant grounds and garden. Rooms are medium quality, clean, fair Spanish meals, breakfast poor compared to the Riberies, but there's enough. (The Riberies DOES have the best breakfast in Spain!)
Be sure to confirm WHICH meals you want on check-in!
http://www.hotelderei.com/ is a small hotel in town, we think it's not quite as good as the Castellarnau, but it's fine, and a two minute ride or 10 minute walk away from the Riberies where we're based.
Camping
There is a campground a few hundred meters from the Riberies. You drive right past it on the way to the Hotel!
Getting there:
You can ride, or drive down in a van/whatever carrying your bikes, or fly to Toulouse or Barcelona or Girona and rent a car - or the real slow way, take a bus, but it's not recommended. Ferries run from UK to Santander and Bilbao, then it's an easy day's ride to Llavorsi.
Coming from the UK: Don't forget you can get there on a ferry - no need to ride all the way through France, relax and take a cruise. There's two easy options, Plymouth to Bilbao or Portsmouth to Santander, plus a few to France, farther south than Dover.
There is also a train, but it's more expensive, Calais to Toulouse. Train - Calais to Toulouse, an alternate is the RailEurope train, see "French Motorail destinations en route to Narbonne" and "Narbonne Inbound Prices". A car and passengers with sleeper for the Sat 18th July 09 to Toulouse train = £490 in 2010.
Here's a map for the Riberies Hotel, Llavorsi.
Ship your bike down
Nothing currently available. You may be able to team with someone else who is going - let us know if you'd like to arrange something or have space available to share expenses.
Bike Rentals - Loco for Motos
We've arranged with Tim Skilton of LocoForMotos to have hire bikes available, but you MUST book with them well in advance. Bikes are all Spanish registered and have Spanish insurance and ITV (MOT) where necessary regarding age.
Loco for Motos Tyre Changing and Supply Service:
€20 euros for one, €15 euros for two at the same time (front and rear). Both with owner's tyres.
Tim will bring tyres for you if you wish! Just contact him and let him know what you want. Good prices.
Off-road tuition (Rider Training)
"Coach" Ramey Stroud will give a free talk on riding skills! Coach is one of the very best off-road riding instructors and you don't want to miss it. His talk will be on the day before we ride, (both events) in the morning.
Body Mechanics for the Long Haul - More Control, Less Stress.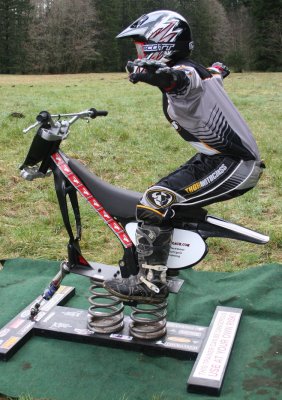 There will be a lecture first for an hour, then a short break followed by one hour of hands-on static practice in the parking area.
After each days ride, Coach will have a round table discussion in the evening to talk about any problems or questions that may have come up during the day.
Tim Skilton of Loco for Motors will be running 3 hours of off-road tuition on July 4 (Session 1) and July 10 (Session 2) - groups of up to 10 riders. The tuition is included with the rental, but available to all participants. Price depends on whether you're on your own bike or wish Loco for Motos to supply a bike for the training.
Rules of the event:
You must ride in a team of 2, to a maximum of 6 people, (minimum two bikes) so be sure to put together your team before registering as we need the names of all team members. If you cannot find someone to team with, go ahead and register for the event, note that you do not have a team partner, and we will match you with someone with a similar bike and riding skill level as best we can. (2007 and 2009 winners, and second place 2010 were matched up by us!)

Three classes:

Under 645cc off-road
Over 645cc off-road
Road, all sizes

Mixed off-road teams have the good and bad of each class to deal with, so can choose which class to be in.

Two-up teams are ok, but there must be another bike in your team. We don't want solo bikes out alone. If we have enough two-up registrations we will have a two-up class. Sidecars, quads - two vehicles in a team!

No GPS allowed! You CAN carry a GPS or Smart phone for emergency use, but it will be SEALED in a black plastic bag, and if the bag is opened, you are disqualified. "Dumb" phones with no GPS capability will not be sealed, so you may wish to carry one for non-emergency use.
Start / Finish Time: First day, 11AM briefing, ride from 1PM, 6 PM finish, other days 8AM to 6PM (0800-1800)
Team mates must ride together at all times! If you separate for any reason other than one bike is broken down and stopped or one rider is injured, and the other rider is going for help, you will be disqualified.
Obtaining checkpoint info from another team is grounds for disqualification. In the event of a dispute or challenge, a digital photo of all team members at a checkpoint will be required to verify the team has been to the checkpoint.
Each checkpoint has a points value in direct proportion to how far it is from the hotel, with a few points values tweaked for difficulty. The HUMM is all about spending two and a half days navigating your way around the mountains visiting plaques and seeing as much great scenery as possible.
Booklets with all the check points will be handed out to you at 11AM on Day One, at the event! You can ride from 1-6 pm on Day One if you want, or use your time planning your route and preparing your bike. There is loads of room to do your planning. We expect this will put everyone on an equal footing technology wise and get it back to the original idea of a planning and mapping exercise - but most importantly, a fun ride!

The score sheets are collected after each day's ride, and the scores of points collected thus far are published. On the last morning plenty of teams are more motivated than ever to have a fruitful day and get that map-reading spot on! On the final evening the booklets are collected for the final time, points totalled and the winners announced and trophies handed out at the HUMM Awards Dinner.
We look forward to seeing you there!
Grant & Susan
---
2010 Event Report
---
Comments about the HUMM:
"Thanks for organising the HUMM. I had such a good time and made friendships which are set to last a long time."
"You are to be congratulated on creating and running such a brilliant and unique event. Surely ranks amongst the top ten 'best fun' biking experiences I've had the pleasure to be involved in."
"Beautiful scenery, good mix of easy/challenging terrain, aircon garage for bikes/spannering, great mix of people, well organised."
"We had a great time and really enjoyed ourselves, so from us a massive thank you, and we are looking forward to next year."
"We'll be back! I can't believe all the trails and how good they are - it's just amazing! WELL worth the trip down!"
Next HU Events

10th Annual HU Travellers Photo Contest is on now! This is an opportunity for YOU to show us your best photos and win prizes!