HU Travellers Meeting Greece 2014
Horizons Unlimited Travellers Meeting
Thursday June 5 - Sunday June 8, 2014 - Mt. Taigetos, Greece
It's All About Overland Adventure
Whether you're a seasoned veteran with wisdom to share or a complete novice hungry for ideas and guidance, it doesn't matter if you ride a motorcycle, a bicycle, or drive an expedition vehicle...
Horizons Unlimited meetings are for everyone who dreams of adventure along the road less travelled.
Horizons Unlimited Greece Event Schedule
The Plan
Our plan is very simple. We will wait for your arrival on Thursday and you will be a part of our story for the next three days! Share your experiences with other participants, learn something from them or you teach them, take a ride thru unspoiled nature.
Presentations will start on Thursday afternoon, continue on Friday and Saturday during the whole day. For those who want to get in touch with our beautiful and unspoiled nature we can suggest some routes (gravel and paved) which we planned for Friday and Saturday. On Sunday morning everybody goes in their own direction. Some will go back home, and some who knows, maybe will continue further after getting some great ideas during the meeting.
Presenters at HU Greece
2014

so far...
| | |
| --- | --- |
| | Dennis Robinson |
You dont need a big bike or big budget to travel
Veteran of six 4-week overland trips by motorcycle to Gambia from the UK taking aid to a hospital in The Gambia. How to do it, what not to do. Why North Africa is a great destination.
Dennis has been a motorcyclist for 50 years. Traveled extensively through Europe. Has run charity trips from UK to Gambia on Honda C90s since 2005.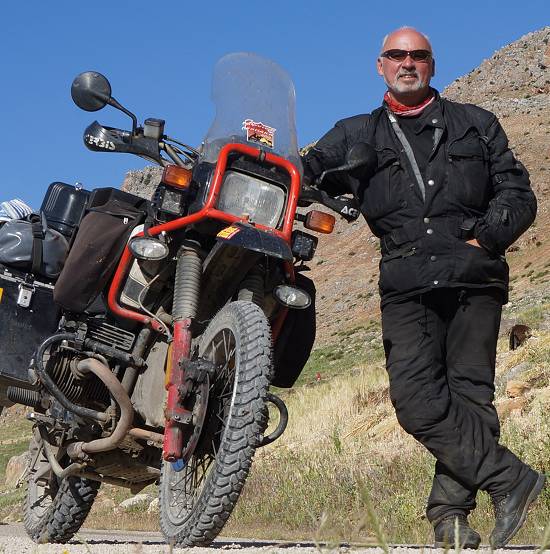 Polytimi Boznou

Polytimi's Solo Ride Down Under and Riding in the Wild West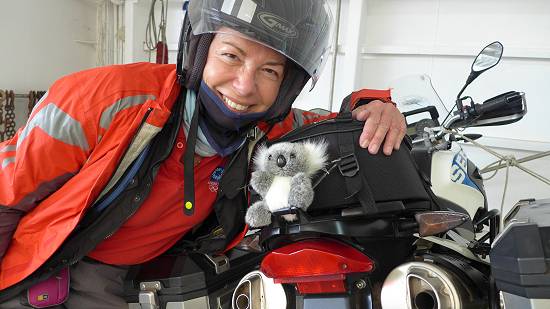 Polytimi's Solo Ride Down Under
An unforgettable journey through the endless lonely roads in the desert, the amazing oceans, the eucalyptus smells, the kangaroos, the koalas and the black swans.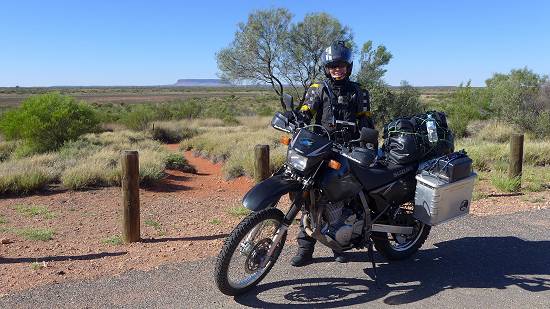 After 3 years of non-stop riding, Polytimi decided - overnight - to accept the very kind invitation from her beloved friend Sherri Jo Wilkins, RTW Solo Rider - to go to Australia. They rode 2 days together in Kangaroo Island and then Polytimi took off on a solo trip through South Australia, Northern Territory and Victoria State.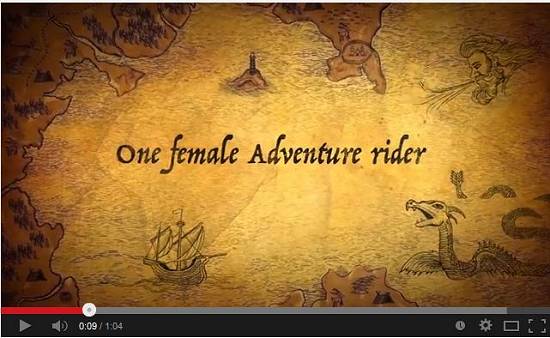 Riding in the Wild West
From Athens to LA and from LA to the Western States of the United States and part of Route 66, Polytimi and her 'super heavy' Harley, rode on an unforgettable journey.
A year after she got her licence, and having ridden a few kilometres in her country, she decided to go on a solo trip in the western United States. It was the only way to overcome - some - of her fears about riding. Travelling light on a super heavy Harley, she lived her own dream in the Wild West.
Polytimi is a female rider from Athens who still feels very 'new' in the 'Riding Family' as she only started riding 3.5 years ago. She says: "I am an ordinary person like all of you. It only takes passion and enthusiasm. Riding solo is the only way to feel the ride deep into your heart and soul and to overcome - some - of your fears. I am happy when I ride, it is my passion and my bike is my home!" She is here to show us this journey, but above all to encourage female and potential riders to overcome all obstacles and to fulfill their dream. "Girls...go for it, it's never too late!"
Vangelis Betsas

Iceland - The country of fire and ice
The trip to Iceland is a sensational experience not found elsewhere in Europe. Iceland is a country with strong emotions and constant changes of scenery. The landscape is impressive given that ice, fire/lava, water keeps your interest.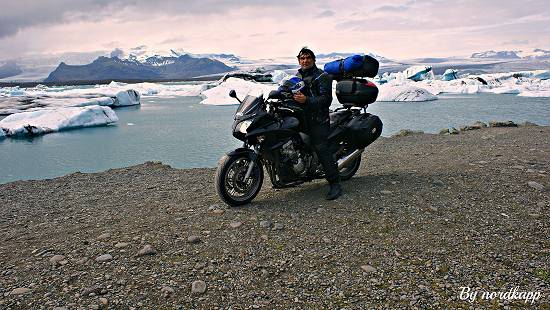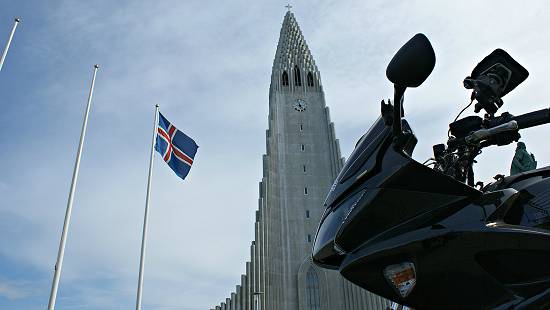 Vangelis has been travelling 25 years.
How about you?
We're all here to learn, and there's LOTS to learn! We want to do more presentations and seminars - but we need volunteers to give them! Any topic you can contribute having to do with motorcycle travel, maintenance, planning etc, lasting 20 minutes or more, would be great. Please contact us here to volunteer.
Panel discussions at most HU events include...


Border crossings - How to get through borders with minimal stress and cost!
Packing light - Tips and techniques from experienced travellers to reduce weight and bulk.
Regional discussions - e.g. travelling in South America or Asia.
For Women Only - A must for the ladies, so be sure to plan on being there! A chance to talk to experienced travelling women without the men around!
Experienced Travellers Panel - ask the experts anything you want!
Walk arounds / Show and tell!
Tents and Bedding discussion (in the camping area) - What works, cheap vs dear and which ones keep you dry, warm and comfy!
Bike mods - Show off your best bike mods - homemade saddle bags, toolbox mounts, GPS mounts, seats, side stands, tank panniers, cup holders, etc.
Facilities for a Fantastic Four Days
St. Marinas Campus, Mt. Taigetos, Greece
St Marinas campus belongs to the Municipality of Kalamata. It has a camping area big enough to sleep 350 persons in beds, with a big outdoor amphitheater, dormitories and many other facilities.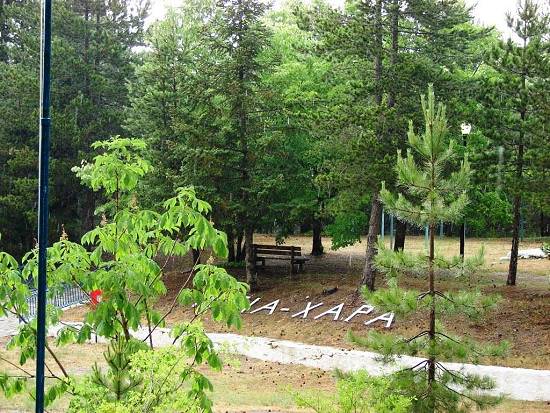 Kalamata is a small city of approximately 50,000 people. It is situated in the southern part of the peninsula of Peloponnese on the root of mount Taigetos overlooking the Messinian Bay and beyond that the Mediterranean Sea. When the sky is clear, from the rocky peak of Mt Taigetos,you can even see the mountains of Crete.
"Mt. Taigetos / Taygetus is a mountain range in the Peloponnese peninsula in southern Greece. Taygetus overlooks the cities of Sparti and Kalamata, whose skyline it dominates. The mountain is a popular hiking destination and is part of the European walking route E4. The view from the top includes most of the Evrotas valley and the Parnon range to the east, while the view towards the west includes Kalamata and the eastern half of Messenia. Most of the southwestern part of Arcadia can also be seen from the summit." Wikipedia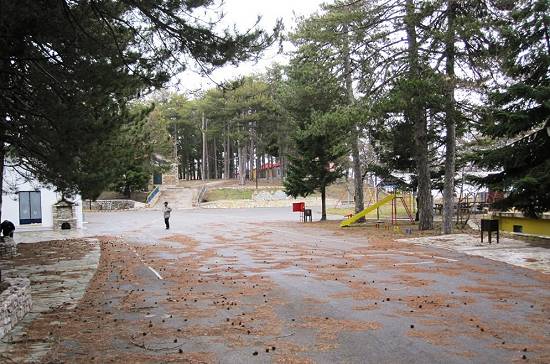 Accommodation
Entry fee includes staying in a tent or in a bed at our dormitories, parking inside the campus area, breakfast and the use of toilets/showers. If someone wishes to stay on Sunday night, it is free since we are going to be there anyway, but they may be drafted to help with cleanup!
Important Notes:
There are NO blankets or sheets or pillows at the camp, so bring your own. The altitude is 1422 metres, and the weather may be quite cool during the night in early June.
Fire Rules - In 2000 and 2007 Mt Taygetos was partly destroyed in a big forest fire. A big part of ancient forest was destroyed. Since then any use of fire in the mountain area is prohibited. No camp fires are allowed. Furthermore, no one is allowed to light a fire even to cook their own meal outside their tent. Guests can come in our kitchen area instead or eat cold canned food. We must point out that the law is very strict. See below for meals and prices - you don't want to cook your own food!
The nearest bank or ATM is in Kalmata (30km) or Sparti (30km).
There is no Internet access on the mountain, maybe not even a mobile phone connection. So you won't have any distractions from your enjoyment of the weekend! :)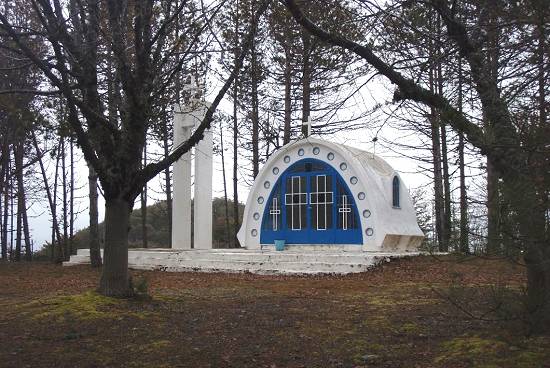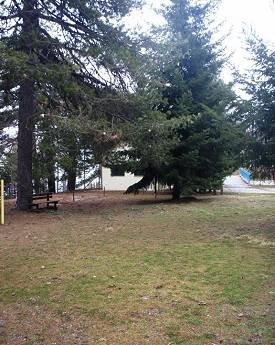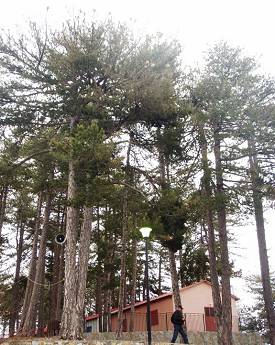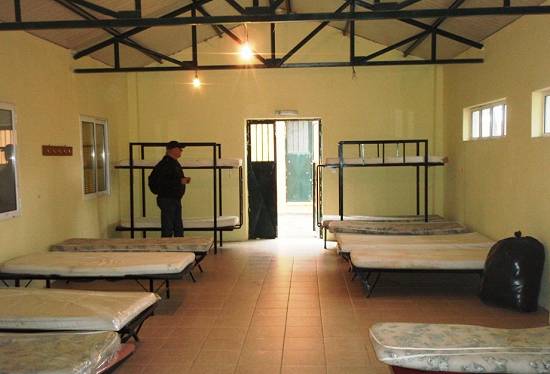 Meals
Breakfast is included with your registration. Breakfast plate includes: 2 slices of bread, 1 boiled egg, 1 lalaggi (bread baked in olive oil), 2 slices of gouda cheese, 2 slices of ham/turkey, 1 portion of butter and jam. Additionally, coffee, tea, orange juice and evaporated milk will be self serviced in a buffet with some more bread, eggs, locally collected olives and butter and jam if someone wants some more. All these are free of charge.
All other meals will be a la carte. The menu will include Greek traditional dishes and their prices will be as follows: Mousakas 6€, Stuffed peppers and tomatoes 5€, Gioulbasi 6€, roasted chicken legs 6€, Pork steaks cooked in the oven 6€. Salad with feta cheese 2€ and dessert/ fruit 1€. Greek cold beer Fix, 330ml in cans, will be sold for 1.5€ and soft drinks 330ml for 1€ each.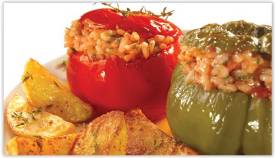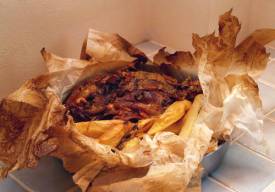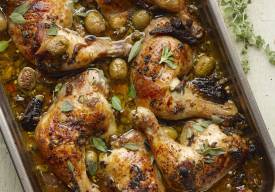 Menus are still not final, but on Friday evening we may have BBQ pork souvlaki, a totally Greek tradition for 1€ each.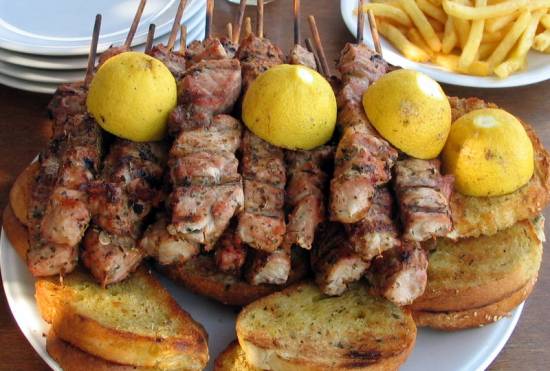 Saturday evening we are planning to have a traditional Messinian cooked pork: a whole roasted pig which will be sliced in front of the participants and it will be sold at 15€ per kilo.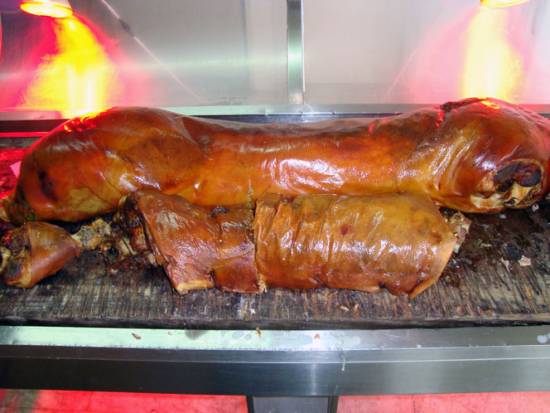 There will always be at least two dishes for someone to choose every day. There will always be spaghetti 4€, French fries and roasted potatoes 2€, peas 3€, rice and puree which are suitable for vegetarians too.
Presentations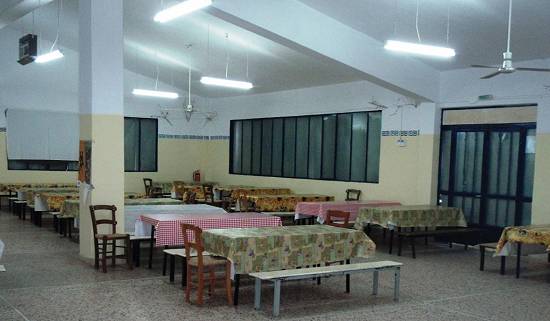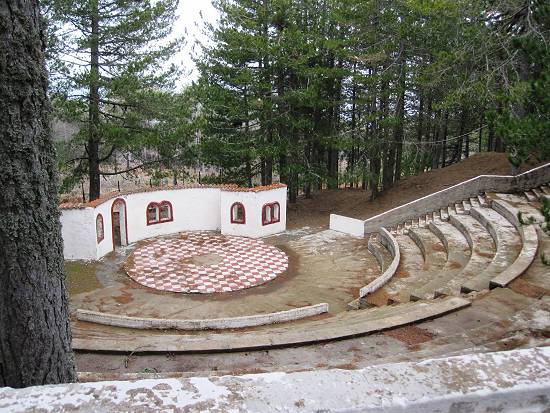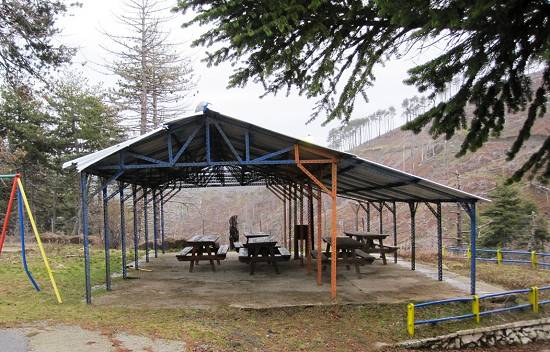 ONLINE REGISTRATION PRICING FOR FULL PASSES

Includes admission to all presentations, Tech Clinics and demonstrations. Also includes breakfast, accommodation (tent space or dormitory bed) and parking.

Pre-Register & Pay before May 29:

Event Price

4-day pass (Thursday to Sunday)
2-day pass (Saturday and Sunday)

€35
€20

AT THE EVENT PRICING (APPLIES AFTER MAY 29)

Pay Cash on Arrival

Full event pass (Thursday to Sunday)
3-day pass (Friday to Sunday)
2-day pass (Saturday and Sunday)

Day Passes MAY be available if there is space!

€45
€35
€25
MEALS
Breakfast is included in your registration fee! All other meals are pay as you go.
ACCOMMODATION
Accommodation (tent space or dormitory bed on campus) is included in your registration fee. If you prefer to stay in a guest house or villa, there are a number of possibilities within a reasonable distance. See above right for pricing and contact details.
SELECT YOUR PRE-REGISTRATION OPTION
---
What happens at HU events?
HUBBUK 2013 - Donington Park
Join the Volunteer Crew
From welcoming travellers at the gate, to taking care of the campsite and making sure all the presentations run smoothly, the success of every HU event relies on the enthusiasm of its volunteer crew.
"What a wonderful bunch of people. I had no idea how much fun I'd have by helping out!"
"It was my absolute pleasure to be able to give something back to the HU community and working with such great folks really made the event special."
Volunteering is a great way to make new friends, get more involved with Horizons Unlimited and have loads of fun! You can sign up to volunteer when you register for the meeting, OR click here if you have already registered and want to add volunteering.
Be a Presenter
We're inviting submissions for presentations, so whether you're attending the event or exploring a distant continent, if you've got a story to tell or expertise to share we'd like to hear from you.
We love to hear stories about your travel adventures, especially if you have great pics! Also, practical how-to sessions such as roadside cooking, navigation/GPS, trip prep and planning, adventure motorcycling medicine, packing light, setting your bike up, communications/blogging from the road, self-publishing your story, yoga for bikers, bodging/bike maintenance, self-defense, photography, videography, tire repair, safe riding techniques, how to pick up your bike, off-road riding, all are of interest.
There are 40 and 90 minute sessions available for talks, workshops, demos and live web chats, plus a new Pecha Kucha option (20 slides x 20 seconds each).
Comments about HU Events
"I have picked up so much information... and met some new friends and wonderful people."
"A superb event that was really well organised. I found the atmosphere amongst the attendees to be very positive too."
"I have not done much travelling so it was like visiting with a world traveller - Presenters were very approachable."
"Great atmosphere and camaraderie, especially at dinner time, and interesting presentations."
"Folks were all great and the most amazing thing was there was NO ATTITUDE."
"I have learned so much, made some great mates and met some of the best people. I was buzzing by the time I got home. I have a little trip planned and just can't wait to get out there."
You can help!
If you have a few minutes, please download a poster (Adobe pdf format) and print off a few and hand them round your club or your local bike shop or anywhere seems like a good place.
Greek Poster in pdf format (500kb)
English Poster in pdf format (500kb)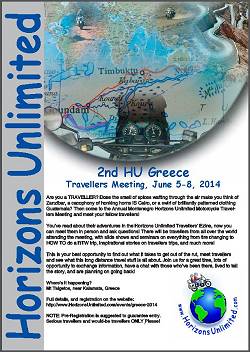 You may need to right click and choose "save target as..."
Thanks!
Departing or Returning?
If you're planning an expedition, why not make the Horizons Unlimited meeting your official start point? Or maybe you're nearing the completion of a journey and would like a very public welcome home? Of course you might just be passing through and fancy marking a key stage of your travels?
We'd love to make you a big part of the meeting, so feel free to get in touch and tell us your plans.
Other Accommodation
Local Guest Houses and Villas
Touristiko Taygetou (1.4km from the campus) Price: 15€/per day per person without breakfast. Contact person: Ms Theodora Verginadis tel. +302721099236.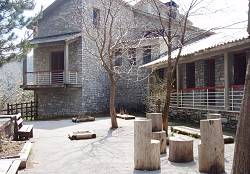 Artemisia traditional guest house (12km from campus): 80€/per day for 4-5 persons without breakfast. Contact person: Mika Apergi tel +30 6970670139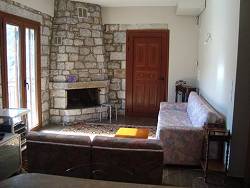 Artemisia traditional villa (12km from campus): 6 persons 120€ /per day without breakfast. Possible discount by phone. Contact person: George Giannoukakis tel. +30 6970670139. Don't forget to mention that it is for the HU event or from Mr Samitas.
Alagonia country homes restaurant and café, wooden houses very well furnished very clean and comfy. 17.4km from campus. Contact person: Konstantina Manousou tel. +30 6975634183.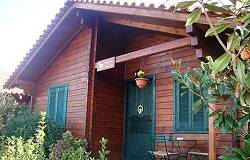 Prices:
4-bed house: 60€/per day with breakfast, 3-bed house: 50€/per day with breakfast, 2-bed house: 45€/per day with breakfast, 1-bed: 30€/per day with breakfast.
Possible 10% discount by phone. Don't forget to mention that it is for the HU event or from Mr Samitas.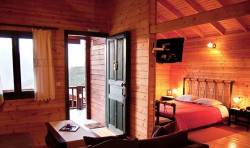 Local Hosts
Panagiotis Samitas, Bill Tsiamis, Jim Kontaxis and Spiros Mammonas are our local hosts, assisted by Dimitris Arabatzis, who helped organize the Greece 2012 meeting!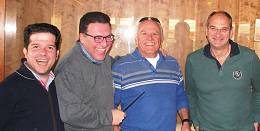 Big thanks to them for stepping up and making this event happen! We can always use help on the day - please volunteer to help out for a couple of hours when you register (above)!
HU Events Refund Policy
We know 'stuff happens', and you know we have financial commitments to venues and caterers!
If you're unable to attend an event, please let us know (by e-mail reply to your confirmation e-mail from us) so we don't worry that something has happened to you...
Up to 30 days prior to event start, we will refund all fees in full less a $10 (or €9 or £8) fee for handling and PayPal charges.
Up to 15 days prior to event start, we will refund camping/accommodation and food packages in full less a $10 (or €9 or £8) handling fee. We will apply your registration fee to any subsequent HU event in the year or following year. If you have purchased a t-shirt, let us know your mailing address and we'll send it out.
Within 15 days of the event start, there will be no refunds, but we will apply your registration fee to any subsequent HU event in the year or following year. If you have purchased a t-shirt, let us know your mailing address and we'll send it out.

New to Horizons Unlimited?
Horizons Unlimited was founded in 1997 by Grant and Susan Johnson following their journey around the world on a BMW R80 G/S motorcycle. The website, HUBB forum and regular events across the globe have inspired thousands of people to follow their dreams and take the road less travelled.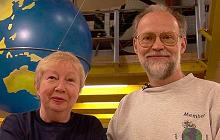 Read more about Grant & Susan's story
Membership - Show you're proud to be a Horizons Unlimited Traveller!
Horizons Unlimited is not a big multi-national company, just two people who love overland adventure travel and have grown what started as a hobby in 1997 into a full time job (usually 8-10 hours per day and 7 days a week) and a labour of love. To keep it going and a roof over our heads, we run events such as this one (18 this year!); we sell inspirational and informative DVDs; we have a few selected advertisers; and we make a small amount from memberships.
You don't have to be a Member to come to an HU meeting, access the website, the HUBB or to receive the e-zine. What you get for your membership contribution is our sincere gratitude, good karma and knowing that you're helping to keep the motorcycle travel dream alive. Contributing Members and Gold Members do get additional features on the HUBB. Here's a list of all the Member benefits on the HUBB.
You can join at a reduced rate as part of your meeting registration. Note that new Memberships with your Meeting Registration are applied as of the Meeting date or as soon as possible thereafter, not earlier, unless you make a special request in the Comments box when you register.
Next HU Events
Canada West: Aug 20-23, 2015
USA California: Sep 24-27, 2015
Aus Queensland: Sep 24-27, 2015
USA North Carolina: Oct 8-11, 2015
Aus Perth: Oct 9-11, 2015

10th Annual HU Travellers Photo Contest is on now! This is an opportunity for YOU to show us your best photos and win prizes!